Thymic Malignancies in the Targeted Therapies Era
Berardi Rossana*, De Lisa Mariagrazia, Pagliaretta Silvia, Paolucci Vittorio, Morgese Francesca, Savini Agnese, Caramanti Miriam, Ballatore Zelmira, Onofri Azzurra and Cascinu Stefano
Medical Oncology, Università Politecnica delle Marche, Azienda Ospedaliero-Universitaria Ospedali Riuniti Umberto I – GM Lancisi – G Salesi - Ancona, Italy
Corresponding Author :
Rossana Berardi
Medical Oncology Unit
Università Politecnica delle Marche – Azienda Ospedaliero-Universitaria
Ospedali Riuniti Umberto I – GM Lancisi – G Salesi di Ancona
ViaConca 71 - 60126Ancona – Italy
Tel: +39 071 5965715
Fax: +39 071 5965053
E-mail: [email protected]
Received February 12, 2014; Accepted March 12, 2014; Published March 20, 2014
Citation: Rossana B, Mariagrazia LD, Silvia P, Vittorio P, Francesca M, et al. (2014) Thymic Malignancies in the Targeted Therapies Era. J Carcinog & Mutagen S8:008. doi: 10.4172/2157-2518.S8-008
Copyright: © 2014 Berardi R, et al. This is an open-access article distributed under the terms of the Creative Commons Attribution License, which permits unrestricted use, distribution, and reproduction in any medium, provided the original author and source are credited.
Visit for more related articles at Journal of Carcinogenesis & Mutagenesis
Abstract
Objective: In the last years, significant efforts have been made in order to improve the knowledge of molecular biology of thymic malignancies. The purpose of this manuscript is to review the recent advances in the treatment of refractory, recurrent thymomas and thymic carcinomas, focusing on molecular targeted therapy and on the previous or actually ongoing clinical trials and genomic analysis. Methods: Available literature on the topic of thymic malignancies was extensively reviewed, using the MEDLINE, CancerLit and ClinicalTrial.gov databases. We searched for targeted therapies studies between restricting our search to English-language publications, including the following search terms: "targeted therapy, octreotide, molecular alterations and pathways" in association with thymoma, thymic carcinoma and thymic neoplasms/ malignancies. Results: Recent thymic malignancies' molecular characterization includes identification of several aberrant pathways such as epidermal growth factor receptor signalling, angiogenesis inhibition, c-KIT signalling, m-TOR inhibition, IGF-1 receptor signalling, all involved in the carcinogenesis, growth and different behaviours of thymic tumor. They also represents potentially targetable molecular bio-markers, although to datethere are no clinical randomized prospective trials evaluating treatment efficacy available and the use of these new biological drugs is currently not recommended in the routine clinical practice. Despite the rarity of these neoplasms and lack of established cell lines and animal models, recently selected genes have been analyzed in small cohorts of patients, aimed to better understand the biology and the genetic and epigenetic aberrations drivers in thymic malignancies. Conclusion: Novel strategies are needed, especially for refractory, recurrent thymic tumors after first-line chemotherapy failure. The investigation of molecular profiling and the analyses of genetic aberrations in thymic tumors could also allow determining potentially druggable new targets.Further clinical research directions and regional and international collaborative initiatives may be warranted to progress both in the understanding of biology and to define the most effective treatment.
Tables and Figures at a glance

Table 1
Figures at a glance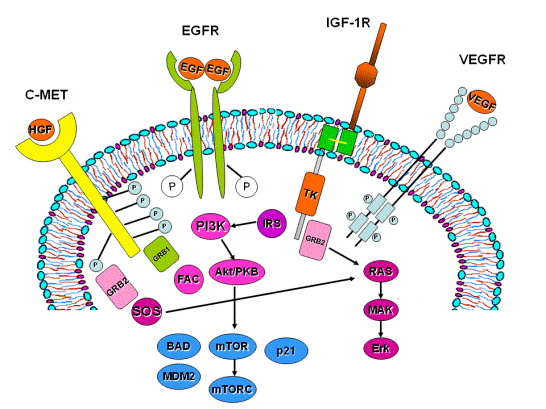 Figure 1