Utilization Pattern of Anti-Depressants at a Tertiary Hospital in Oman: A Retrospective Analysis
Mohammed Al Za'abi*, Asaad S. Al Jabri and Jabran K. Al Bartamani
Department of Pharmacology & Clinical Pharmacy, College of Medicine & Health Sciences, Sultan Qaboos University, Oman
Corresponding Author :
Mohammed Al Za'abi
Department of Pharmacology and Clinical Pharmacy
College of Medicine and Health Sciences
Sultan Qaboos University, P. O. Box 115 Al Khod
Postal code 123, Oman
Tel/Fax: +968 2414 1107
E-mail: [email protected]
ReceivedSeptember 10, 2014; Accepted Date: September 23, 2014; Published Date: September 30, 2014
Citation: Al Za'abi M, Al Jabri AS, Al Bartamani KJ (2014) Utilization Pattern of Anti-Depressants at a Tertiary Hospital in Oman: A Retrospective Analysis. J Psychiatry 17:1000163. doi: 10.4172/Psychiatry.1000163
Copyright:2014, Mohammed Al Za'abi et al., This is an open-access article distributed under the terms of the Creative Commons Attribution License, which permits unrestricted use, distribution, and reproduction in any medium, provided the original author and source are credited.
Visit for more related articles at Journal of Psychiatry
Keywords
Antidepressants; Amitriptyline; Mirtazapine; Depression
Introduction
Depression, a mood disorder, is a highly prevalent disease that is expected to be the second largest source of global burden of diseases by the year 2020 [1-2]. Currently, the World Health Organization (WHO) list depression as the fourth leading cause of disability overtaking chronic diseases such as hypertension and diabetes [3]. It is also considered as the leading cause of premature death and disability among people from 18-60 years of age.4The health risks associated with depression demand cost-effective therapies. In this regards, antidepressant drugs considered the first line and the most widely used form of therapy for depression [5].
Antidepressant drugs have undergone remarkable evolution since their discovery in 1950s. This evolution has also lead to a continues changes in their prescribing patterns where the conventional agents like tricyclic antidepressants (TCA), and monoamine oxidase inhibitors (MAOI), selective serotonin reuptake inhibitors (SSRIs) being replaced by newer antidepressants like serotonin/norepinephrine reuptake inhibitors (SNRIs), tetracyclic antidepressants and others. The trends in the usage of these agents, influenced by various factors, vary from a country to another [6-8].
In Oman and with the slow move towards modernization phase, depression is expected to increase rapidly and hence the prescribing of antidepressant drugs. WHO estimates that the people suffering from mental illnesses in Oman will rise from 1% (2006) to 5% by the year 2020 [3]. However, there are yet no solid epidemiological reports on the different types of mental illnesses especially depression in Oman or utilization patterns of psychopharmacological agents such as antidepressants. Therefore, the aim of this study is to assess the use of different classes of antidepressants in Oman by describing the clinical patterns of use of antidepressant medications in a tertiary hospital, Sultan Qaboos University Hospital (SQUH), in the four months period of January to April 2013.
Methods
The study was retrospective in nature where antidepressant drugs prescriptions for patient's = 18 years of age attending SQUH, a tertiary health care facility in Oman, were reviewed. The information was retrieved from electronic patient records "TrakCare", the Hospital Information System, in the period of January to April 2013. A data collection sheet was designed and used to gather information about patients' demographic characteristics such as sex, age and weight; disease data such as type of disease, co-morbidities and duration and medications data such as type, concomitant drugs and recorded side effects. Diseases were classified according to the Diagnostic and Statistical Manual of Mental Disorders (DSM-5) guide [9]. An ethical approval was obtained from Sultan Qaboos University Medical Ethics Committee before commencing the study.
Statistical Package of Social Sciences version 15 (SPSS, Inc., Chicago, IL, USA) was used for data entry and analysis. Results were expressed as means, percentages and percentiles depending on their distributions and tables were used to illustrate the data.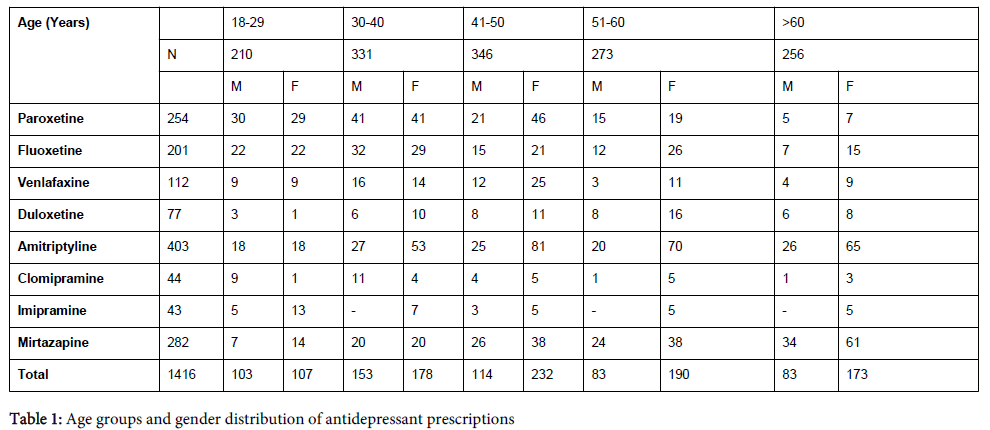 Discussion
In this retrospective evaluation of prescriptions at a tertiary hospital in Oman four main antidepressant groups were identified; TCAs (amitriptyline, imipramine, clomipramine), SSRIs (paroxetine, fluoxetine), SNRIs (venlafaxine, duloxetine) and the atypical antidepressant mirtazapine. Amitriptyline was the most (28.5%) prescribed single agent among all antidepressant drugs in this study. However, it is use was mainly indicated for non-psychiatric conditions such as headache and neuropathy. The analgesic effect of TCAs in several chronic painful conditions is discussed in details in the literature [10-11]. SSRIs, on the other hand, were the most common group (125, 32.8%) used for the treatment of depression followed by mirtazapine (113, 29.7%) (Table 2). This result is compatible with most clinical guidelines for treatment of depression and similar to utilization studies conducted in some developed countries [6,7,12-14]. Furthermore, the use of mirtazapine is increasing due its efficacy and safety over other classes especially in regards to sexual adverse effects [15]. Depressive disorders, anxiety disorders and mixed anxiety and depressive disorders were the most common indications for antidepressant use, accounting for 40.8% of the total prescriptions. This finding is also similar to other studies conducted elsewhere [12-14, 16-18]. Antidepressants were prescribed more in females than in males, a finding that is similar to what is observed in some Western countries [12-14]. The age distribution showed that most of the patients (47.8%) lie in the age group 30-50 years of age. This is consistent with other global findings [12-16]. However, in the East Asia the majority of prescriptions were for those older than 40 years of age [18].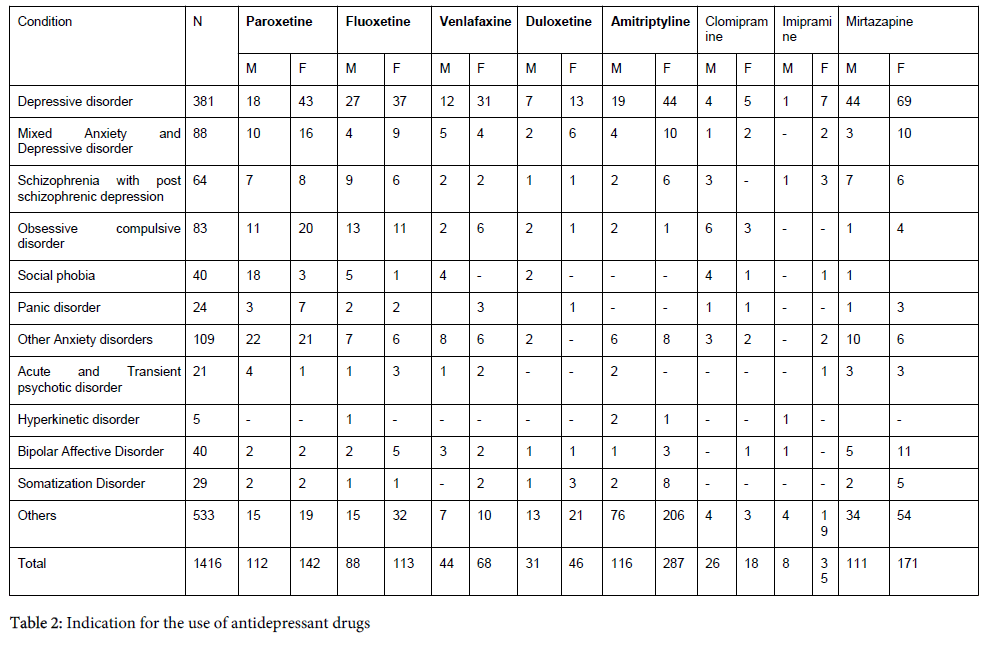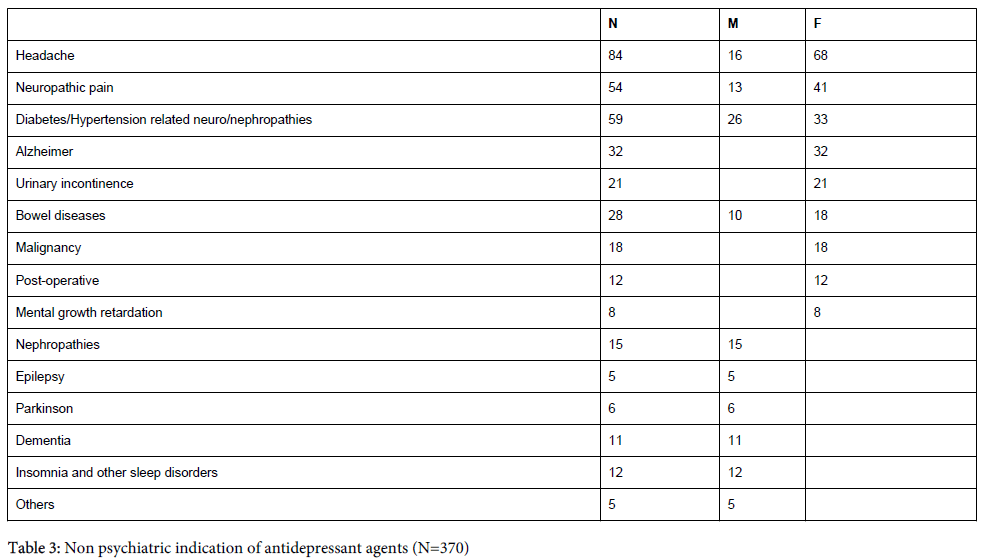 Like other studies, monotherapy was the preferred mode of therapy in our population [11-17]. The majority of prescriptions (89.3%) were for a single antidepressant drug. This finding is reassuring as there is little evidence on the efficacy of combining antidepressant agents. Among polytherapy, venlafaxine and mirtazapine were the most prescribed drug combinations. They accounted for 16(21.4%) of combinations followed by fluoxetine and mirtazapine for 9 patients.
Limitations
Because of the retrospective nature of this analysis, the study has several limitations. For example the study does not address patient outcomes. Correlation of several demographic characteristics and drug therapy or dosage regimen were not possible due to lack of data. Finally, extending the results of this study to all country cannot be made with confidence as the utilization of antidepressants at this tertiary hospital might not represent all Oman.
Conclusion
Psychiatric conditions are the main indications for the use of antidepressants in our population. SSRIs, SNRIs and mirtazapine are the most used drugs for such purpose while TCAs were mainly used for non-psychiatric disorders. Monotherapy was the main mode of therapy employed by our physicians.
Declaration
The authors declare that they have no conflict of interest to disclose. We confirm that we have read the journal position on issues involved in ethical publication and affirm that this report is consistent with these guidelines.
References