Mini Review
Meso-Linked Multiporphyrins as Model for Light Harvesting Systems: Review
Anchal Singhal*
Department of Chemistry, University of Delhi, Delhi, India
*Corresponding Author:

Anchal Singhal
Department of Chemistry
University of Delhi, Delhi-110 007, India
Tel: +919818721809
E-mail: [email protected]
Received date: March 15, 2017; Accepted date: March 23, 2017; Published date: March 28, 2017
Citation: Singhal A (2017) Meso-Linked Multiporphyrins as Model for Light Harvesting Systems: Review. Nat Prod Chem Res 5:259. doi:10.4172/2329-6836.1000259
Copyright: © 2017 Singhal A. This is an open-access article distributed under the terms of the Creative Commons Attribution License, which permits unrestricted use, distribution, and reproduction in any medium, provided the original author and source are credited.
To read the full article
Peer-reviewed Article PDF

|
Peer-reviewed Full Article

Abstract
Nature has always been the fundamental source of inspiration for researchers to understand the complex biological functions. Photosynthesis is among the important natural phenomena and hence, gained interest towards developing the artificial photosynthetic reaction centers. Electron and energy transfer process between various porphyrin units within the multiporphyrin arrays is the important key in developing such systems. Long duration of charge separated state and spectral coverage scope of the accepting porphyrin units are another important factor that contribute to an efficient mimic of the photosynthetic reaction center. Meso-linked porphyrin architectures provide a great aspect in this regard because of short inter-porphyrinic distance with optimal dihedral angle. The present review highlights the design of various kinds of meso-linked multiporphyrins and study of electron and energy transfer processes between them that serve as an efficient model for light harvesting systems.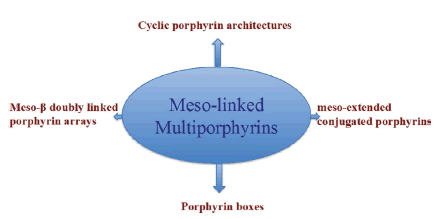 Keywords