Research Article
Phytochemical and Biological Studies of Fennel (Foeniculum vulgare Mill.) from the South West Region of Iran (Yasouj)
Mehrzad Kocheki Shahmokhtar1* and Samira Armand2
1Department of Chemistry, Faculty of Science, Yasouj University, Yasouj, 75918-74831, Iran
2Department of Dentistry, Belarus State Medical University, Minsk, Belarus
*Corresponding Author:

Mehrzad Kocheki Shahmokhtar
Department of Chemistry, Faculty of Science
Yasouj University, Yasouj, 75918-74831, Iran
Tel: +989215410292
E-mail: [email protected]
Received Date: April 20, 2017; Accepted Date: May 03, 2017; Published Date: May 08, 2017
Citation: Shahmokhtar MK, Armand S (2017) Phytochemical and Biological Studies of Fennel (Foeniculum vulgare Mill.) from the South West Region of Iran (Yasouj). Nat Prod Chem Res 5:267. doi: 10.4172/2329-6836.1000267
Copyright: © 2017 Shahmokhtar MK, et al. This is an open-access article distributed under the terms of the Creative Commons Attribution License, which permits unrestricted use, distribution, and reproduction in any medium, provided the original author and source are credited.
To read the full article
Peer-reviewed Article PDF

|
Peer-reviewed Full Article

Abstract
In this study the chemical composition of essential oils of fennel (Foeniculum vulgare Mill.) was identified by GCMS method. Results showed that essential oils of fennel have several organic compounds such as hydrocarbons, alcohols, ketones, aldehydes, ethers, esters and other volatile oil and so on. Essential oil of "fennel" has 32 compounds. T-Anethol, α-pinene, D-limonene, α-fenchone and fenchol were the highest percent of compounds. biological activity of Aqueous extract of fennel was evaluated by disk diffusion method and results showed that it has antibacterial properties against Escherichia coli, Bacillus subtilis and Pseudomonas aeruginosa, but have not any antifungal activity (Aspergillus oryzae). The results show the extract of fennel was not a good alternative for antibiotics.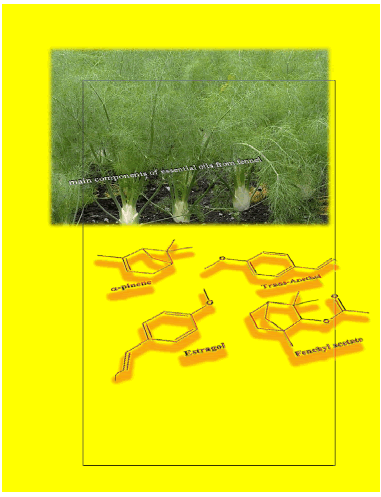 Keywords