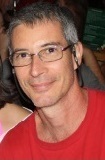 Mauricio Laterca martins
AQUOS-Aquatic Organisms Health Laboratory, Aquaculture Department, Federal University of Santa Catarina (UFSC), Rod. Admar Gonzaga 1346, 88040-900, Florianópolis, SC, Brazil.
Initiated his scientific carrier in 1989 at Biomedical Sciences Institute of University of São Paulo with Amphibian Diseases, has Master (1994) and Doctorate degree (2000) in Aquaculture by the Aquaculture Center of Unesp (CAUNESP), Jaboticabal, SP, Brazil and Sabbatical Stage concluded in 2011 in the Aquatic Animal Health Research Laboratory, Agricultural Research Service (ARS), United States Department of Agriculture (USDA), Auburn, AL, USA with experimental bacterial and parasitic infection in tilapia and catfish on their hemato-immunological response. Sabbatical in development (2015) in the "Department of Microbiology", Oregon State University, Corvallis, OR, USA in evaluating the infection in zebrafish larvae with microsporidia spores (Pseudoloma neurophilia) and developing technique for nematode (Pseudocapillaria tomentosa) egg collection from zebrafish and alternatives for their treatment. Actually is Associated Professor in the Aquaculture Department, Federal University of Santa Catarina. Researcher at the Nucleus of Study in Aquatic Pathology and leader of AQUOS-Aquatic Organisms Health Laboratory. It has integrated projects with EMBRAPA, National and International Universities and fish farms. Fish pathology and parasitology, hematology, ecology of fish parasites, stress and inflammation in cultivated fish, probiotic, immunoprophylaxis, parasitic diseases and hemato-immunology of cephalopods are the research lines. Has more than 190 published papers, author of 25 book chapters, oriented 4 Doctoral Thesis, 20 Master Dissertation, 63 Undergraduate students, supervisor of Post-Doctoral students, Associate Editor of Latin American Journal of Aquatic Research (LAJAR) and reviewer of more than 40 journals. Research fellow 1 B from National Council of Scientific and Technological Development (CNPq).
aquaculture, immunoprophylaxis, fish and frog diseases, fish parasitology, fish hematology, fish immunology, fish treatment, probiotics, relationship host-parasite-environment of wild and farmed fish