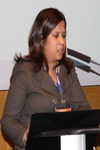 Anne Felicia Ambrose
Mount Sinai School of Medicine,USA.
Biography
Anne Felicia Ambrose has completed her medical training at St John's Institute, Bangalore in 1990. She did her residency training at the Albert Einstein College of Medicine, New York. She has a Masters of Clinical Research from Mt Sinai School of Medicine-NYU.. She is the Medical Director of the Traumatic Brain Injury(TBI) Program at Mount Sinai. She is the Co-Director of the TBI Model Systems Research Program. She has published more than 20 papers in peer reviewed journals.She has given numerous talks on TBI and dementia both nationally and internationally. She is on the Editorial Board of the Austin Journal of Psychiatry and Behavioral Sciences
Abstract
Traumatic Brain Injury (TBI) is a leading cause of disability, both physical and mental in all age groups. However, in the past decade, the numbers of elderly patients affected by TBI have been rising exponentially. Most of these patients have cognitive and behavioral problems similar to dementia. In fact, having had a TBI in the past increases the risk of dementia and the lowers the age of onset. However, this condition has been neglected in current medical syllabus in most countries and very few clinicians have a comprehensive understanding of the etiology, pathophysiology, investigations and treatments options available. In this talk, the author proposes to provide a general overview of TBi and discuss the current protocols and the most recent cutting edge research.