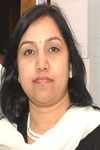 Deepshikha Pande Katare
Amity Institute of Biotechnology, Amity University Uttar Pradesh, Noida, India.
Biography
Deepshikha Pande Katare has completed her Ph.D in 2006 Hamdard University, New Delhi, India. She has Eighteen years of Research and Teaching experience and presently working as Professor and Assistant Director in Amity Institute of Biotechnology. She has received various scientific honors and awards for her scientific contributions including Women Scientist Award by DST, New Delhi . She has published 03 text books and more than 55 research papers/review articles in International journals of repute Dr Katare has field more than 28patents. She has Supervised more than 30 M.Phil/M.Pharm/M.Tech/M.Sc Dissertations and more than 10 PhD . She is also serving as an Editorial and Review board member of various International journals like BBA Cancer Review, Protoplasma, Critical Reviews in Biotechnology International Journal of Pharmacy & Pharmaceutical Sciences, World Journal of Science etc.
Abstract
The molecular changes that occur in cancerous cells can be viewed as biochemical modifications orchestrated on a protein level. The human proteome is estimated to contain more than 20,000 proteins. Thus, studying proteins that are differentially expressed in cancer cells can reveal a plethora of important components involved in cell signaling and functionality. oncoproteomics offers great promise for unveiling the complex molecular events of tumorigenesis, as well as those that control clinically important tumor behaviors, such as metastasis, invasion and the efficacy of drugs used in cancer therapy. In the present study, an animal model of Hepatocellular carcinoma (HCC) in male Wistar rats was developed by using DEN/AAF. Serum and liver tissue proteins were screened at regular time intervals of disease progression and post treatment by 1D SDS PAGE, 2 D Electrophoresis and MALDI-TOF-MS to see the protein expression changes. A signature of Six proteins was identified as Pharmacodynamic Biomarkers to mark the progression of HCC. Sorafenib Liposomes were targeted to HCC and there efficacy evaluated exhibited a marked reduction in tumor size.