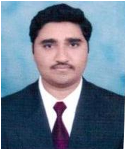 Gopala Lunavat
Sri Venkateswara Veterinary University, India
Biography
L Gopala is working as Asst. Professor, Deptartment of Veterinary Microbiology since Nov 2012 and he has completed MVSc at CVSc, Rajendra Nagar, Hyderabad in 2010 and worked as Veterinary Asst surgeon at VD, Thadvai, and Warangal Dt. for 2.5 years. He has attended a national training program at NAARM, Hyderabad in April 2013. He participated in national and international conferences.
Abstract
The present study was carried out to characterize the ALV isolates from breeder flocks of the chicken by sequencing the enveloped glycoprotein (gp85). In this study, a total of 276 cloacal swabs were collected from the suspected breeder flock with ALV in and around Hyderabad. These samples were confirmed by group specific antigen (p27) capture ELISA and from positive samples, virus was isolated and purified by passaging into chicken embryo fibroblasts. DNA extracted from the lysed tissues and cell solutions and proviral DNA was detected by PCR by employing ALL-ALV F and ALL-ALV R primers. The positive PCR samples were further propagated in CEF and total RNA extracted. The presence of ALV was confirmed by RT-PCR. Complementary DNA was synthesized by using RNA. cDNA of ALV isolate was amplified by ALL-ALV F and ALL-ALV R, ALV F and ALV R primers and Purified PCR products along with two sets of primers were submitted for sequencing of gp85. The phylogenitic analysis was made for gp85 nucleotide and translated amino acid sequences of SVVU-101 and published sequences of seven ALV-J strains. Out of 276 cloacal swabs, 47 samples gave positive. Six strongly positive samples from 47 positive samples were used for isolation, purification and extraction of genome. PCR gave 2579 bps amplified product with ALL-ALV F and ALL-ALV R primers. The partial gp85 nucleotide sequence covers 785 nucleotides out of total 865 nucleotides. The results of the study revealed that the phylogenetic tree constructed the SVVU-101 is closely related and grouped with ALV-J.
Keywords: Avian Leucosis, Group specific ac-ELISA, RT-PCR and Phylogenetic tree.