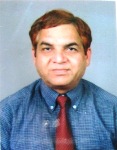 Narendra Kumar
Darjeeling Tea Research &Development Centre, Tea Board of India, India
Biography
"Narendra Kumar is currently working in Darjeeling Tea Research &Development Centre, Tea Board of India, India"
Abstract
The prime objective of pruning is to keep the tea bush in vegetative phase and productive stage to facilitate the harvesting operations for sustenance of productivity. This agronomic practice influences the crop yield and quality of made tea. In Darjeeling hills pruning operations are carried out with varying length of pruning cycle from 4 to 6 years depending upon the health of the tea bush and elevation. The present study was conducted on old chinary seedling tea plantation in order to investigate the effects of pruning operations on the quality attributes of Darjeeling teas. A distinct variation was recorded in tea quality constituents with the type of pruning. Total polyphenols and total chlorophylls declined in the pruned teas (LP) and, thereafter, progressively increased up to the 5th year of prune in UP / LOS operation. Similar pattern was found for chlorophyll a and chlorophyll b. The level of carotenes was low in pruned teas showing little increase in skiffed teas and the unpruned teas. Total soluble solids and dry matter content were low in pruned teas. After tipping of pruned teas the level of caffeine decreased and thereafter progressively increased with the age from pruning. The Group I compound mainly non-terpenoids enhanced in pruned teas whereas Group II compounds mainly terpenoids declined. The progressive improvement in Flavour Index (FI) with the passage of time from pruning was noticed as evident also with the organoleptic evaluation of the professional tea tasters. Liquor characteristics of orthodox black teas varied with the type of prune during a pruning cycle affecting tea quality. The level of theaflavins (TF) declined in pruned teas. But at the same time thearubigins (TR) that impart color to tea liquor increased. Also total liquor color (TLC) considered detrimental to Darjeeling tea quality was more in pruned teas whereas the brightness of liquor camouflaged. Seasonal variations in biochemical constituents in a year of harvest were pronounced irrespective of the type of prune. Total polyphenols, dry matter content total soluble solids and group II volatile compounds declined with increase in group I compounds in monsoon season as compared to pre and post monsoon season affecting the quality of Darjeeling orthodox black teas. The level of pigments increased. The age from pruning was also observed significant in the recovery of these chemical constituents in Darjeeling teas.
Keywords: Pruning cycle, tea quality, orthodox black tea, volatile flavoury compounds.