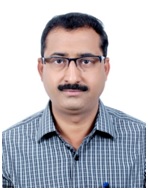 Prakash Ramrao Kadu
Dr. Panjabrao Deshmukh Krishi Vidyapeeth, India
Biography
Prakash Ramrao Kadu has completed his PhD at the age of 32 years from Dr Panjabrao Deshmukh Krishi Vidyapeeth, Akola (M.S.). He has worked in the Dept. of Agriculture as Agriculture Officer for the period of 1994 to 1996 and Urban Development officer during 1996 to 2005. Presently, He is working as Associate Professor (Soil Science and Agril. Chemistry) at College of Agriculture, Gadchiroli, Dr. Panjabrao Deshmukh Krishi Vidyapeeth, Akola (Maharashtra). He has more than 11 years experience in Teaching, Research and Extension. He is expertise in teaching various courses of Soil Science to undergraduate and Post graduate students. He has 4 research recommendations for farmers. He was Chairman for advisory committee of 7 students of MSc and research co-guide of 21 MSc students He has completed one project on Nagpur mandarin and also working on two research project. He has published more than 15 research papers in reputed national and international journals and more than 10 popular articles and technical articles reputed magazines. He has delivered more than 14 radio talks and several lectures in Agricultural Faculty and Farmers training programme and Kisan mela. Recieved ICAR best teacher award in 2014 and 3 best paper award in different national seminars.
Abstract
The Wardha valley covers the districts of Wardha, Amravati and Yavatmal in the state of Maharashtra, India and the canal irrigation system has been commissioned recently. Earlier researchers mentioned that irrigation in black soils was deleterious to the properties of these soils. Therefore the study was undertaken to know the effect of canal irrigation system on physico-chemical properties of black soils in Wardha valley, Maharashtra.
The soils were deep to very deep, calcareous, clayey, dark brown to very dark gray in colour and had well developed slickensides in subsurface horizons and classified as Vertisols. The soils are under perennial irrigation of medium salinity and low sodium water quality. Soils were moderate to strongly alkaline, nonsaline (ECe < 2 dSm-1) with high CEC (48 to 60 cmol (p+) kg-1) and base saturation (89 to 99 per cent). The ESP, EMP, Ca/Mg ratio and SAR ranged from 0.9 to 17.1 per cent, 20 to 49 per cent, 0.6 to 3.8 and 0.6 to 15.6, (cmol-1)½ respectively. Clay fraction dominated with smectite (41 to 67 per cent) along with Vermiculite, chlorite, mica, kaolinite, and feldspar. The presence of considerable amount of plagioclase feldspar was the source of sodium ions. Due to aridity of the climate, the soluble Ca2+ precipitated as CaCO3 increased the concentration of Mg2+ and Na2+ in the subsurface soil. Furthermore, because of injudicious irrigation the water table was raised and the upward movement of Na+ initiated in profile. The high smectitic clay, pH, CEC, ESP and SAR were responsible for high shrink-swell potential of these soils as COLE (0.17 to 0.27) and VSP (60.2 to 100 per cent) values falls in very high shrink-swell class and showed positive significant correlation. The high ESP, EMP, COLE and WDC impaired the drainage (HC 0.01 to 2.4 cm hr-1) which in turn waterlogged the soils. In order to optimize the production on sustainable basis improvement in natural drainage, applying suitable modification in land configuration, use of gypsum, proper selection of crops and far-spaced irrigation should be taken on priority basis.