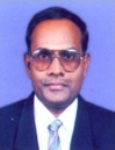 Vishnu K Garande
Shahu Agriculture Technical School, India
Biography
Vishnu Garande has completed his PhD in Horticulture with first class with Distinction from Mahatma Phule Krishi Vidyapeeth, Rahuri and M. Sc (Agri.) from Dr. B. S. K. K. V., Dapoli and awarded a 'Gold Medal' ranking first in the discipline of Horticulture. Presently working as Associate Professor of Horticulture and Principal, Shahu Agriculture Technical School, Kolhapur and he has experience of 20 years in research, teaching and extension. He has published more than 48 papers in internationally abstracted journal, 50 technical papers presented in the national and international conferences and seminars, 120 popular articles, 15 radio and TV talks and authored four books in Marathi and 8 book chapters. He has been Awarded 'Best Agriculture Scientist' award instituted Bhima Creative Group, Kolhapur for 2012 and 'Best Teacher' award instituted by Lions Club (International) and Karveer Vachan Mandir, Kolhapur for 2013.
Abstract
Minimally processed operations have been defined as, those procedures such as washing, sorting, trimming, peeling, slicing, chopping, anti-oxidants treatments and packing etc. that do not affect the fresh like quality of fruits & vegetables. The minimally processed fruits & vegetables are the products that are partially prepared so that no additional preparation is required for their use. The result of such operation is that the products can be prepared and consumed straightway in very short time. The commonly terms referred to minimally processed products are 'Lightly Processed', 'Partially processed', Ready to Eat or Ready to Cook'.
Minimally processed fruits and vegetables offer a number of advantages such as, convenient time saving and reducing solid waste problems. The physiology of MP products is essentially the physiology of wounded tissue. There is an increase in rate of respiration and ethylene production, oxidative browning, water loss and texture loss. The spoilage organism including different species of bacteria and microbial growth on MP products can be controlled by good sanitation; achievement the HACCP (Hazard Analysis Critical Control Point) proper temperature management during and after sharp stainless steel knives or blades, use of proper packing material, the low O2 and elevated CO2 levels sometimes in conjunction with carbon monoxide or nitrogen retards the microbial growth. The use of low temperature storage (0-50 C), chemical preservatives such as chlorine (140 ppm), ascorbic acid at 3-5 % and sodium meta bisulphate at 200 ppm, reduction of water activity by centrifugation and modified and controlled atmosphere helps in retaining the quality and extend the storage life by inhibiting metabolic activity, decay and ethylene production. The polyvinyl chloride (PVC) primarily used for over wrapping and polypropylene (PP) and polyethylene (PE) bags are used for packing of MP products. Edible coatings offer a possible method of extending storage life of MP products.