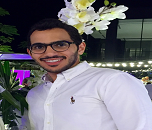 Abdulaziz Al Hussain
King Saud University, KSA
Biography
Abdul-Aziz Al Hussain has completed his Medical School at King Saud Bin Abdul-Aziz University for Health Sciences in Riyadh, Saudi Arabia in 2013. He is currently enrolled in King Saud University Dermatology Residency Training Program. He has attended and contributed in many dermatological researches and scientific meetings
Abstract
Background: Psoriasis is associated with high levels of psychological distress and considerable life impact. The impact of psoriasis, beyond the skin, is often not recognized and under-treated.
Objectives: To assess the prevalence of anxiety in patients diagnosed with psoriasis according to standard criteria.
Methods: The study was a cross-sectional survey conducted in three hospitals in Riyadh region over a period of 6 months from October 2013 to March 2014, using a self-administered questionnaire. The general part of the questionnaire is composed of 10 questions that covered the demographic, behavioral and clinical characteristics. Anxiety was assessed using the 14-items Hamilton Anxiety Scale. The severity of anxiety symptoms was categorized into mild (<17), moderate (18-24) and severe (25-30) anxiety. Out of 250 distributed questionnaire, 219 responded (response rate of 87.6%).
Result: The age of the patients ranged between 10 and 60 years, 54.8% were females and 53.4% were not-married. Out of 219 examined patients, 150 (68.5%) were found to have mild anxiety, 51 (23.3%) with moderate anxiety, 18 (8.2%) with sever anxiety. Severe anxiety was considerably seen more among those who were between 20 and 39 years (15.2%) compared to those <20 years (0%) and those between 40 and 60 years (5%). Severe anxiety was significantly higher among patients with longer duration of the illness. There was no significant association between the psoriasis severity and the severity of anxiety symptoms.
Conclusions: The current study reported high prevalence of anxiety symptoms among patients with confirmed psoriasis in Riyadh Hospitals, Saudi Arabia.