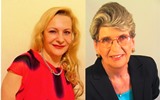 Hannelore Leavy, Bojana Matovski
HR Leavy LLC Spa & Wellness Consultancy, USA Rejuvee™, USA
Biography
Bojana Matovski - The "Beauty Doctor" holds a Doctor of Medicine from the University of Belgrade, the capital of former Yugoslavia. She has studied with such leading providers as plastic surgeon, Dr. Jadran Dondic , Dr Nenad Stepic ; Dr. Zoran Stojcic , a Maxillofacial Surgeon a specialist, who has used PLUTON Electronic at the Mayo Clinic; Jacksonville University Hospital, and Dr. Zarko Borovic After completing this extensive her training, she is internationally certified to educate/train others in the use of all Pluton Electronics devices which are used in hospitals specializing in aesthetic plastic surgery. Her motto is "rejuvenate the skin – hold up aging!" Because of her outstanding achievements Worldwide, Who's Who in American Education 2012-13, recognized her, as Owner, Trainer, and Educator of executives, professionals and entrepreneurs, and in May 2012, the National Association of Professional Women named her Woman of the Year 2012/2013.
Hannelore R. Leavy is Founder and Director of the Day & Medical Spa Association, a professional association which is dedicated to the education of customers, to benefit and to make availability of Spa Treatments; for professionals to elevate and preserve the standard of Spa services. As Marketing Director of Austrian National Tourist Office, she promoted health vacations to European Spa's. She is the associate publisher of "The Spa Finder" She has appeared on CNN Financial News, MSNBC, and has been quoted hundreds of times in all major newspapers and magazines in the US and international
Abstract
3rd Generation Radio Frequency technology is the world's most advanced Radio Frequency technology. It is clinically proven and is used successfully by physicians, aestheticians and in clinics around the world, it regenerates collagen, tightens and tones the skin, improves the appearance of cellulite and reduces body circumference. Three Polar Technology is used to simultaneously heat deep and superficial layers. This focused, selective deep heating stimulates the body's natural skin renewal process, tightening existing collagen fibers and augmenting new collagen generation. It also accelerates fat metabolism to cause fat cells to shrink, improving cellulite appearance and treating localized bulges and fat deposits in many areas of the body. Treatment provides immediate visual effect and a long-term result. The immediate visible effects are smoother, tightened appearance and texture – visible from the very first treatment. The long-term effects of the deep heating accelerate the metabolism of fibroblasts, which produce collage, augmenting new collagen generation.
Newest Quadruple Radio Frequency is based on active's BRF Technology (burst Repetition Frequency), combined with realtime continuous thermal skin monitoring. This technology provides treatment, is effective and has no side effect. Quadro Polar RF is designed to produces skin-tightening: it also removes unwanted fat and toxins. The new treatment is based on two RF effects: Fat cells drainage/breakage, skin rejuvenation and lifting. With RF energy, we can increase the metabolism of the connective tissues and break/shrink the fat cells trapped inside them resulting in a smooth, cellulite free skin. Quadro Polar RF penetration through the skin with a limited influence on the epidermis. This procedure is painless, pleasant: there is a feeling of warmth.
Ultrasound Cavitation - "Liposuction without Liposuction" Cavitation implies the use of an appliance equipped with a hand piece which is placed on the skin, targeting fat deposits, so that the fat cells are dissolved by using special manipulation technique. Over a more or less short period of time, cavitation allows to get amazing results such as the reduction of total removal of cellulite and fat in specific areas. This is exactly what Re-Age offers to its clients.