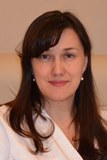 Inga Zemite
Veselibas Centrs 4, Latvia
Biography
Inga Zemite is a medical doctor specializing in the treatment of scalp skin and hair diseases. She is a leading and well-known specialist in her field in Latvia. Since starting her practice in 1997, she has become a leading expert in her country. She is also a general practitioner and often appears on national TV, radio, and in different publications to give advice about hair treatments, healthy living and explaining the course of diseases. She is the founder and a leading member of the Latvian Hair Doctors Association and is the mehttp://cosmetology-trichology.conferenceseries.com/mber of EHRS.
Abstract
Tinea capitis is a common infection occurring predominantly in prepubertal children. Although infection in adults can occur, it is considered as a rare condition. There are different kind of infections that can affect scalp and hair. Microsporum and Trichophyton species are the aetiologicala gents of tinea capitis. The most common causative fungi are T. tonsurans and M. canis. Tinea capitis is diagnosed by its appearance and the results of an examination of a sample of plucked hairs or of hairs and scale from the scalp. Though chronic forms of dermatophytias often stay overlooked; and also malassezia influence is underestimated as it is usually seen as saprophyte. If left untreated, tinea capitis may cause permanent hair loss and scarring. In our clinical investigation we found out a lot of cases of infection and treated patients with antimicotical therapy to clean infection. The findings after treatment was improvement in hair quality and volume, disappearance of itchy conditions, decrease in symptoms of seborrhea and general improvement in feelings of patient. Obvious improvement in hair quality and volume was seen in young adults less than 30 years old with early symptoms of androgenetic alopecia.
Conclusion:
Influence of malassezia yeasts is underestimated and most probably it has quite high involvement in cause of hair loss. It is needed to do further investigation to prove this statement in trichological practice.