Magdalena Dabrowska
Warsaw University of Life Sciences, Poland
Biography
Magdalena Dabrowska is a Doctor in Agricultural Engineering. She is a researcher at position of Assistant at the Faculty of Production Engineering, Department of Agricultural and Forest Engineering at Warsaw University of Life Sciences – SGGW. Her main interests are renewable energy sources, especially pressure agglomeration of biomass, properties of biomass, energy plants, wastes from agriculture and industry, farm machinery. She is an author or co-author of 15 research papers in peer-reviewed journals, 14 conferences materials, co-executive in 4 research projects and in 1 EU project.
Abstract
The scientific aim of this study was to gain a new knowledge and explain the impact of applying the addition of calcium carbonate to the biomass of different moisture content on selected evaluation measures of the produced pellets. The research material from three energy plant species: Miscanthus giganteus, Jerusalem artichoke and Spartina pectinata was characterized by using standard testing methods. The main research was carried out on the special stand with heating head and cylindrical opened chamber with 8 mm diameter with controlled temperature. The effect of 5, 10 and 15% addition of calcium carbonate on densification of the plant material with different moisture content was examined. Tests were carried out in order to select the best densification parameters, which turned out to be: mass portion 0.1 g, head heating temperature 140°C, the thickness of the die 60 mm. To determine the pellets quality the compressive strength analysis was conducted. Pellets were tested on the universal testing machine. It was found that the optimum strength was characterized pellets from Miscanthus and Jerusalem artichoke biomass with addition of 6–12% of calcium carbonate and respectively, 10–22% and 18–28% of plant material moisture. In the range of 10–30% of Spartina pectinata moisture content, the addition of calcium carbonate did not influence on the strength parameters of the pellets. Pellets made of Miscanthus material were the most durable. It was also stated that the amount of calcium carbonate depends on the specific physico-chemical characteristics of biomass.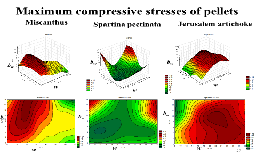 Recent Publications
1. Dąbrowska-Salwin M., Raczkowska D., Świętochowski A. (2017) Physical properties of wastes from furniture industry for energy purposes. Agronomy Research 15(2), 388–394.
2. Lisowski A., Buliński J., Gach S., Klonowski J., Sypuła M., Chlebowski J., Kostyra K., Nowakowski T., Strużyk A., Świętochowski A., Dąbrowska-Salwin M., Stasiak P. (2017) Biomass harvested at two energy plant growth phases for biogas production. Industrial crops and products, 105, 10-23, DOI: 10.1016/j.indcrop.2017.04.058.
3. Lisowski A., Kostrubiec M., Dąbrowska-Salwin M., Świętochowski A. (2017) The characteristics of shredded straw and hay biomass. Part 1: whole mixture. Waste and Biomass Valorization, DOI: 10.1007/s12649-017-9835-y.
4. Lisowski A., Kostrubiec M., Dąbrowska-Salwin M., Świętochowski A. (2016) The characteristics of shredded straw and hay biomass. Part 2: the finest particles. Waste and biomass valorization, DOI: 10.1007/s12649-016-9747-2.
5. Dąbrowska-Salwin M., Lisowski A., Kostrubiec M., Świętochowski A. (2016) Pressure agglomeration of biomass with addition of the calcium carbonate. Proceedings of International scientific conference Engineering for rural development, 542-546.
Group Photo
Lunch Break 13:30-14:15 @ RBG