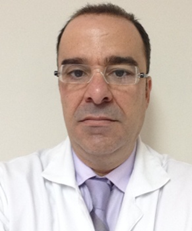 Marcio R.R. Cunha Ramalho
Senior Instructor The Clinic Trauma Center, Brazil
Biography
Dr. MARCIO ROBERTTI RAMALHO DA CUNHA is senior instructor at The Clinic Trauma Centre at Brazil. He completed this medical schooling from Federal University of Rio Grande Do Norte in 1983 – 1989. After completing his medical schooling he worked as Medical Residence at Base hospital Brazil in year 1990 to 1993. He complete post-graduation course from R.W.T.H Hospital, Aachen-Germany( 1994) and Freie University,Berlim, Germany(1997).
He is titular member of Brazilian Neurosurgery Society (1994), Brazilian Spine Society (2009), Brazilian M.I.S Society (2012) and Latino American Study Group Of Neuroendoscopy / Glen (2016).
He holded the position of U.F.R.N, Assistant Professor Of The Neurosurgery Department ( 1996-1999 ),Senior Staff Of The Spinal Surgery Area Of Clinic Trauma Center /Natal-Rn (2007), Chairman Of Neurosurgery Service Of The General Hospital / Natal-Rn (2014) and Coordinator Of The Spinal Endoscopy Surgery Field - Ab Health Institute (2016)
Abstract
Percutaneous endoscopic technique has been used to treat disk herniation and spinal stenosis ( 5,8,10 ), so far we have very few reports to treat benign spinal tumors under this minimally invasive treatment( 3 , 5 ) . We would like to present a single case of lumbar epidural angiolipoma removed using full endoscopic interlaminar approach as a safe and effective option to treat benign extra dural spinal tumor .We describe a 54 year-old man with a 3-month history of a progressively worsening low back pain without any other neurological signs.A magnetic ressonance demonstrated a dorsally located L1-L2 epidural lesion . We've performed a total removed under the basic steps of the Interlaminar approach . After opening the ligamentun flavum , the tumor was totally removed piecemeal under endoscopic guidance , The procedure lasted less than three hours with no support in intensive care unit and pathological examination confirmed extradural lumbar angiolipoma .he had a hospital discharge less than twelve hours after the surgical procedure with no neurological signs and using minor pain killer to control the back pain .E ven though we don´t have so much papers about this surgical practice, we think that is a feasible treatment and for sure we need more adapted endoscopic tools to accelerate the surgical time .