Rodrigo de Siqueira Melo
Federal University of Rio de Janeiro, Brazil
Biography
Rodrigo de Siqueira Melo has graduated in Biological Sciences and has done his Master's in Biochemistry from the Institute of Chemistry (UFRJ). He has done his Doctorate in Technology of Chemical and Biochemical Processes, UFRJ. He is currently an Adjunct Professor at the Federal University of Rio de Janeiro, Campus Macaé, Brazil. He has developed projects with exopolysaccharides of marine cyanobacteria for application as antifouling in anticorrosive paints. He is currently the Coordinator of the Group of Bioelectroanalytics and Advanced Materials at UFRJ-Campus Macaé and develops research in the area of ​​quantification of heavy metals in different samples using electroanalytical methods, electrode construction and modified sensors for interaction with different macromolecules, study and development of anticorrosive coatings and development of films by electropolymerization with natural marine products.
Abstract
The anticorrosive and antifouling performance of copper oxide-based organic coatings incorporated with microbial exopolysaccharides (EPS) was studied using electrochemical impedance spectroscopy (EIS) and scanning electron microscopy (SEM) after immersion in water produced by oil wells and in natural seawater. EPS incorporation in the paint did not influence the coating's final anticorrosive behavior. Moreover, no bacterial adhesion occurred during the immersion period in the presence of EPS, indicating biopolymer as a promising biocide for the antifouling paint sector.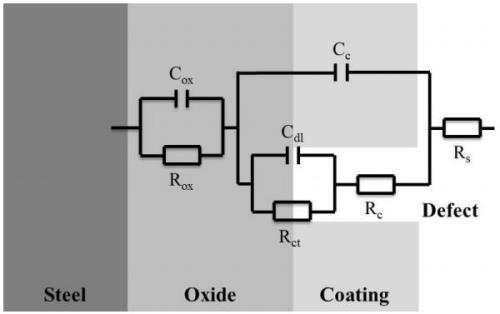 Equivalent electrical circuit proposed for copper oxide-based organic coatings in the absence and presence of EPS after 144 days of immersion in water produced by oil wells; Rs: solution resistance, Cc: paint capacitance, Rc: paint resistance, Cdl: bilayer capacitance, Rct: charge transfer resistance, Cox: oxide layer capacitance and Rox: oxide layer resistance.