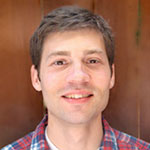 Sean McComber, Eric Farrar, Todd Fechter, and Kyoung Lee Swearingen
University of Texas at Dallas, USA
Biography
Sean McComber is an Assistant Professor of Animation in Arts and Technology (ATEC) at the University of Texas at Dallas. He graduated from Savannah College of Art and Design with a B.F.A. in Computer Art and an emphasis in Animation and received his M.F.A in ATEC from UTD. After graduating, Sean was accepted into the internship program at Rhythm & Hues Studios, a visual effects production company for film. Sean rose from intern to Lead Animator and eventually traveled to Rhythm & Hues' Mumbai, India, facility as Supervising Animator. Sean is currently teaching classes in Character Animation.
Eric Farrar is an Assistant Professor of 3D Computer Animation in Arts and Technology (ATEC). He graduated from The Ohio State University where he completed an MFA in Computer Animation and Visualization working through the Advanced Computing Center for Art and Design (ACCAD). Eric then went to work for the Los Angeles based visual-effects studio, Rhythm & Hues where he worked as a character rigger creating bone and muscle systems for digital characters for films such as Night at the Museum and The Chronicles of Narnia: The Lion, Witch and the Wardrobe. Eric is currently teaching classes in 3D animation including courses specifically focused on the more technical side of character rigging.
Todd Fechter is an Associate Professor of Animation and current Interim Director of the school of Arts, Technology and Emerging Communication. He graduated with an MFA in Computer Animation and Visualization from The Ohio State University in 2002. Fechter has worked in and around the animation industry for the past thirteen years, having worked as a modeler, rigger, and modeling supervisor for studios including DNA Productions and Reel FX. Fechter currently teaches courses in modeling and pre-production.
Abstract
Preparing students for careers in the animation industry can be a challenge. Over the past three years we have developed an Animation Production Studio course in which we strive to mimic a studio production environment. In this course students have the opportunity to drive the entire production pipeline including story development, layout, modeling, texturing, rigging, animation, lighting, rendering/compositing, and sound design, as well as project planning and management. Students work in a collaborative environment and develop skills with specific production tasks in addition to gaining critical experience in working as part of a large, multi-disciplinary team with definite production goals and deadlines. The problem solving and time management skills developed in this course help prepare our students not only for the film and game industries, but also for the myriad new and emerging areas of animation and visualization. This lecture will discuss the structure of the course, what has and has not worked over the past three years, and how the evolution of this course has helped to prepare students for work after college, drive the growth and direction of the ATEC animation program, and create several award winning short films.