The Role of Novel Biomarker in Early Prediction of Preeclampsia in Pregnant Rats
Manar E Selim1,2*, Nouf G Elshmry3 and El Himaidi A Rashed1
1Department of Zoology, College of Science, King Saud University, Riyadh-11451, KSA, Saudi Arabia
2Department of Zoology, Ain Shams University, Cairo, Egypt
3Department of Zoology, College of Science, Hail University, Hail, Saudi Arabia
Corresponding Author:

Manar E Selim
Department of Zoology, College of Science
King Saud University, Saudi Arabia
Riyadh-11451, KSA
Tel: +966 (0) 56 3588453
E-mail: [email protected]
Received Date: September 04, 2012; Accepted Date: January 28, 2013; Published Date: January 30, 2013
Citation: Selim ME, Elshmry NG, Rashed ElHA (2013) The Role of Novel Biomarker in Early Prediction of Preeclampsia in Pregnant Rats. J Blood Disord Transfus 4:135. doi: 10.4172/2155-9864.1000135
Copyright: © 2013 Selim ME, et al. This is an open-access article distributed under the terms of the Creative Commons Attribution License, which permits unrestricted use, distribution, and reproduction in any medium, provided the original author and source are credited.
Visit for more related articles at Journal of Blood Disorders & Transfusion
Abstract
Preeclampsia has been known to be implicated in almost 20% of pregnancy-related maternal deaths and is also known to be the leading cause of a mandated preterm delivery. Pre-eclampsia is a medical condition associated with significant amounts of protein in urine in pregnant ladies reported with hypertension. As this is not a normal situation, the need for development of relevant biomarkers, rapid improvement in current diagnosis and the advancements in treatment is greatly required. The Cellular microparticles are either shed or secreted from cell membranes as endocytic vesicles which are termed as exosomes. In our investigation, evidence of accumulating exosomes in preeclamptic rats that modulate the antigen presentation, and are also capable of suppressing the immune response by exposing NkG2D-ligands has been investigated. The probability of such research on these vesicles and their putative clinical relevance are quite exciting and promising for the future upcoming research. The faster the disease is detected and confirmed with the help of such vesicles, the better would the maternal and fetal prognosis be diagnosed.
Keywords
Preeclampsia; Exosomes; NkG2D-ligands; Placenta
Introduction
The condition pre-eclampsia in pregnant women remains to be important known cause of maternal and prenatal death. Many cases are known to be caused by a shallow implanted placenta that loses its proper functioning, ultimately leading to a medical condition termed Pre-eclampsia Syndrome, resulting in severe immune reaction involved with inflammatory mediators of placenta that acts on the vascular endothelium.
As the maternal parent lacks the receptors responsible for the proteins in certain cases of pre-eclampsia, the placenta results in down regulation of the maternal immune system's response to it. This view is also in accordance with some evidence relating many miscarriages with immunological disorder where the mother's immune system "provokes a devastating attack on the developing child tissues [1]. In addition to this, the perfusion reduction has noted to be secondary in comparison with maternal vessels failed remodeling resulting in deficiency of the supplying the intervillous space to cause preeclampsia [2]. The possibility to identify the evidence of decreased placental perfusion was high in those mother who had restricted growth in babies which was totally not associated with preeclampsia [3]. Failed placental vascular remodeling were further associated with preterm birth which turned to be a pathological evidence [4]. Thus various factors like genetic, constitutional, environmental, physiological and behavioural factors were associated with decreased placental perfusion leading ultimately to preeclampsia.
The previous factors that were leading to the maternal syndrome which may cause cardiovascular disease in further life. Similarly, preeclampsia was the linkage between decreased perfusion and the maternal syndrome. Many so called "toxins" that derived from placenta were proposed, including the cytokines [5] antiangiogenic factors, [6] syncytiotrophoblast microparticles (STBM) [7] and the formed blood products were activated in the intervillous space [8]. Oxidative stress was part of the linkage [9]. The reduced perfusion of the placenta have the capacity to generate certain harmful molecules like reactive oxygen species with consequent activation of monocytes and neutrophils [8] passing through the intervillous space. Oxidative stress will ultimately stimulate the release of cytokines, microparticles, antiangiogenic factors and other such potential linkers that would also be mediated by the same oxidative stress [9]. Unleashes of STBM and exosomes promotes endothelial and immune cell dysfunction, inflammation and necrosis/apoptosis and is somehow associated with the placental pathophysiology in preeclampsia [10–12]. The human hemochorial pregnancy, is the most complicated mode of reproduction that puts a great strain to the maternal organism and creates an immunologic tolerance to the fetal allograft that supports its growth. The placenta is the key for mammalian reproduction success that is known to mediate hormonal, oxygen support and nutrition to the fetus along with secretion of various signaling substances and other immunoregulatory factors which modulate/alter the immune response of the maternal parent during the pregnancy. Many authors [13–18] have shown that the main cell type in the human placenta, the syncytiotrophoblast, releases nanometer-sized microvesicles called exosomes, which are used in the fetal–maternal cross-talk for adaptation of the maternal organism to the ongoing pregnancy. Exosomes are usually 30 to 100 nm-sized microvesicles that have a defined morphology along with phenotype and are formed and released through the late endosomal compartment of a variety of cells [19] with inclusion of syncytiotrophoblast (STB) of human placenta [12,14]. To target the cells and transfer the infectious agents between the cells the exosomes have the capacity to carry mRNA, cytosolic and membrane bound proteins, bioactive lipids, as such. Based on the cell type and the origin of the cell type, exosomes are known to play their role in serving as novel form for the intracellular communication. Dendritic cell originated exosomes have immune-activating capacity [20], intestinal epithelia and tumors acquired exosomes have a suppressive effect on the immune responses [21]. Thus, human placenta derived exosomes proven by us and others look to be another mechanism that promotes the survival of fetal allograft [13,15-17]. The study reports for the first time that expressing exosomes by the placenta is a new form of storage of intracellular NKG2D ligand and thus contribute to the immune escape of the fetus. Authors including us have shown that placenta releases variety of molecules like immune-suppressive carrying molecules like NKG2D ligands, exosome which suppress immune system of maternal parent [13,17,18,22]. The study will focus on the placenta-derived exosomes and discuss their role in preeclampsia.
Materials and Methods
The current study was carried out on 50 female Wistar rats supplied by Medical College animal house at King Khalid University Hospital (King Saud University). Their average weight was 200-250 g. They were 12-16 weeks old. They were housed in a controlled environment and get free access to water ad labitum. Two or three cycling female rats were housed with a male for 24 hours. The presence of sperms in vaginal smears was considered as day 1 of pregnancy. Rats were divided into two groups (25 rats each) according to the following experimental design:
Group I: Included pregnant rats that were received saline solution (0.5 ml/100 g body weight) subcutaneously daily starting from day 7 to day 14 of gestation and served as control group.
Group II: Included pregnant rats that were dissolved in sterile solution in the sequential dosage of 10 mg/0.5 ml/100 g body weight subcutaneously and simultaneously treated with L-NAME (L-arginine methyl ester) every day starting from the day 7 to day 14 of gestation as mentioned for group I, to make an animal model of preeclampsia [23]. On day 14 of gestation (i.e. 7 days after saline injection in group I or after L-NAME treatment in group II), Placental samples from normal and early preeclamptic rats were isolated following the procedure as described [24] for the following parameters:
Short-term cultures of explants obtained from both early normal and treated placenta
Short-term placental explants cultures were developed and established similarly as previously mentioned [17]. In short, tiny pieces of chorion villi of around 5–10 mg of the wet weight were later cultured by using RPMI 1640 medium along with supplementation by 0.5% BSA (Sigma-Aldrich) or 10% FCS which was by then ultra centrifuged for 5 h at 110,000 g. This obtained culture was now strictly maintained at optimum temperature i.e., 37°C in 5% CO2 and with humidified air. The supernatents obtained were harvested after 24 h of culture and used for exosome isolation.
Isolation of exosomes from Placental explant culture supernatents
Supernatents from the culture after clearing the cell debris were collected after 24 h by sequential centrifugations at 4000 _xg for 30 min along with 17,000 xg for 25 min. The pellet obtained was discarded and the supernatant was filtered by a 0.2-_m filter. This was then followed by the ultracentrifugation of the the supernatant at 110,000 _xg for 1 h. Once again the pellet obtained was washed with sterile-filtered PBS, and again repeated the ultra centrifugation step. Exosome now prepared for electron microscopic observation. For the experiments of NKG2D down-regulation additional purification by 20% and 40% sucrose gradient ultracentrifugation was performed and later washed with filtered PBS as mentioned. Preservation of isolated exosomes was done until use at 4°C in Phosphate Buffer Saline which was supplemented along with protease inhibitor cocktail (Complete Mini; Roche Diagnostics).
FACS-Analysis
Anti-NKG2D ligand antibody and matched control isotype antibody were used and exosomes were revealed by FITC-coupled anti-CD63 monoclonal antibody performed according to the manufacturer's instructions. After blocking and washing step, 30-min incubation with FITC-conjugated anti-CD63 antibody was analyzed on FACS (BD Biosciences) using Cell Quest software.
TUNEL assay and apoptotic index
Explants fixed with Para formaldehyde were cut into serial small sections and embedded in paraffin. To assess the apoptosis of placental explants, fluorescence TUNEL assay was performed following the manufacturer's instructions (In Situ Cell Death Detection kit; Roche Molecular Biochemicals, Laval, QC, Canada). The obtained de paraffinised, rehydrated and de waxed sections pretreatment was performed using 20 μg/ml Proteinase K (Sigma-Aldrich) in 10 mmol/L Trish-HCl for 15 mins which was then followed by blocking with 10% normal goat serum and stained the same for TUNEL using Flourescein-UTP containing reaction mixture. In brief, de paraffinised, de waxed, and rehydrated sections were pretreated with 20 μg/ml proteinase K (Sigma-Aldrich) in 10 mmol/L Tris-HCl for 15 minutes, blocked with 10% normal goat serum, and then stained for TUNEL using a reaction mixture containing fluorescein-dUTP. All those explants sections were blinded and observed with a Leica inverted microscope (Leica Microsystems, Heidelberg, Germany) using a ×20 objective lens. There are three fields that contain a minimum of 900 nuclei which were randomly selected from each section, and digital images were taken of the TUNEL-stained (green) and 4,6-diaminodino-2-phenylindole (DAPI)-stained (blue) sections and were captured and deconvoluted using Slidebook 4.1 software (Intelligent Imaging Innovations Inc., Denver, CO). TUNEL-positive nuclei (apoptotic) and DAPI-stained (total) nuclei were simultaneously counted at a magnification of 400×.
The apoptotic index were calculated in each and every section as the percentage of TUNEL-positive nuclei divided by the total number of DAPI-stained nuclei.
Statistical analysis
Student's t-tests were used when only two groups were compared. Data are presented as the mean ± SE, and were considered significant at P<0.05.
Results
Morphology and composition of placental exosomes
An illustration of the morphology and size of placental exosomes isolated from explant cultures is given in figures 1 and 2. As it can be seen that they have morphological characterization of exosomes obtained from electron micrograph which showed approximately 80- 90 nm of size, typically cup-saucer shape with electron translucent in control group (Figure 1) whereas ranging from 60-90 nm size (Figure 2), typically cup-saucer, spherical with typically less electron translucent and increased electron dense were found in preeclamptic group.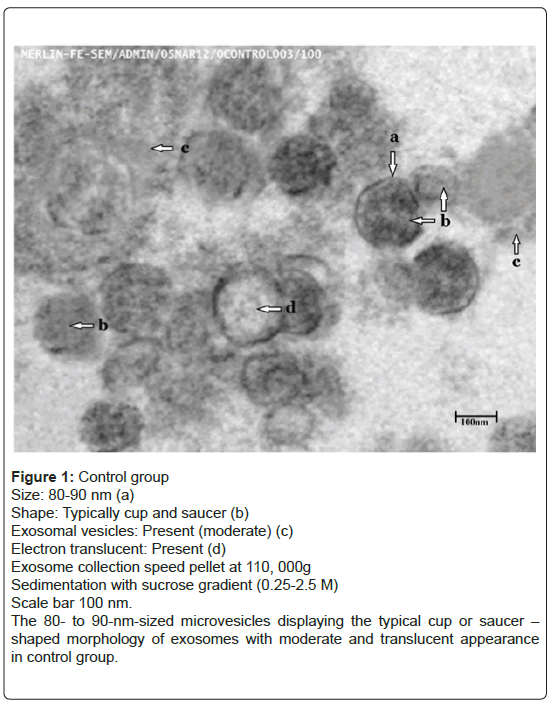 Figure 1: Control group
Size: 80-90 nm (a)
Shape: Typically cup and saucer (b)
Exosomal vesicles: Present (moderate) (c)
Electron translucent: Present (d)
Exosome collection speed pellet at 110, 000g
Sedimentation with sucrose gradient (0.25-2.5 M)
Scale bar 100 nm.
The 80- to 90-nm-sized microvesicles displaying the typical cup or saucer–shaped morphology of exosomes with moderate and translucent appearance in control group.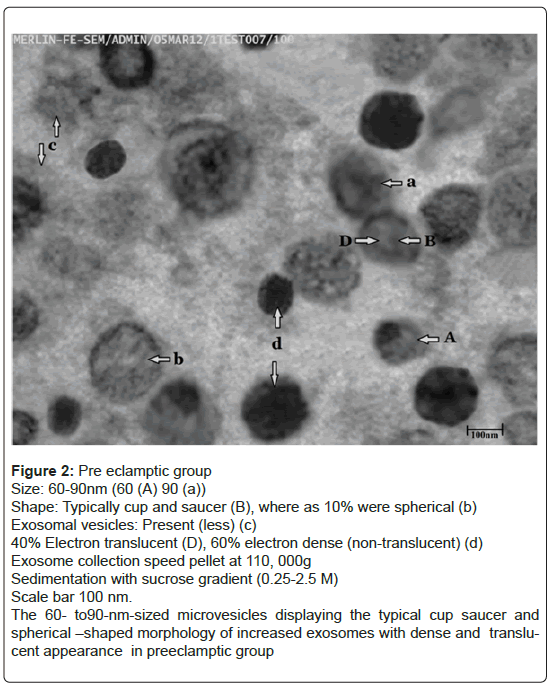 Figure 2: Pre eclamptic group
Size: 60-90nm (60 (A) 90 (a))
Shape: Typically cup and saucer (B), where as 10% were spherical (b)
Exosomal vesicles: Present (less) (c)
40% Electron translucent (D), 60% electron dense (non-translucent) (d)
Exosome collection speed pellet at 110, 000g
Sedimentation with sucrose gradient (0.25-2.5 M)
Scale bar 100 nm.
The 60- to90-nm-sized microvesicles displaying the typical cup saucer and spherical –shaped morphology of increased exosomes with dense and translucent appearance in preeclamptic group
Explants from early placenta release NKG2D ligand-bearing exosomes
Isolated exosomes were captured on anti NKG2D ligand and revealed by anti-CD63 in our electron microscopy and flow cytometric analysis (Figures 1-3). The results indicate that the placenta releases exosomes expressing NKG2D ligands on the surface.
TUNEL assay and apoptotic index
To determine whether placental explants were undergoing apoptosis, the placental sections from control and treated groups were stained with TUNEL. As shown in figure 4 no significant TUNEL-positive signal was detectable in tissue from control rats. However, preeclamptic rats resulted in TUNEL-positive staining. Explants from early trimester treated rats with L-NAME demonstrated increased placental apoptosis as compared to control, as determined by a TUNEL assay and index, which may be blocked by the presence of NKG2D ligand. Placental explants from control group did not show significant apoptosis (% negligible). Compared with the apoptotic index of untreated control explants of early pregnancy, a subsequent treatment with L-NAME resulted in increase in the apoptotic index (P<0.05; Figure 5) 37% of cells were found to be underwent apoptosis in preeclampsia (White arrow in Figure 4). The apoptotic index from control to treated explants increased significantly 0.2 to 37% respectively (P<0.05).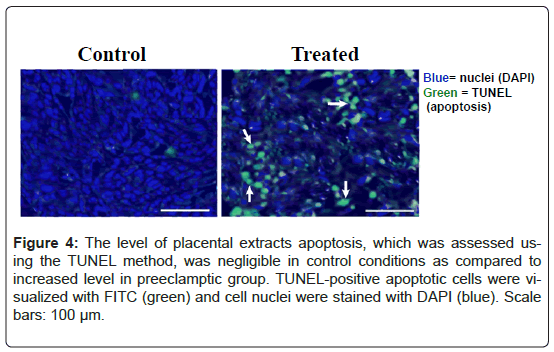 Figure 4: The level of placental extracts apoptosis, which was assessed using the TUNEL method, was negligible in control conditions as compared to increased level in preeclamptic group. TUNEL-positive apoptotic cells were visualized with FITC (green) and cell nuclei were stained with DAPI (blue). Scale bars: 100 μm.
Discussion
Pregnancy is not the sole condition gaining from studies of placental exosomes. Understanding how the well-being of the fetal allograft is created can benefit transplantation. Moreover, to establish a nutrient supply and to evade the host immune response many invasive, proliferative and immune tolerance mechanisms that support the normal human pregnancy have been exploited by preeclampsia. Thus, release of exosomes that can edit immune responses to promote survival and well-being of the fetus during preeclampsia, might be one common link between the physiological state of pregnancy and the pathological state of preeclampsia. Taking the methodological consideration described earlier, there are few investigations into isolated pregnancy-specific exosomes so far. They comprise studies of exosomes isolated from the peripheral blood of pregnant women performed by the group of Taylor et al. [15] and studies of exosomes isolated from ex vivo placental explant cultures from first trimester normal pregnancy performed by another groups [13,17,22]. Knowledge, gained from exosome research in reproduction, could lead to identification of novel diagnostic and therapeutic approaches in preeclampsia. Intercellular communication caused by microvesicles MV has opened new perspectives in understanding the role of the placenta as the one of the most powerful regulatory organ that uses MV-mediated signaling to target and also reprogram maternal cells for the reproduction benefits. Microvesicular body MVB/late endosomes are major protein sorting in the cellular endocytic pathway. These vesicles are stored, sorted for protein degradation to lysosomes, or released as exosomes into the extracellular milieu. Few mechanisms still remain unknown such as the cellular mechanisms for sorting of proteins for secretion, storage, or degradation [25]. In some cells, MVB has an additional role of serving as temporary protein storage compartments [26]. In our investigation the increased level of placental exosomes as seen in preeclamptic group but not in control group revealed a novel mechanism detecting frequently in early rather than in late onset pre-eclampsia. The presence of NKG2D ligands on placental exosomes in situ was evidenced by previous phenotypic analyses of the microvesicles that were isolated from the supernatant of placental explant cultures [27]. Our electron microscopic study (Figures 1 and 2) and FACS analyses (Figure 3) showed that the secreted NKG2D ligand-loaded microvesicles displayed morphology, size, and expression of known exosomal markers such as CD63 confirming their exosomal nature. Tumor-shed soluble NKG2D ligands have been shown to impair the cytotoxic antitumor response by NKG2D receptor down-regulation [28]. Soluble form of the ligands is generated by the mechanism Protease-mediated cleavage of NKG2D ligands on the cell membrane [29]. The release of placental exosomes, which has the capacity to mimic cell-cell interactions, represents an alternative mechanism for generation of soluble bioactive NKG2D ligands were observed in tumor cell lines [30,31]. Studies on Exosome involve both immunosuppressive and immunostimulatory role [22,32]. Apoptosis of activated T cells were induced by exosome-associated secretion of FasL from STB and thus promoted the fetal allograft survival [13,14]. However, exosomal FasL is not the sole mediator of immune escape of the fetus.The release of placental NKG2D ligand bearing exosomes provide a platform for permanent engagement of the same NKG2D. Recent studies have shown that this engagement not only impairs the NKG2D function but includes suppression of other, perforin-independent cytotoxicity pathways [33], confirming the finding of Taylor et al. [15] that placental exosomes suppress the CD3-_ chain and JAK3 expression in T lymphocytes. Increased cytokines are seen in the circulation of preeclamptic women reasons being still unknown [34] Multiple studies demonstrated that increased inflammatory cytokine production leads to endothelial dysfunction, increased placenta apoptosis and other complications like kidney abnormalities that are relevant to the pathophysiology of preeclampsia PE [35]. Although there are animal models of PE available, but little of them have delineated the cause of increased exosomes during this mechanism. Here, using a novel biomarker for early detection of PE in pregnant rats, we demonstrate that the production of exosomes through this mechanism and expression characteristics of the NKG2D ligand may play an important role in the fetal allograft survival as represented by the percentage of apoptosis (Figure 5). Our result goes with subsequent studies, elevated circulating STBM were detected more frequently in early rather than in late onset pre-eclampsia [36]. Increased levels were not found in normotensive pregnancies as would be associated with isolated deficient placentation [36]. The syncytial surface of the placenta renews itself, as do other biological surfaces, by apoptosis which is controlled cell fragmentation with release of subcellular microparticles in forms that are easy to clear by phagocytic systems [37]. Several forms of trophoblast debris [38], formed in this way, can be detected in the maternal circulation, including soluble cytokeratin of placental origin, soluble fetal DNA and soluble fetal RNA and exosomes. In addition, all such factors are increased in the circulation in pre-eclamptic women. Trophoblast hypoxia induces apoptosis [39] and significantly more apoptosis can be detected in situ in samples taken from the hypoxic placentas of pre-eclamptic women [40].
We highlighted here in that exosomes comprise a stimulus to the systemic inflammatory response in pre-eclamptic pregnancies. The current evidence that exosomes from pre-eclamptic placenta differ in quality from those from normal placentas differ with [41]. In addition, in this study the entire population of exosomes was studied with reference bearing NKG2D ligand together with their placental source. The mild features of preeclampsia and rescue of preeclampsia-like features by recombinant exosomes bearing NKG2D ligand suggest its regulatory role in programming the severity of preeclampsia manifested by apoptosis and appoptic index (Figures 4 and 5). Thus, our model provides potential opportunities to study the influence of exosomes and bearing NKG2D ligands and their contribution to preeclampsia.
More such analyses need to be performed to come to a consensus that the role of exosomes in preeclampsia and related diseases, recurrent abortions and infertility waits to be evaluated. Understanding mechanisms of apoptosis and other variants of programmed cell death, at the molecular level provides a deeper platform in acquiring knowledge into the disease processes and may thus influence in framing up of much advanced therapeutic strategy.
References