Understanding the Prospective Nature of Adaptive Locomotion and its Application in Rehabilitation
Takahiro Higuchi1* and Minoru Yamada2
1Department of Health Promotion Science, Tokyo Metropolitan University Graduate School of Human Health Science, Tokyo 192-0397, Japan
2Department of Human Health Sciences, Kyoto University Graduate School of Medicine, Kyoto 606-8507, Japan
*Corresponding Author:

Takahiro Higuchi
Department of Health Promotion Science
Tokyo Metropolitan University Graduate School of Human Health Science
Tokyo 192-0397, Japan
E-mail: [email protected]
Received Date: January 20, 2013; Accepted Date: March 15, 2013; Published Date: March 17, 2013
Citation: Higuchi T, Yamada M (2013) Understanding the Prospective Nature of Adaptive Locomotion and its Application in Rehabilitation. Int J Phys Med Rehabil 1:110. doi: 10.4172/2329-9096.1000110
Copyright: © 2013 Higuchi T, et al. This is an open-access article distributed under the terms of the Creative Commons Attribution License, which permits unrestricted use, distribution, and reproduction in any medium, provided the original author and source are credited.
Visit for more related articles at International Journal of Physical Medicine & Rehabilitation
Stability during locomotion is maintained in part through prospective control of adaptive locomotor actions in response to environmental characteristics. Prospective (i.e., anticipatory) control is primarily dependent on visual inputs and can be executed in a feedforward manner with the help of knowledge and past experience. In this commentary I will show two lines of research regarding the prospective characteristics of locomotion and its relevance to some issues in rehabilitation.
Adaptive locomotor control in response to the size of space relative to the dimensions of the body: Evidence from the behavior of walking through an aperture
In the course of their locomotor activities, individuals are likely to encounter narrow environments, such as doorways or dynamically changing spaces created by pedestrians in hallways. When they navigate through such environments, adaptive gait and postural modification, such as body rotations in the yaw dimension at shoulder height or movement speed, may be necessary to achieve a collision-free passage. A dominant postural modification is body rotation, which contributes to a significant decrease in the horizontal spatial requirements for passage.
There is a general understanding that the central nervous system (CNS) relies on the perception of the relative width of an aperture to the body to determine whether body rotation is necessary to avoid collision. One key finding supporting this understanding was that the critical ratio value for beginning rotation was constant among individuals regardless of the individual's body size [1]. This was the case even when the horizontal space required for passage was transiently wider than the body because a participant was transporting an external object [2-5]. When walking while holding a shopping bag or a large box, a wider space than usual is required. Locomotor actions to successfully cross a narrow aperture may be restricted: the contribution of the rotation of the shoulders would be less when holding a large box in front.
In one of our studies [2], we asked participants to walk through a narrow aperture while holding a long horizontal bar, which required a space approximately 20 cm wider than that required for normal walking. Body rotation was allowed or constrained. Results showed that adaptation was very successful when body rotations were allowed. Virtually, the same locomotor patterns as those under normal walking were produced, and no collision occurred (Figure 1). However, adaptation did not occur quickly when body rotations were restricted. The participants sometimes had to stop in front of the door to determine if safe passage was possible. Nevertheless, some participants experienced collisions. These findings show that a movement constraint on body rotations in the yaw dimension is likely to be a critical factor that allows an individual to quickly adapt to altered action capabilities. If movement is constrained, then a certain amount of experience would be necessary for adaptation (Figure 1).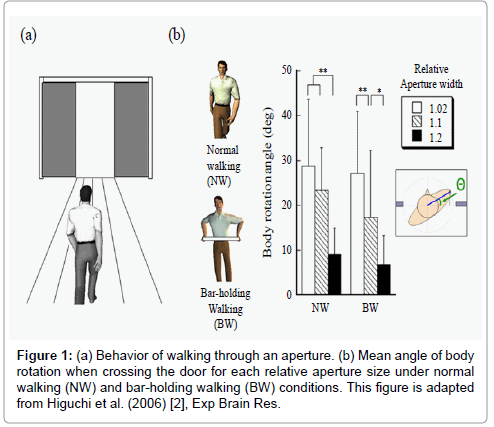 Figure 1: (a) Behavior of walking through an aperture. (b) Mean angle of body rotation when crossing the door for each relative aperture size under normal walking (NW) and bar-holding walking (BW) conditions. This figure is adapted from Higuchi et al. (2006) [2], Exp Brain Res.
Several types of patients, such as stroke patients or those with Parkinson's disease, or a part of older individuals may suffer from several movement constraints, including body rotations. In fact, it has been reported that older individuals [6,7] and patients with Parkinson's disease [8] have difficulty walking through such environments in response to their action capabilities. Future studies need to identify effective interventions for these populations.
We also demonstrated that adaptation is likely to take a much longer time when the form of locomotion changes dramatically from walking to wheelchair use [9,10]. In one study [10], we demonstrated that young, non-handicapped participants who had never used a wheelchair underestimated the space required for a wheelchair, risking a potential collision. They determined that apertures would be passable when apertures were greater than 0.94 times the width of the wheelchair. Their underestimation was not completely eliminated even after eight days of practicing moving through openings of various widths with a wheelchair. These findings suggest that it would take a long time to adapt to altered action capabilities while using a wheelchair. Since the biomechanical features of locomotion dramatically change from walking to wheelchair use (e. g. , upper-limb propulsion, restricted mobility, and dramatic changes in the position of the center of mass and base of support), extensive practice may be required to accurately determine if safe passage is possible. In fact, the estimation of the space required for wheelchair use was accurate in experienced users with tetraplegia [9] and healthy participants trained for six months [11]. Future studies need to address the identification of effective interventions to increase the ability of novice wheelchair users to perceive the space required for their locomotion.
Measurement of stepping accuracy onto multiple footfall targets as a potential indicator of fall risk.
Older individuals who are at high risk (HR) for falls generally show difficulty in ambulating safely while stepping precisely on footfall targets on the ground [12-14]. This impaired stepping in HR older individuals is likely due to high gait variability [15], a decline in visuomotor control of foot movement [12,13], and cognitive impairment, particularly in executive functions [16,17]. The measurement of stepping accuracy during gait is therefore a useful clinical tool for assessing the risk for falling in older individuals.
We recently developed a new assessment for fall risk, the multitarget stepping (MTS) test, to measure stepping accuracy in a simplified manner [18]. In the MTS test, participants are instructed to walk while stepping on squares with an assigned color as a footfall target continuously along the 15 lines while avoiding other colors (distracters). Our initial study demonstrated that 20 of 31 HR older participants, defined as those who self-reported at least 1 fall within the past year and required greater than 13.5 seconds to perform a timed-up-and-go (TUG) test, failed at least once to step precisely on the target (referred to as a stepping failure). The HR older participants also showed a significantly higher rate of failure to avoid stepping on distracters (avoidance failure) than low-risk (LR) older participants.
A subsequent study [19] was conducted to identify factors leading HR older individuals to impaired stepping performance in terms of spatio-temporal patterns of fixations (gaze behavior). The results showed that, whereas the younger participants fixated approximately three steps ahead, the older participants directed their fixation closer toward the imminent footfall target, demonstrating difficulty using the visual information regarding the target in a feedforward manner (Figure 2). Such patterns of fixations were significantly associated with the frequency of stepping and avoidance failures. From these findings, it is suggested that the higher rate of stepping and avoidance failures in the MTS test could be attributed, at least in part, to the tendency to fixate on/around an imminent footfall target, which prevented older individuals from considering the locations of future footfall targets.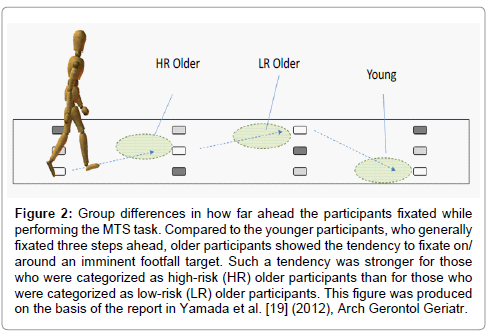 Figure 2: Group differences in how far ahead the participants fixated while performing the MTS task. Compared to the younger participants, who generally fixated three steps ahead, older participants showed the tendency to fixate on/ around an imminent footfall target. Such a tendency was stronger for those who were categorized as high-risk (HR) older participants than for those who were categorized as low-risk (LR) older participants. This figure was produced on the basis of the report in Yamada et al. [19] (2012), Arch Gerontol Geriatr.
We further investigated whether a 24-week exercise program during which older participants performed the MTS test twice a week (MTS program) was effective for improving the ability to step precisely on footfall targets and preventing falls [20]. This trial recruited community-dwelling adults aged 65 and older in Japan. Participants were randomized into an MTS group (n=112) and a control group (n=118). The participants took part in the MTS program twice a week for 24 weeks and performed the MTS task 4 times at each visit (in total, a 3- to 5-minute walk). The participants assigned to the control group took part in an indoor walking program (a single trial of a 50 m walk) twice a week for 24 weeks. All participants in both groups also performed 30 minute group training sessions during each visit.
The result showed that thirteen participants (11.6%) in the MTS group and 39 (33.0%) in the control group experienced falls during the 12-month follow-up period. Three participants in the MTS group and 13 in the control group experienced fall-related fractures during the 12-month follow-up period. After the intervention, the MTS group showed significantly greater improvement in stepping accuracy and gaze behavior during the MTS task and in the performance of the TUG and 10 m walking.
A series of these experiments demonstrated that the ability to step over multi-footfall targets, which requires individuals to perceive the location of the targets in a prospective manner, is important to ensure stability in a virtually complex environment. Interventions using the MTS task are likely to improve stepping accuracy, gaze behavior, and physical performance and can lead to reducing the risk for falls.
Acknowledgements
This study was supported in part by a Grant-in-Aid for young scientists from the Japanese Society for the Promotion of Science (JSPS) to the first-named author.
References