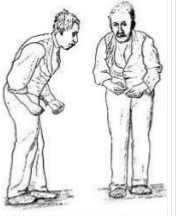 Pathophysiology
Parkinson's disease is a degenerative disorder of the motor system in the central nervous system. It is caused due to the death of the dopamine generating cells of the mid brain. Parkinson's disease is considered a synucleiopathy due to an abnormal accumulation of alpha-syncline protein in the brain in the form of Lewy bodies, as opposed to other diseases such as Alzheimer's disease where the brain accumulates tau protein in the form of neurofibrillary tangles. There is clinical and pathological overlap between tauopathies and synucleinopathies. Dementia with Lewy bodies (DLB) is another synucleinopathy that has similarities with Parkinson's disease.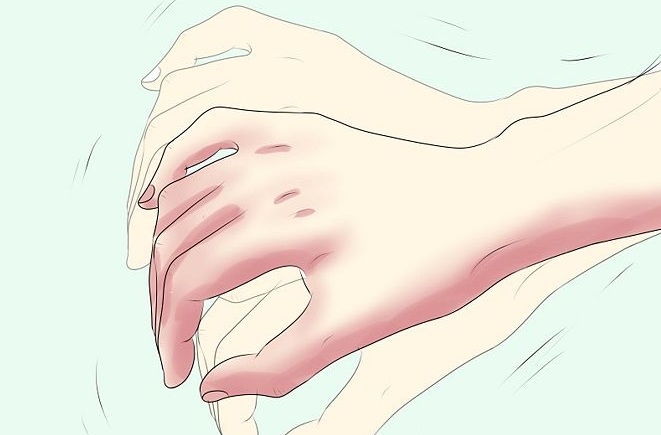 Symptoms
Parkinson's disease affects movement, producing motor symptoms. Non-motor symptoms, which include autonomic dysfunction, neuropsychiatric problems (mood, cognition, behavior or thought alterations), and sensory and sleep difficulties, are also common. Some of these non-motor symptoms are often present at the time of diagnosis and can precede motor symptoms. Tremor is the most apparent and well-known symptom. Other symptoms include Hypokinesia, Rigidity (increased muscle tone), Postural instability, impaired balance leading to bone fractures. Motor symptoms include gait and posture disturbances such as festination, speech and swallowing disturbances including voice disorders, mask-like face expression or small handwriting. Parkinson's disease can cause neuropsychiatric disturbances which can range from mild to severe. Alterations in the autonomic nervous system can lead to orthostatic hypotension (low blood pressure upon standing), oily skin and excessive sweating, urinary incontinence and altered sexual function. Constipation and gastric dysmotility can be severe enough to cause discomfort and even endanger health. Behavior and mood alterations are more common in parkinson's disease without cognitive impairment. Impulse control behaviors such as medication overuse and craving, binge Alterations in the autonomic nervous system can lead to orthostatic hypotension eating, hypersexuality, or pathological gambling can appear. Sleep problems are a feature of the disease.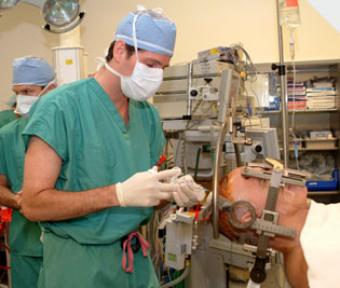 Therapeutic treatment
There is no cure for Parkinson's disease, but medications, surgery and multidisciplinary management can provide relief from the symptoms. The main families of drugs useful for treating motor symptoms are levodopa (usually combined with a dopa decarboxylase inhibitor or COMT inhibitor which does not cross the blood–brain barrier), dopamine agonists and MAO-B inhibitors. Two stages are usually distinguished: an initial stage in which the individual with PD has already developed some disability for which he needs pharmacological treatment, then a second stage in which an individual develops motor complications related to levodopa usage. Treatment in the initial stage aims for an optimal tradeoff between good symptom control and side-effects resulting from improvement of dopaminergic function. The start of levodopa (or L-DOPA) treatment may be delayed by using other medications such as MAO-B inhibitors and dopamine agonists, in the hope of delaying the onset of dyskinesias. Levodopa has been the most widely used treatment for over 30 years. Dopamine agonists include bromocriptine, pergolide, pramipexole, ropinirole, piribedil, cabergoline, apomorphine and lisuride. Treating motor symptoms with surgery was once a common practice, but since the discovery of levodopa, the number of operations declined. Studies in the past few decades have led to great improvements in surgical techniques, so that surgery is again being used in people with advanced Parkinson for whom drug therapy is no longer sufficient. Deep brain stimulation (DBS) is the most commonly used surgical treatment.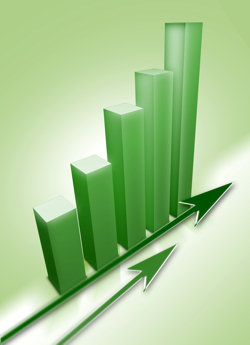 Statistical analysis
The life expectancy of people with Parkinson is reduced. Mortality ratios are around twice those of unaffected people. Cognitive decline and dementia, old age at onset, a more advanced disease state and presence of swallowing problems are all mortality risk factors. On the other hand, a disease pattern mainly characterized by tremor as opposed to rigidity predicts an improved survival. In 2013 PD resulted in about 103,000 deaths globally, up from 44,000 deaths in 1990. The death rate increased from an average of 1.5 to 1.8 per 100,000 during that time.