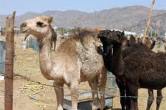 Alkhurma hemorrhagic fever virus (AHFV) is identified as the agent of a viral hemorrhagic fever in Saudi Arabia causing because of sheeps, camel, goats and characterized serologically and genetically as a variant genotype of Kyasanur Forest disease virus. Since viral diagnosis and vaccine development may be hindered by genetic diversity, this study was intended to address AHFV genetic heterogeneity.
Clinical manifestations include fever, headache, retroorbital pain, joint pain, generalized muscle pain, anorexia and vomiting associated with leukopenia, thrombocytopenia, and elevated levels of liver enzymes and some patients had clinical symptoms of hemorrhagic fever or encephalitis.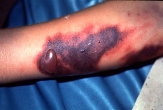 There is no standard specific treatment for the disease. Patients receive supportive therapy that balances the patient's fluid and electrolytes, maintaining oxygen status and blood pressure, and treatment for any complications. Provincial distribution by province of all 233 confirmed cases of AHFV reported during the three-year period from 2009 to 2011. The lowest frequency of 59(25%) was reported in 2009, increasing to 81(34.8%) in 2010 and 93(39.9%) in 2011.