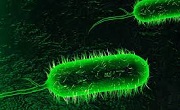 Pathophysiology
Cholera is an infection of the small intestine by some strains of the bacterium Vibrio cholera. It is spread mostly by water and food that has been contaminated with human feces containing the bacteria. Signs and symptoms include Rapid heart rate, Loss of skin elasticity, Dry mucous membranes, including the inside of the mouth, throat, nose, and eyelids, Low blood pressure, Thirst, Muscle cramps.
Diagnosis and treatment
A rapid dipstick test is available to determine the presence of V. cholerae. In those samples that test positive, further testing should be done to determine antibiotic resistance. In most cases, cholera can be successfully treated with oral rehydration therapy (ORT), which is highly effective, safe, and simple to administer. Antibiotic treatments for one to three days shorten the course of the disease and reduce the severity of the symptoms.