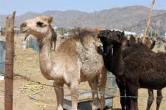 This virus increases the human infection that spreads from domestic animals like goats, camels, sheeps and also when bitten by a tick, handling raw meat products, drinking unpasteurized milk which. No human-to-human transmission of AHF can be documented.Alkhurma hemorrhagic fever is caused by Alkhurma hemorrhagic fever virus which is a tick-borne virus of the Flavivirus family that is initially isolated in 1995 in Saudi Arabia and is a variant of Kyasanur Forest Disease.

Alkhurma hemorrhagic fever, with fatality rates up to 25%, have been documented and this virus is mostly occurred in Saudi Arabia and Egypt. Later it was spread to other countries like Italy, Australia. After the incubation period, the disease presents initially with non-specific flu-like symptoms, including fever, anorexia, general malaise, diarrhea, and vomiting and in some cases it includes neurologic and hemorrhagic symptoms in severe form.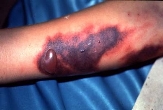 There is no standard specific treatment for the disease. Patients receive supportive therapy that balances the patient's fluid and electrolytes, maintaining oxygen status and blood pressure, and treatment for any complications. Mortality in hospitalized patients ranges from 1-20%.