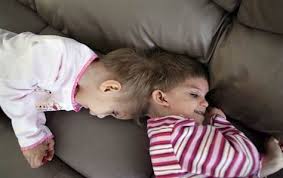 Pathophysiology:
The morula becomes a blastocyst on day 6 after the ovum is fertilized. An inner cell mass develops at one end within this vesicle. The inner cell mass can form a whole fetus. Conjoined twins are produced when this inner cell mass, derived from a single zygote, incompletely splits late, after the 12th day of gestational life. Identical twins (monozygotic twins) occur when a single fertilized egg splits and develops into two individuals. Eight to 12 days after conception, the embryonic layers that will split to form monozygotic twins begin to develop into specific organs and structures. It's believed that when the embryo splits later than this — usually between 13 and 15 days after conception — separation stops before the process is complete, and the resulting twins are conjoined. An alternative theory suggests that two separate embryos may somehow fuse together in early development. What might cause either scenario to occur is unknown.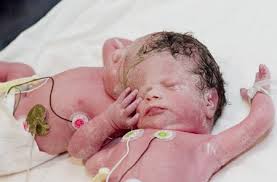 Treatment:
Conjoined twins can be diagnosed using standard ultrasound as early as the first trimester. More-detailed ultrasounds and echocardiograms can be used about halfway through pregnancy to better determine the extent of the twins' connection and functioning of their organs. False-positive results can occur before 10 weeks, however, when identical twins who share an amniotic sac (monoamniotic twins) may appear conjoined. If an ultrasound detects conjoined twins, a magnetic resonance imaging (MRI) scan may be done. It can provide greater detail about where the conjoined twins are connected and which organs they share.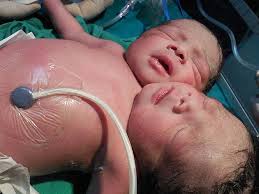 Major research on disease:
Doctors at Texas Children's Hospital had their work cut out for them during a 26-hour operation to separate conjoined twins Knatalye Hope and Adeline Faith Mata. After spending their first 10 months of life conjoined at the chest and abdomen, Knatalye and Adeline underwent the grueling operation in which surgeons disjoined their chest wall, lungs, diaphragm, liver, intestines, colon, pelvis, and the lining of the heart, also known as the pericardial sac. "This surgery was not without its challenges with the girls sharing several organ systems," Dr. Darrell Cass, pediatric surgeon and co-director of Texas Children's Fetal Center, told KHOU. "Our team has been preparing for this surgery for months, and we've done everything from working with our radiology experts to build a 3-D model of their organs, to conducting simulations of the actual separation surgery."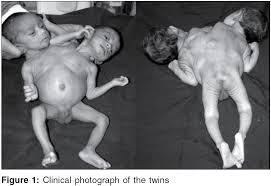 Disease Statistics:
Each year approximately 35,000 babies are born with CHD in the United States (USA) and over 10,000 of these have CHD severe enough to require surgery before they are one year of age. A recent study looking at waiting lists for heart transplant in the USA found that children awaiting heart transplantation had the single highest waiting list mortality as compared with all other age groups and all other solid organ transplants (12). This study also found that non-white race and the presence of mechanical ventilation were important independent risk factors for mortality while on the waiting list. The authors suggested that medical urgency was not well captured in the existing ranking system and children with very different short term risks are competing for the same scarce donor organs. This highlighted the issue of length of time on the list versus medical urgency. The authors suggested that a system that better captures medical urgency may reduce the high levels of waiting list mortality.