Journal of Allergy and Therapy stands as one of the most prominent journal in the field of allergy since its inception in the year 2010. Publishing high quality research articles, review articles, expert opinions, editorials and case studies is the forte of the journal. The journal is in its 7th volume with 6 issues per year. The journal has been successful in getting the confidence and interest of researchers round the globe.
Google Analytics has revealed some amazing statistics regarding the popularity of Journal of Allergy and Therapy. The journal has 20,942 page views and 18,534 users globally have accessed the journal website for information on the journal and the published articles.
Journal of Allergy & Therapy Web Metrics at Glance: Source: Google Analytics
More than 18000 Visitors visiting the journal site to read the published articles or submit their research outcomes.
Highest number of Visitors reporting both from the developed and developing nations.
Majority of our visitors have been from United States, Italy, United Kingdom, Australia, South Korea, Germany, Canada, Mexico, Turkey, Finland, Romania, Brazil and India.
The journal has received an overwhelming attention from the researchers in terms of visits from New York, Tokyo, Milan, Singapore, Mexico, London, Berlin, Madrid, Ottawa, Rome, Sydney, Brasilia, Hyderabad etc.
The average Time spent by the visitor for each session is 1.32 Minute.
A statistical representation of global users for Journal of Allergy & Therapy (Source: Google Analytics)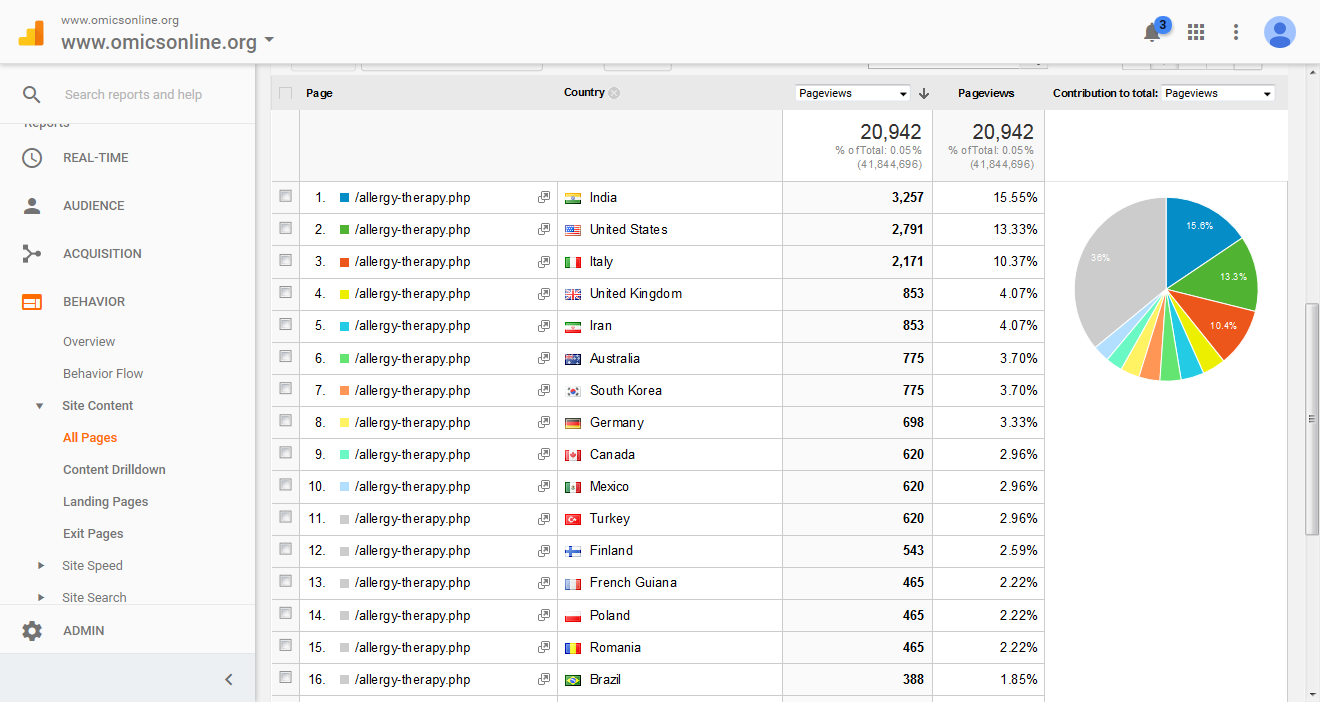 The high quality articles published by the journal attract researchers from different parts of the world. The journal also provides readers with authors and editors profiles as well as article abstracts.
Updating knowledge and sharing own research outcomes are the two keys for any researcher to excel. The journal has been exceptional in providing a platform to share and update scientific knowledge.
The quality of data provided by the journal is the key for the citations; the journal has been receiving since its inception. The article published in the journal has provided the maximum exposure so that the author could get the highest possible credit for his outstanding research.
The journal not only provides exposure to its published articles but also to each author and institution who contributes to the journal. This additionally helps authors and institution to grab attention and appreciation from fellow eminent researchers.