Journal of Clinical & Cellular Immunology stands out for its excellent quality in publication, which has made it one of the leading immunology journals. Since 2010, the journal is publishing novel and innovative findings under a broad scope including Autoimmunity, Neuroimmunology, Clinical immunology, Vaccines, etc. The journal is releasing 6 issues per year with more than 100 articles. Our journal is enjoying a remarkable readership from the Immunology fraternity.
In assistance with Google Analytics we came across some interesting statistics regarding our reach to various scientific research communities. The journal was globally accessed by 27,269 users with accumulating page views of about 35,471.
Journal of Clinical & Cellular Immunology Web Metrics at Glance: Source: Google Analytics
Nearly 27,269 have been recorded visiting the journal site to read the published articles and also to submit their research works.
A staggering number of visitors have been recorded from developed and developing nations.
Majority of the visitors are from United States, Australia, Germany, United Kingdom, Canada, Brazil, Japan, Mexico and Italy.
City wise statistics shows that visitors are coming majorly from New York, Boston, Chicago, Manhattan, Sidney, Perth, Ottawa, Montreal, Rome, Freiburg, Sao Paulo, etc.
The average Time spent by the visitor for each session is 1.22 Minute.
A statistical representation of global users for Journal of Clinical & Cellular Immunology (Source: Google Analytics)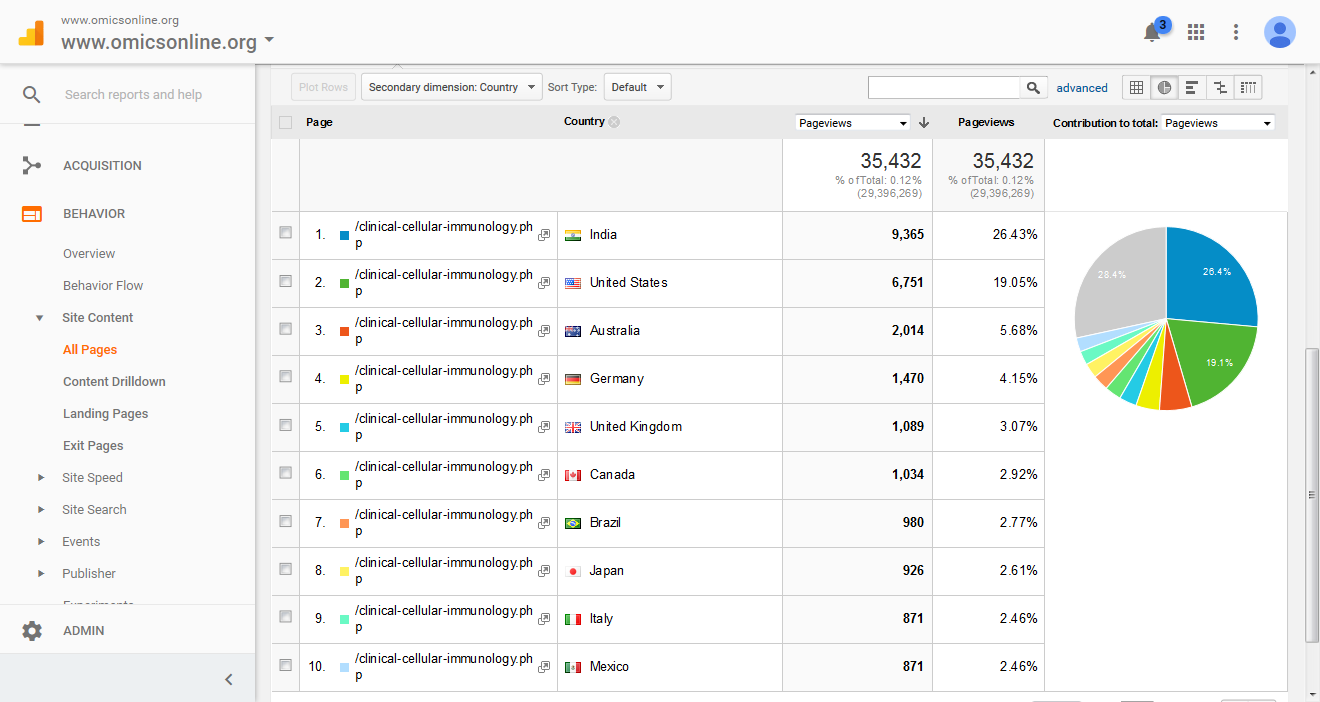 It is evident that the journal has gained huge popularity in the global immunology community. With the support of 100+ Editorial board members and standard peer-reviewers, the journal is publishing quality research which is the primary reason for attracting more number of readers.
Novel ideas or research advancements are not useful unless they reache the suitable audience through appropriate subject journals. The Immunology journal gives the authors a perfect platform to share their excellent scientific contributions thereby increasing their visibility to the global scientific community and thus obtaining international recognition from their fellow researchers.
This substantial aim of the journal has made it a leading periodical gaining extensive attention across the globe. The articles published in the journal are being read by a wide range of audience such as immunologists, neurologists, microbiologists, and other healthcare providers.
The journal is striving to bring more visibility to authors work by listing them in popular databases and also by generating excellent profile pages for authors and their Institutes which are freely accessible.