Journal of Clinical & Experimental Pathology has become a leading Open Access journal in the field of Pathology. Since its initial step in the year 2011, the journal has enabled the distribution of many Research articles, Reviews, Case reports globally through its Open access policy. The journal stands as a firm platform for many aspiring researches to expose themselves to the scientific community and gain popularity & scientific excellence. Journal of Clinical & Experimental Pathology is publishing 6 issues per year and is currently running in its 6th volume. The journal has gained global fame and is striving to pull out aspiring researches for the advancement of scientific community.
Google Analytics has revealed an encouraging statistics regarding the reaching of this journal to global researchers. The journal has 24,166 page views and 17,607 users globally have visited & gone through our journal's website for information regarding the journal and the published articles.
Journal of Clinical & Experimental Pathology Web Metrics at Glance: Source: Google Analytics
More than 22000 global visitors going through the journal website to access information regarding the published articles and to submit their researches
Highest number of aspirant visitors reporting both from developed and developing nations
The visitors data has been analyzed and majority of them are coming from United States, Finland, Japan, Poland, China, Italy, Brazil, Egypt and India.
The Journal received tremendous attention from the researchers in terms of visits from Meridian, Yonago, Turuku, Musashino, Fukuoka, Beijing, Milan, Rio de Janeiro, Madrid, Hyderabad, etc.
The average time spent by the visitor for each session is 1.33 Minute.
A statistical representation of global users for Journal of Clinical & Experimental Pathology (Source: Google Analytics)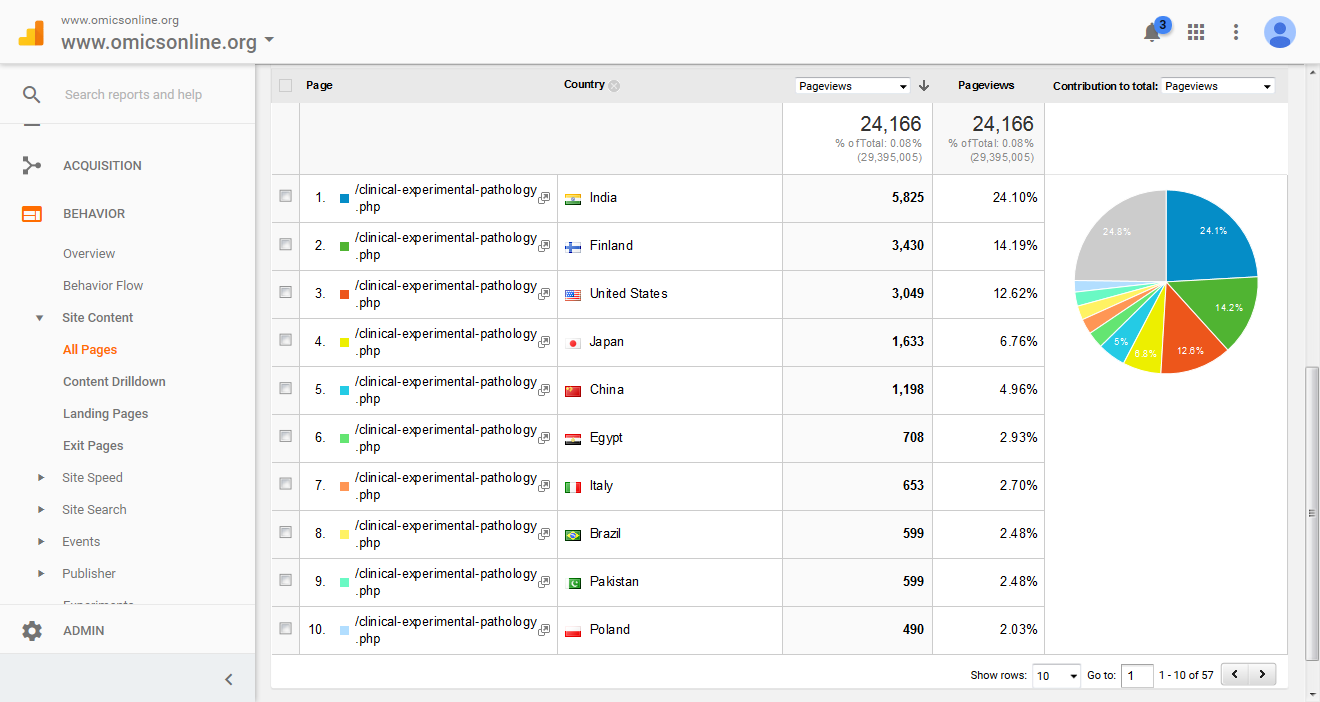 It was noticed academic researchers and scientists are visiting the journal to read the latest publications of the journal and also to see their profiles and abstract published in the journal.
The most worthy aspect of growth & excellence for a scientist is through their constant contributions for the advancement of scientific researches & knowledge. Journal of Clinical & Experimental Pathology was found to be one of the leading open access peer-reviewed journals, which is drawing huge attention from renowned pathologists across the globe.
The journal provides its contributors an outstanding opportunity to get their contributions published in one of the leading pathology journals. It also enables to increase the visibility of a researcher in the global scientific community by publishing authors, reviewers and editors profiles.
Worldwide clinicians, pathologists, healthcare professionals mostly oncologists are reading the articles published in this journal.