Surgery: Current Research playing an eminent role in disseminating the on-going research in field of Medicine and Surgery since its inception in 2011. Surgeons from all over the world are sharing their views and novel findings with us through publications thus Surgery is successfully running with its 6th volume.
As per the statistics revealed by Google Analytics there were 7,185 page views all through Jan 2015- Dec 2016. The total numbers of returning visitors were 3,147. Moreover, globally 2962+ new users have accessed the journal website for information on the journal and the published articles.
Surgery: Current Research Web Metrics at Glance: Source: Google Analytics
More than 43,110+ Visitors visiting the journal site to read the published articles or submit their research outcomes.
Highest number of Visitors reporting both from the developed and developing nations.
Majority of the visitors have come from India (30.08%), USA (17.92%), Saudi Arabia (4.62%), United Kingdom (4.05%), Turkey (4.05%), China (3.47%), Japan (3.47%), Georgia (2.89.14%), Iran (2.89%), and Italy (2.89).
The average Time spent by the visitor for each session is 1.17 Minute.
A statistical representation of global users for Surgery: Current Research (Source: Google Analytics)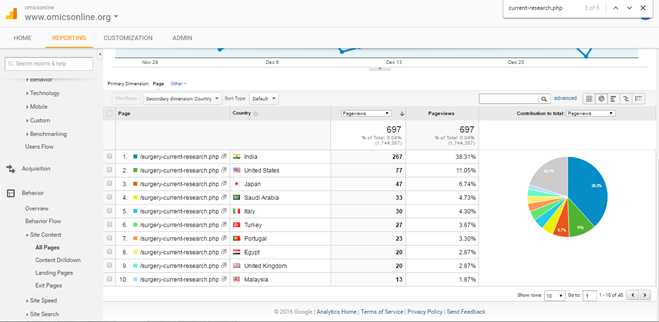 All the articles are getting readership and global visibility along with the author profiles and abstracts.
Publications from eminent authors from the related fields of medicine and surgery.
Articles published by surgeons from different fields of medicine like cardiology, gynaecology; plastic surgery, gastroenterology and others are receiving regular citations.