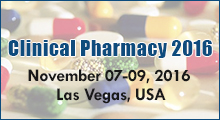 Clinical Pharmacy Conference: 4th International Conference on Clinical Pharmacy which is going to be held during Nov 07-09, 2016 in Las Vegas, USA with theme "Development, Innovative Techniques and Advanced Practices In Clinical Pharmacy"Clinical Pharmacy is a branch of pharmacy which deals with the patient care and medication and promotes health, wellness and disease inhibition. The pharmacist works in management with the doctors for the patient healthcare. Clinical pharmacists have wide education in the biomedical, pharmaceutical, and clinical sciences. Clinical Pharmacy consist of all the services accomplished by pharmacists practicing in hospitals, community pharmacies, nursing homes, home-based care services, clinics and any other setting wherever medicines are prescribed and used. The term "clinical" does not necessarily suggest an action implemented in a hospital setting.Clinical Pharmacy 2016 is an opportunity to discuss and think about how the field research is implemented, how pharmacists provide patient care and many other alluring aspects related to arena of Clinical Pharmacy. This meeting would for sure aid in developing research and suggesting pharmacist for patient care. Clinical Pharmacy 2016 is an era to spread significance of the related fields by networking experienced and interested people under a common roof.
Related Conferences
General Clinical Pharmacology , Pharmacists Role in Patient Safety, Clinical Pharmacy and Its Key Role in Treatment, Dispensing Pharmacy and Research Chemists, Clinical Pharmacy: Activities and Prescriptions, Clinical Pharmacy and Drug Reactions, Clinical Drug Development and Therapeutics, Pharmacy and Medicinal Chemistry, Advanced Drug Delivery Research, Fluid Dispensing, Behavioral Psychology, Biomedical Sciences, Patient Care Technology, Clinical Molecular Genetics, Recent advances in pain management, Clinical Immunology, Clinical Pharmacy and Therapeutics, Clinical Pharmacy Market And Analysis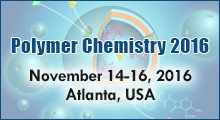 Polymer Chemistry Conference: International Conference and Exhibition on Polymer Chemistry which is to be held at Atlanta, USA during November 14-16, 2016, is a first event on the concerned rapidly growing research field to discuss and learn about "Advanced and Recent developments in the area of Polymer Synthesis and characterization" as in its theme. The Conference is featuring 3 days with 15 tracks on a wide range of the most important issues in the research work on Polymer Chemistry. It aims the forum of Scientists, and students from all corners of the globe, come together to discuss about polymer science and its advances. Each session of the meeting will be included with expert lectures, poster and discussions, join us to design sustainable development processes, innovations by which and how these strategies drive new policies in the synthesis and characterization of polymers.
Related Conferences
Polymer Synthesis , Recent Advances in Polymer Chemistry, Characterization of Polymers ,Macromolecular Polymeric Structure , Polymers for Catalysis , Functional Polymers , Maketing of Polymers , Bio catalysis in Polymer Chemistry , Bio-related Medical Polymers, Polymers in Biochemistry, Polymers for Separation , Polymer Technology, Solid Waste Management of Polymers , Biochemical Degradation of Polymers , Polymer Therapeutics: Concepts and Applications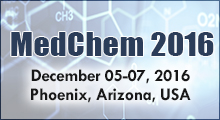 Medicinal Chemistry Conference:5th International Conference on Medicinal Chemistry & Computer Aided Drug Designing-Phoenix is a global meeting which is going to be held during December 05-07, 2016 with the theme ""New era of drug discovery: Chemistry beyond the molecule" in the heart core of state Arizona, USA. It promotes to learn and share knowledge on current Pharma and Biotech research. Leading worldwide scientists, eminent scholars, professors and students gathers under single roof in Atlanta to speak on Medicinal Chemistry and Computer Aided Drug Designing. MedChem & CADD 2016 International Conference aims in accelerating scientific discoveries and latest innovations in chemistry and drug designing with the application of Nanotechnology (Nanodrug-Chemistry) and Material Sciences (Materialistic Chemistry) in it.
Related Conferences
Novel Drug Design , Computer Aided Drug Design-CADD , Fluorination in Medicinal Chemistry , Nanomedicine& Fullerene Chemistry, Advanced Medicinal Chemistry, Materialistic Chemistry & Synthetic Chemistry , Drug Design and Chemistry: Cancer StudiesNeurodegenerative Diseases , Drug Discovery and Drug Development , Advances in Drug Discovery , Hybrid Techniques & Lab-on-a-chip , Pharma Market Audit