Chemistry conferences provide a platform for scholars to share their findings and ideas in various areas of Chemistry. Simultaneously, they also provide a podium for scholars and companies to discover the latest innovations in the field ahead of publication. With each passing year, the number of people registering for attending a conference is increasing, and so is the number of speakers. An itinerary of all Chemistry Conferences going to be held in a year, and the broad topics they deal with is created ahead of time. The participants are free to choose their topics of interest from among these scheduled international events. Abstracts of all topics of discussion, and posters to be presented are collated beforehand.
Chemistry conferences host scientists, researchers, chemical organizations, and representatives of the pharmaceutical and chemical companies. Chemistry Conferences serve as a cradle for the genesis of new ideas pertaining to novel possibilities in the field such as: development/synthesis of new therapeutic molecules, development/synthesis of new materials or alloys to be used in mining or infrastructure, development of new methodologies for conducting chemical reactions, or identification of new elements in the periodic table having novel properties etc. The biggest draw of Conferences is that they allow scientists, scholars, and practitioners to network; participants get to contact and meet new people in an informal atmosphere.
Below the list of 2018 Chemistry Conferences being organized by Conference Series LLC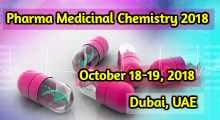 18th International Conference on Medicinal and Pharmaceutical Chemistry
Pharmaceutical Chemistry events | Medicinal Chemistry Meetings | Chemistry Conferences | Pharmaceutical Conferences

18th International Conference on Medicinal and Pharmaceutical Chemistry would lead to Discover the world of pharmacy, learn in a new space, meet an expert and find a new tips & tactics which gives you the wonderful experience. Pharma Medicinal Chemistry 2018 deals with "Explore the future of Medicinal and Pharmaceutical Chemistry" The conference program is designed such that it brings together the Pharmaceutical and Medicinal Chemistry specialists with some of the innovative and thought-provoking research addressing the limitations faced in the real-time and post-operative therapies. Pharma Medicinal Chemistry 2018 conference is scheduled to take place on October 18-19, 2018 at Dubai, UAE.
Conference Highlights:
Medicinal Chemistry, Pharmaceutical Chemistry, Drug Design, Discovery and Development, Pharmacokinetics and Pharmacodynamics, Computer-Aided Drug Design, Nanomedicine and Nano Technology, Rational Design of Non-Oral Drugs, Novel Target Drugs to the Treatment of Cancer, Pharmaceutical Analysis: Analytical Methods, Drug Delivery Techniques, Clinical and Hospital Pharmacy, Recent Advancements in Medicinal Pharma, Pharmacology and Toxicology, Application of Pharmacology in Medical Science, Pharmaceuticals and Cosmetics, Medicinal Chemistry: Physical Properties and Drug Design, Pharmaceutical Marketing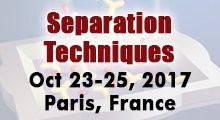 Separation Techniques Conferences | Analytical Conferences | Analytical Techniques Conferences | Separation Science Conferences

Conference Series Ltd invites all the participants from all over the world to attend 5th International Conference and Expo on Separation Techniques with theme "An ingenious approach to discover the recent developments and advancements in the field of Separation Science" to prompt keynote presentations, Oral talks, Poster presentations and Exhibition. Separation Techniques Conference is a global annual event to discuss and learn about Novel separation techniques in chemistry, Hyphenated Separation Techniques, Emerging separation technologies, Advances in Sample Preparation Techniques, High Performance Liquid Chromatography HPLC, Advancements in chromatography techniques, Spectroscopy, Basic separation techniques and research related to these fields.

Conference Highlights: Membrane technology in separation processes , Novel separation techniques in chemistry, Emerging separation technologies , Advancements in Sample Preparation Techniques, Separation Processes in Chemical Engineering. Chromatography as a Separation Technique, Hyphenated Techniques , Applications of Separation Techniques , Role of Spectroscopy as Separation Technique.