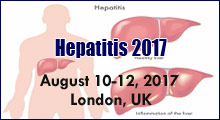 Conference Series invites you to attend 5th World Congress on Hepatitis and Liver diseases (Hepatitis 2017) to be held in London, UK during August 10-12, 2017. Hepatitis 2017 conference highlights the theme "Early diagnosis, treatment of viral hepatitis and optimizing therapy costs". The conference invites Hepatologists, Gastroenterologists, Internists, Physicians, Microbiologists, Virologists, Pathologists, Oncologists, Surgeons, Toxicologists, Researchers, Students, Business delegates and Young researchers across the globe.

Conference Highlights: Hepatitis B, Hepatitis C, Non-Viral Hepatitis, Hepatitis Vaccination, Hepatocellular Carcinoma, Liver Diseases Diagnosis, Liver Diseases, Pregnancy and Liver Diseases, Liver Transplantation and Surgery, HCV/HIV Coinfection

Related Conferences: International Conference on Digestive Diseases October 16-18, 2017 Chicago, USA, 4th International Conference on Hepatology April 27-28, 2017 Dubai, UAE 11th Global Gastroenterologists Meeting June 12-13, 2017 Rome, Italy, 5th World Congress on Hepatitis and Liver Diseases August 10-12, 2017 London, UK, 12th Euro-Global Gastroenterology Conference September 11-12, 2017 Paris, France, 2nd International Conference on Pancreatic Disorders and Treatment September 14-15, 2017 Dallas, USA, 10th Global Congress on Gastroenterology and Endoscopy October 30-November 01, 2017 Bangkok, Thailand, 13th International Conference on Clinical Gastroenterology and Hepatology, November 13-15, 2017 Las Vegas, USA, German Association for the Study of the Liver, January 19-21, 2017 Essen, Germany, 10th Paris Hepatitis Conference January 30-31, 2017 Paris, France, EASL HCC Summit, February 02-05, 2017 Geneva, Switzerland, Belgian Week of Gastroenterology February 09-11, 2017 Antwerp, Belgium, Asian Pacific Digestive Week, Japan Digestive Disease Week, Paris Hepatitis Conference, World Congress on Gastroenterology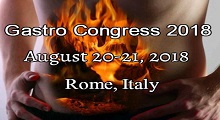 Gastro Congress targets Gastroenterologists, surgeons, Hepatologists, Neuro Gastroenterologists, Physicians, research scholars, students from around the globe and focuses on the theme to integrate Gastroenterology and Hepatology in global health care systems. 12th Euro Global Gastroenterology Conference will be held during September 11-12, 2017 in Paris, France Focuses on treatment modalities and Gastroenterology case reports so as to achieve the global health care concerns.
Conference Highlights:
Gastroenterology, Gastrointestinal Complications in Diabetes, Gastroenterologist in Managing Obesity, Microbiota in health and gastrointestinal disease, Gastroenterology and Pharmacotherapy, Diets/Dietary habits (Nutrition) and Gastrointestinal Disorders, Palliative Gastroenterology, Digestive diseases, Probiotics in Gastrointestinal Disorders, Clinical Advances in Liver Diseases, Pediatric Gastroenterology, Genetics and Molecular Biology in Gastroenterology, Gastrointestinal Cancers, Neuro Gastroenterology, Psychiatry, psychotherapy and Gastroenterology, Physiotherapy in Gastroenterology, Gastroenterology and Pregnancy
Related Conferences: International Conference on Digestive Diseases October 16-18, 2017 Chicago, USA, 4th International Conference on Hepatology April 27-28, 2017 Dubai, UAE 11th Global Gastroenterologists Meeting June 12-13, 2017 Rome, Italy, 5th World Congress on Hepatitis and Liver Diseases August 10-12, 2017 London, UK, 12th Euro-Global Gastroenterology Conference September 11-12, 2017 Paris, France, 2nd International Conference on Pancreatic Disorders and Treatment September 14-15, 2017 Dallas, USA, 10th Global Congress on Gastroenterology and Endoscopy October 30-November 01, 2017 Bangkok, Thailand, 13th International Conference on Clinical Gastroenterology and Hepatology, November 13-15, 2017 Las Vegas, USA, German Association for the Study of the Liver, January 19-21, 2017 Essen, Germany, 10th Paris Hepatitis Conference January 30-31, 2017 Paris, France, EASL HCC Summit, February 02-05, 2017 Geneva, Switzerland, Belgian Week of Gastroenterology February 09-11, 2017 Antwerp, Belgium, Asian Pacific Digestive Week, Japan Digestive Disease Week, Paris Hepatitis Conference, World Congress on Gastroenterology