Gastroenterology Conferences is considered as one of the major conferences that interest to the Internal Medicine faculty members and encourage them to share their working to the social community to make them aware of the best possible treatment methodologies. This stream conference deals with the internal organs which helps in digestion of the organic or inorganic food materials. Gastroenterology conferences showcase the discussion topics confronting the functioning of esophagus, pancreas, gallbladder, bile ducts, liver stomach, small intestine, colon and rectum.

Gastroenterology is a branch of science which concerns about the health of the complete alimentary canal supporting the human life for proper digestion and absorption of nutrients constituents. Member expertises in the related field of study are popularly known as gastroenterologists. These conferences largely covers a wide variety of current topics such as hepatology studies and research works, hepatitis virus remediation, gastroenterology unit functions and metabolism, gastrointestinal abnormalities, diagnosis of digestive diseases, clinical gastroenterology methods and associated techniques, and other endoscopic technologies leading to a better surgical treatments.
Gastroenterology Conferences are being organized in each part of the world encouraging the experts from every category to participate at these meetings and gain knowledge as per the modern research developments and projects.
Below the list of 2019 Gastroenterology Conferences being organized by Conference Series LLC LTD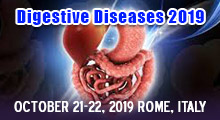 Digestive Disease conference | Hepatitis Conference | Liver Diseases conference | Gastroenterology Conference | Inflammatory Bowel Disease conference | Colorectal Diseases conference | Metabolic Disease Conference
Digestive Diseases 2019:
4th International conference on Digestive and Metabolic Diseases is to be held on October 21-22, 2019 at Rome, Italy. Digestive Diseases 2019 conference includes many presentations, Oral talks, Poster presentations, Symposia, Workshops, Exhibitions and Career development programs. We cordially welcome all the eminent Professors, researchers, students, and delegates to take part in this upcoming event to witness invaluable scientific discussions and contribute to the future innovations in the field of Digestive and Metabolic Diseases. The Asia-Pacific market for probiotics is globally the largest; accounting for an estimated share of 38% in 2018, market maturity is expected to curtail growth prospects over the coming years, with other regions taking the lead. Within Asia-Pacific, Japan forms the largest probiotics market, with an estimated share of 45% in 2018. However, growth in demand for probiotics is likely to be the fastest in China, with a forecast CAGR of about 13.2% between 2017 and 2023. By segment, human applications such as dietary supplements, functional foods & beverages and specialty nutrients dominate the probiotics market in the region. Expected to grow at a CAGR of 6.6% over the forecast period.
Scientific Sessions:
Advances in Digestive Diseases, Gastrointestinal Oncology, Liver diseases & Transplantation, Micro biome in Gastrointestinal & Liver, Gallstones, Inflammatory Bowel Disease, Obesity and Diabetes, Stomach and small Bowel Disorder, Haemorrhoids, Colorectal Disease, Consequences of Diabetes in Human, Recent Advancement in Diabetes, Diabetes and Obesity, Genetic Diabetes, Diabetes and Treatment, Endocrine Complications of Diabetes, Endocrinology, Cardiovascular Endocrinology, Gynaecology Endocrinology, Endocrinology and dermatology, Gastrointestinal Disorders, Symptoms & Drug delivery, Genetics and Molecular Biology in Gastroenterology, Paediatric Gastroenterology, Pancreatic Cancer, Diseases and Treatments, Diabetic Ketoacidosis, Hyperglycaemia, Current Focuses on Diabetes Mellitus, Acid Related Diseases, Gastrointestinal Endoscopy, Neurogastroenterology and Motility.
We welcome all the attendees from across the globe to our international meetings, Gastro (Spain), Hepatitis (Ireland), and Gastro Congress (Italy), Digestive Diseases (Germany).
B2B meetings
Gastroenterology International events organizes B2B meetings, scientific collaborations and partnership as a part of its international conferences with the intent to enhance as well as explore new business opportunities and to establish a global platform to interact with experts worldwide.
Sponsor Opportunities
Gastroenterology events provide exciting opportunity to showcase the services of your company to the broad International audience. We would like to take the utmost pleasure in inviting you to Sponsor/ Exhibit at our event. Sponsors and exhibitors are always encouraged to advertise and promote themselves. Conference Series LLC LTD Gastroenterology Conferences provide an easy and affordable way to the sponsors and exhibitors to promote their program/organization/institution to the targeted academic as well as professional audience
For more details of any of the events, contact Steve Johnson, Senior Event Manager at [email protected]