The Immunology Conferences, hosting presentations from renowned experts across the field to encourage new collaborations in the field of Immunology, Molecular Biology, Microbiology and Biomedical Sciences. In this way, Researchers in their fields across the World can display their research topics and to talk about the new outcomes. Developing sessions incorporates, Young Research Forum and Poster sessions offering opportunity to all youth members to bridle their profession in all the orientations. These International conference also hosting presentations from Investigators at each vocation arrange detailing their most recent research findings in oral and poster sessions. This leads to dissemination of current research across the World.
Immunology conferences offer a profitable chance to the scientists, researchers, students, and representative from industries, research agencies, government, NGOs, and reputed universities to further their medical education/ business/ research. These meetings in our list are basically important to researchers working in every aspect of Immunology and its branches.
Below the list of 2018 Immunology Conferences being organized by Conference Series LLC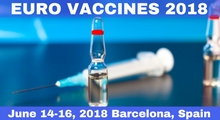 Vaccines Conferences | Immunology Conferences | World Vaccine Congress Europe

30th Euro Global Summit and Expo on Vaccines & Vaccination going to be held during June 14-16, 2018 Barcelona, Spain brings people together who have an interest in different fields of vaccination and therapeutics. The conference highlights the theme "Roadmap on the future of Vaccines Research". It is a forum to explore issues of common interest and exchange knowledge, share evidence, ideas, and generate solutions. Euro Vaccines 2018 specifically designed for physicians (family, infectious disease specialists, internists, and pediatricians), nurse practitioners, nurses, physician assistants, pharmacists, public health professionals, vaccines program administrators, and other healthcare professionals interested in clinical aspects of vaccine delivery.

Conference Highlights:

Human Vaccines - Infectious & Non Infectious Diseases, Vaccine Research & Development, HIV Vaccines, Cancer Vaccines, Childhood Vaccines, Vaccine Safety & Efficacy, Asian Vaccines Conferences 2018,Vaccination for pregnant women, Vaccine Adjuvants & Delivery Technologies, Veterinary vaccines, Geriatric Immunization, Vaccines against Viral & Bacterial Diseases, American Vaccines Conferences 2018, Human Preventive & Therapeutic Vaccines, Hepatitis Vaccines, DNA Vaccines, Mucosal Vaccines, Plant-based Vaccines, HPV Vaccines, Travel Immunization, Vaccines against Vector-borne Diseases, Tuberculosis Vaccines
Major Workshops/Symposium of Immunology conferences:
Ø Control of endocannabinoid hydrolysis in traumatic brain injury.
Yumin Zhang, Uniformed Services University of the Health Sciences, USA
Ø Teaching Trends in Parasitology: From Faculty & Students Perspective.
Doaa Moustafa Sultan, Dubai Medical College, UAE
Ø The challenge of parasites and immunosuppression, from diagnosis to treatment.
Luiz Euribel Prestes Carneiro, Oeste Paulista University, Brazil
Ø Symposium on Stem Cells in Immunology
Yong Li, University of Texas School of Medicine at Houston, USA
Ø International Symposia on Apitherapy in Immune System
Ahmed G Hegazi, National Research Center, Egypt
Ø Serum BDNF, TNFα, IL -2, IL- 6, IL – 8 changes and correlation in schizophrenia patients
Hanjing Emily Wu, University of Texas Health, USA
Ø HIV associated neurocognitive disorders
Rodrigo Hasbun, University of Texas Health, USA
List of Eminent Speakers:
Collaborations and media partners:
PATH, USA

European Society of Clinical Microbiology & Infectious Diseases

Wildlife Disease Association

Vaccinogen

Autoimmunity Network
Sponsors and Exhibitors
Harlan Laboratories

Garland Science