Nanotechnology, or, as it is sometimes called, molecular manufacturing , is a branch of engineering that deals with the design and manufacture of extremely small electronic circuits and mechanical devices built at the molecular level of matter. To discuss the advancements in the field of nanotechnology, Conference Series LLC LTD Conferences has taken the initiation to gather the world class experts both from academic and industry in a common platform at its Nanotechnology Conferences. Conference Series LLC LTD Nanotechnology conferences focus on core multidisciplinary research of the following conferences:
Below the list of 2018 Nanotechnology Conferences, Symposiums, Workshops being organized by Conference Series LLC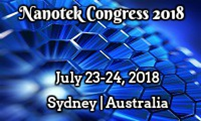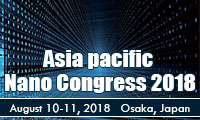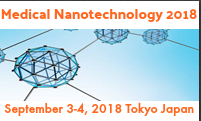 Medical Nanotechnology 2018 | Nanotechnology 2018 | Medical Nanotechnology conference | Nanotechnology conferences 2018 | Nanomedicine conferences | Nanotechnology Meeting 2018
Medical Nanotechnology conference is organized for 2 days that brings together an interdisciplinary group of professionals working in the field of Nanotechnology and Medicine. Major professional groups included: world renowned leading Scientists, engineers, directors of companies in the field of 'Nanotechnology, Biomedical Engineering, Medicine and Pharmaceuticals, science, electronics, Agriculture, Medicine researchers, Practitioners, Professors, Young researchers. The field of Nanotechnology and medicine is growing rapidly and its development is making tremendous impacts on new technologies in Medical and Healthcare. The Medical Nanotechnology 2018 conference is scheduled to take place on September 03-04, 2018 in Tokyo, Japan.
Conference Highlights: Nanomedicine | DNA Nanotechnology | Medical Nanotechnology Devices | Drug Delivery and Therapeutics | Cancer Nanotechnology | Polymer Nanotechnology | Nanotoxicity | Bio-Nanomaterials and Tissues Engineering | Environmental Safety | Recent developments in Nanotechnology and Nanoscience | Nano Biotechnology | Nanomedicine and Nanopharmaceuticals | Pharmaceutical Nanotechnology | Regulatory Aspects towards Approval of Nanomedicine | Nanotechnology in Water Treatment | Advanced Nanomaterials | Nanotechnology Safety | Nano Computational Modeling | Carbon Nanotechnology | Nano Electronics | Nanomedicine Applications | Nano Particles | Nanophotonics and plasmonics | Nanomagnetism | Nanotechnology Products and Markets | Nanoelectronics and Biomedical Devices | Green Nanotechnology | Nanoelectromechanical systems | Nanostructured Materials and Thin Films | Nanotechnology for Harnessing Energy and Storage | Graphene and 2D Materials- New Materials for the 21st Century
Conference Manager: (Jasmin Keith)
Contact E: [email protected](or) [email protected]
Contact T: +1-7025085200 (Ext) - 8045