Eyes are the most important part of our sensory organs. They bring us the feeling of being and belonging. Whatever is done to keep them vivid is exceptionably low. A revision of the natural ways to improve our vision and an insight into the latest interventions for their prime care will help us better understand the different eye disorders spreading geographically and how we ignore the ever alarming risks UV and Infrared radiation pose to our precious little eyes. With the latest innovations in the field of ophthalmology and encouraging the stem cell research to research to restore any eyesight lost due to any such unnatural conditions paves novel ways to treat the eye disorders. An induction into current advancements available for eye care like eye drops, contact lenses and implantable contact lenses and Ophthalmic- Plastic & reconstructive Surgery. Hereby enabling the ways the patients can overcome eye sight related problems. In conclusion, let us discuss and expand our knowledge field's boundaries in the already known and latest technologies in the fields of visual acuity charts, visual neuroscience, refractive error, Pediatric Ophthalmology and physiological optics. Views about visionscience  in clinical and molecular spheres, can help try and improve conditions prevalent in Cataract and refractive error and use them in laser ophthalmology, artificial vision and ecology of color to perfect biomedical optics and ophthalmic lasers, binocular vision correction and in general in vision therapy.

Many of the above concerns related to Ophthalmology are being disused in the follow the conferences in Europe continent such as Ophthalmology Summit | Pediatric Ophthalmology| Cataract and Eye Care | Optometry | VisionScience | Ophthalmology | Ophthalmology Congress

Importance and Scope:

The importance and significance can be gauged by the fact that it has made huge advancements over the course of time and is continuing to influence various sectors. Changing trends in diet and lifestyle as well as increased longevity are growing the market for ophthalmological treatments: the global ophthalmic device market is expected to reach $28 billion by 2016 exhibiting a 2.5% compound annual growth rate from 2009 to 2016, according to GBI Research. Global ophthalmology drug and devices market is witnessing a significant growth due to the increasing incidence and prevalence of eye related disorders such as presbyopia, macular degeneration, and diabetic retinopathy among the aging population. With the introduction of ophthalmic devices equipped with sophisticated technologies, people are increasingly opting for ophthalmic surgeries to correct their eye related disorders and expanding the field of Optometry.
Below the list of 2018 Global Ophthalmology Conferences being organized by Conference Series LLC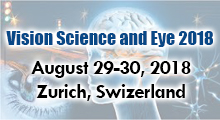 Ophthalmology Conferences 2018 | Vision science Conferences | 2018 Ophthalmologists Conferences | Ophthalmology Conferences List

Vision Science and Eye 2018 being organized in Zurich, Switzerland during August 29-30, 2018. This conference is all about how eye sees and the information is passed to the brain. This conference shows about the different perspective of treating various ophthalmology problems as well. This ophthalmology conference bring in awareness about the vision related problems does not relate only to eye but also the brain and nerve as well. The participants whose research includes visual psychophysics, neuroscience, computational vision and cognitive psychology would be a part of this conference. This ophthalmology conference covers topics right from modern vision science, visual coding to perception, recognition and the visual control of action, as well as the recent development of new methodologies from cognitive psychology, computer vision and neuroimaging.

Conference Highlights

Vision and Cognition, Visual Neuroscience, Keratoconus, Dry Eye, Low Vision, Binocular Vision, Glaucoma, Visual Perception, Colour Vision, Vision Therapy, Ocular Oncology, Vitreo-retinal, Oculoplasty & Orbital Diseases, Ophthalmology Conferences 2018 USA, Retinal Detachment, Blepharitis, Strabismus, Ophthalmology Research and Novel Approaches, Ophthalmologists, Vision Specialist, Optometrists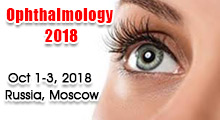 Ophthalmology Conferences | Eye Conferences | Ophthalmologists | Ophthalmology Conferences 2018

Ophthalmology 2018 is scheduled in the Russia, Moscow during Oct 1-3. The conference majorly focuses in having the researchers and clinicians. It focuses on bridging the gap between them to understand their respective pros and cons. Hereby finding way to enhance research and yield better results for the wellbeing of world population. It also focusses on talking about the latest and novel research and brings research into clinical aspects. This conferences is striving ways to eradicate blindness.

Conference Highlights:

Retina and Retinal Disorders, Clinical Ophthalmology, Pediatric Ophthalmology, Ophthalmology Practice, Ophthalmology Surgery, Optometry and Vision Science, Cornea and Corneal Diseases, Neuro-Ophthalmology, Glaucoma: Visual Field Loss, Ocular Microbiology and Immunology, Ophthalmology Novel Approaches, Ophthalmic Research and Drug Delivery, Ophthalmologists Career & Training, Optometrists Courses & Education Entrepreneurs Investment Meet, Ophthalmic Nurses and Practitioners, Eye Research Insights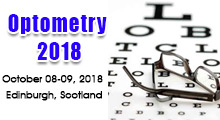 Optometry Conferences | Eye Conferences | Optometrists | Optometry Conferences 2018 | Vision Science Conferences

The optometry 2018 is scheduled during Oct 08-09 in Edinburgh, Scotland. This conference majorly focuses to have right diagnosis of an eye condition. Since only right kind of diagnosis would lead to the right treatment. This conference has many optometrists who are successfully practicing. They participate to share about the various cases they come across and the kind of treatments. The conferences also have some eminent optometrists to share their experiences and inspire the young generation. Apart from this, we also have the speakers who explain about the successful management between various kinds of patients. Over all this conference would help a clinician gain knowledge in all aspect related to the diagnosis, treatment and management.

Conference Highlights:

Cataract surgery, Contact Lens, Cornea, Eye care services ,Visual Perception, Eye diseases,, Orthokeratology and Orthoptics, Eye disorders and their diagnostics, Visual Optics,Eye drops and oral medication, Behavioural Optometry, Retina, Glaucoma, Myopia, Hyperopia, Vision screening, Astigmatism, Optical Engineering, Presbyopia, Keratitis and Keratoconus, Eye surgery, Episcleritis and Blepharitis, Ocular Oncology, Factors responsible and affect the eye growth, Iris pharma, Neuro optometry, Ophthalmic instruments, Uveitis, Ophthalmic Nurses and Allied Health Professionals, Pediatric and binocular vision, Colour Blindness and Night Blindness, Vision Rehabilitation, Innovations in Optometry, Vision Science and Ophthalmology, Clinical Optometry, Eyeglass Adjustment, Oculoplasty
The ophthalmology drugs market is classified based on the type of drugs; treatment based drugs, over the counter drugs and ocular anesthetics. Ocular anesthetics are administered by surgeons during surgery and cannot be bought by individuals. The treatment based drugs are provided based on the diagnosed conditions and are classified as dry eye drugs, retinal disorder drugs, anti-allergy/inflammatory/infective drugs and anti-glaucoma drugs. Over the counter drugs can be procured without any need of a prescription. This report analyses drugs and devices in the ophthalmology market along with its sub-segments for their revenues, key growth drivers and opportunities.

"The worldwide ophthalmic products market exceeds $22 billion (US) and is growing at more than 10% per year. Without the inclusion of consumer eye care products, the ophthalmic products market is roughly a $17 billion market." Rising of demand for ophthalmic devices and expanding healthcare coverage in emerging economies will increase sales to 2024.The medical device market of Europe is mainly comprised of medical equipment such as consumables, orthopaedic devices, dental devices, respiratory devices, and ophthalmic devices which are manufactured in Germany, France, the UK, Italy and Spain. The demand for medical devices has been growing owing to a mounting awareness for early diagnosis and treatment of countless disease states in European countries. The key countries that have contributed significantly to the Europe medical devices market during 2008-2013 include Germany, UK, Spain and France. Germany is one of the major European markets and it has been observed that the country contributes immensely to the exports of medical devices. The overall medical devices market in Europe is projected to reach EUR Smillion in 2018, augmenting at a CAGR of 3.9% during 2013-2018.
Related Societies:
American Society of Cataract and Refractive Surgery: ASCRS
Brazilian Society of Retina and Vitreous
Academia Ophthalmologica Belgica
Afghanistan Eye Doctors Society
African Society of Glaucoma
Albanian Ophthalmological Society
Algerian Ophthalmological Society
All India Ophthalmological Society
American Glaucoma Society
American Ophthalmological Society
American Society of Ocular Trauma (ASOT)
American Society of Ophthalmic Plastic and Reconstructive Surgery
American Society of Retina Specialists (ASRS)
Anglo-Spanish Ophthalmological Society
Arizona Ophthalmological Society
Arkansas Ophthalmological Society
Colorado Society of Eye Physicians and Surgeons
Connecticut Society of Eye Physicians
Florida Society of Ophthalmology
Georgia Society of Ophthalmology
Hawaii Ophthalmological Society
Idaho Society of Ophthalmology
Illinois Society of Eye Physicians & Surgeons
Kansas Society of Eye Physicians and Surgeons
Maine Society of Eye Physicians and Surgeons
Maryland Society of Eye Physicians and Surgeons
Massachusetts Society of Eye Physicians and Surgeons
Michigan Society of Eye Physicians and Surgeons
Missouri Society of Eye Physicians and Surgeons
New York State Ophthalmological Society
North Carolina Society of Eye Physicians and Surgeons
North Dakota Society of Eye Physicians and Surgeons
Ohio Ophthalmological Society
Puerto Rican Society of Ophthalmology
Rhode Island Society of Eye Physicians and Surgeons
South Carolina Society of Ophthalmology
Utah Ophthalmology Society
Vermont Ophthalmological Society
Virginia Society of Eye Physicians and Surgeons
Washington DC Metropolitan Ophthalmological Society
Wyoming Ophthalmological Society
Asia Cornea Society
ASEAN Ophthalmology Society
Asia Pacific Glaucoma Society
Asia Pacific Society of Ocular Oncology & Pathology (APSOOP)
Asia Pacific Society of Ophthalmic Plastic and Reconstructive Surgery
Asia Pacific Strabismus and Pediatric Ophthalmology Society
Asia Pacific Vitreoretina Society
Asia-Pacific Society of Eye Genetics
Asian Neuro-Ophthalmology Society (ASNOS)
Asian Oceanic Glaucoma Society
Austrian Ophthalmological Society
Belarusian Ophthalmology Society
Belgian Society of Cataract and Refractive Surgery (BSCRS)
Bolivian Society of Ophthalmology
Brazilian Society of Ophthalmology
Bulgarian Society of Ophthalmology
Burkina Faso Society of Ophthalmology
Burundi Ophthalmological Society
Cambodian Ophthalmological Society
Cameroonian Society of Ophthalmology
Canadian Glaucoma Society
Canadian Ophthalmic Pathology Society
Canadian Ophthalmological Society
Central African Republic Ophthalmological Society
Chilean Society of Ophthalmology
Chinese American Ophthalmological Society
Chinese Ophthalmological Society
Chinese Taipei Ophthalmological Society
Colombian Society of Ophthalmology
Congolese Society of Ophthalmology
Cornea Society
Croatian Ophthalmological Society
Croatian Society for Cataract and Refractive Surgery
Cuban Society of Ophthalmology
Cyprus Ophthalmological Society
Czech Ophthalmological Society
Danish Ophthalmological Society
Delhi Ophthalmological Society
Eastern Ophthalmic Pathology Society
Dominican Society of Ophthalmology
Ecuador Society of Ophthalmology
Egyptian Glaucoma Vitreoretinal Society
Egyptian Ophthalmological Society
Emirates Ophthalmic Society
Estonian Ophthalmological Society
European Glaucoma Society
European Neuro-Ophthalmological Society
European Ophthalmic Pathology Society (EOPS)
European Pediatric Ophthalmological Society
European Society of Cataract and Refractive Surgeons (ESCRS)
European Society of Cornea & Ocular Surface Disease Specialists (EuCornea)
European Society of Low Vision Research and Rehabilitation (ESLRR)
European Society of Ophthalmic Plastic and Reconstructive Surgery
European Society of Ophthalmology
European Society of Retina Specialists (EURETINA)
European VitreoRetinal Society (EVRS)
Exploration Vision and Electrophysiology Society
Finnish Ophthalmological Society
French Society of Ophthalmology
Gabonese Society of Ophthalmology
Georgian National Ophthalmology Society
German Ophthalmological Society (DOG)
Glaucoma Research Society
Greek Glaucoma Society
Greek Vitreo-Retinal Society
Haitian Society of Ophthalmology
Hellenic Cornea Society
Hellenic Opthalmological Society
Honduran Ophthalmology Society
Hong Kong Ophthalmological Society
Hungarian Society of Ophthalmology
Icelandic Ophthalmological Society
International Neuro-Ophthalmology Society (INOS)
International Ocular Inflammation Society
International Perimetric Society
International Society for Clinical Electrophysiology of Vision (ISCEV)
International Society for Eye Research
International Society for Genetic Eye Diseases and Retinoblastoma (ISGEDR)
International Society for Low Vision Research and Rehabilitation
International Society for Ophthalmic Pathology
International Society of Dacryology & Dry Eye
International Society of Geographic and Epidemiologic Ophthalmology (ISGEO)
International Society of Glaucoma Surgery
International Society of Ocular Oncology
International Society of Ocular Toxicology
International Society of Ocular Trauma
International Society of Oculoplastic and Reconstructive Surgeons (ISOPRS)
International Society of Refractive Surgery
International Thyroid Eye Disease Society
Iranian Society of Ophthalmology
Iraqi Ophthalmological Society
Israel Ophthalmology Society
Italian Society of Ophthalmology
Israel Society for Vision and Eye Research
Japanese Ophthalmological Society
Jordanian Ophthalmological Society
Korean Ophthalmological Society
Kyrgyzstan Society of Ophthalmology
Laos Society of Ophthalmology
Latin American Glaucoma Society
Lebanese Ophthalmological Society
Libyan Ophthalmic Society
Lithuanian Ophthalmological Society
Lithuanian Ophthalmological Society
Lumbini Glaucoma Society
Macedonian Ophthalmologists Society
Luxembourg Society of Ophthalmology (Societe Luxembourgeoise d'Ophtalmologie)
Malawi Ophthalmological Society
Malaysian Society of Ophthalmology
Malian Society of Ophthalmology
Mauritanian Society of Ophthalmology
Mexican Society of Ophthalmology
Mongolian Ophthalmologists Society
Montenegrin Society of Ophthalmology
Moroccan Ophthalmology Society
National Ophthalmology Society of Armenia
Nepal Ophthalmic Society
Netherlands Ophthalmological Society
Nicaraguan Society of Ophthalmology
Nigerien Society of Ophthalmology
North American Neuro-Ophthalmology Society (NANOS)
Norwegian Ophthalmological Society
Oman Ophthalmic Society
Ophthalmic Society of Kuwait
Ophthalmological Society of Bangladesh
Ophthalmological Society of Ethiopia
Ophthalmological Society of Ghana
Ophthalmological Society of Jamaica
Ophthalmological Society of Myanmar Medical Association
Ophthalmological Society of Nigeria
Ophthalmological Society of Pakistan
Ophthalmological Society of South Africa (OSSA)
Ophthalmological Society of Taiwan
Ophthalmological Society of Zimbabwe
Palestinian Ophthalmological Society
Ophthalmology Society of Kenya
Pan American Society of Ocular Oncology
Pan American Society of Ophthalmic Pathologists
Pan-American Retina & Vitreous Society
Panamanian Ophthalmology Society
Panamerican Society of Trauma (Sociedad Panamericana de Trauma)
Paraguayan Society of Ophthalmology
Peruvian Society of Ophthalmology
Philippine Academy of Ophthalmology
Polish Ophthalmological Society
Portuguese Society of Ophthalmology
Puerto Rican Society of Ophthalmology
rab African Society of Retina Specialists
Refractive Surgery Alliance Society
Romanian Society of Ophthalmology
Russian Society of Ophthalmologists
Rwanda Ophthalmological Society
Saudi Ophthalmological Society
Scandinavian Society for Cataract and Refractive Surgery (SSCRS)
Scientific Society of Ophthalmologists of Azerbaijan
Senegalese Ophthalmological Society
Singapore Society of Ophthalmology
Slovak Ophthalmological Society
Slovenian Society of Ophthalmology
Somali Ophthalmological Society
Society of Ophthalmology of Turkmenistan
Spanish Society of Ophthalmology
SPIE (International Society for Optics and Photonics)
Sudanese Ophthalmological Society
Swedish Ophthalmological Society
Swiss Society of Ophthalmology
Syrian Ophthalmological Society
Tajikistan Ophthalmology Society
Tanzania Ophthalmology Society
The Central American Society of Retina & Vítreo
Tear Film & Ocular Surface Society (TFOS)
The Central American Society of Retina & Vítreo
The Gambia Ophthalmological Society
The Italian Society of Eye Bank
The Macula Society
The Retina Society
Tunisian Ophthalmological Society
Turkish Ophthalmological Association
Ukrainian Society of Ophthalmologists
Uzbek Scientific Ophthalmology Society
Verhoef-Zimmerman Society
Vietnam Ophthalmological Society
Vitreo Retinal Society - India
Zambia Ophthalmology Society
Yemeni Ophthalmological Society
Related Companies:
Abbott Laboratories
Accuitis Pharmaceuticals
Ace Vision Group
ACRIVET Veterinary Ophthalmology
Actelion Pharmaceuticals UK Ltd
Acucela
Aerie Pharmaceuticals
Aerpio Therapeutics
Akorn
Akorn, Inc.
Akriti Oculoplasty Logistics
Alcon
Alcon Laboratories, Inc.
Alimera Sciences
Allergan, Inc.
Altana Pharma Ltd
AltaPoint
Altheos
Amakem
Amgen
Ampio Pharmaceuticals
AstraZeneca
Barr and Stroud
Bausch +Lomb
Baxter International
Bayer
Beacon Pharmaceuticals Ltd
BioDiem
BioPharmGuy
Blink
Blue Diamond Optometrist System
Boston Micro machines Corporation
BRUSSELS
Bushnell Corporation
Cassini
Clearside Biomedical
Crystal Practice Management
Cyclops Eye Care Records
DY VISION CO.,LTD
ECL Group
Eleven Biotherapeutics
Omeros
OOGroup
Ophthalmic EHR
Ophthalmic World LLC
Ophthotech
Optovue
Otsuka Pharmaceutical
OXiGENE
Pfizer
Quantel Medical
R&D
Regeneron
Roche Holding
RXi Pharmaceuticals
S J Pharmaceuticals
Sanofi
Santen Pharmaceutical Co., Ltd.
Senju
Shanghai Jiahui Optical Instrument Co., Ltd
Shanghai Orient Optical Co Ltd
Shenzhen Mayla Optical Co., Ltd.
Shire
Sirnaomics
SLM Ophthalmic Instruments
Smart Optics
Status Orama
Suzhou Zeller Optics Co., Ltd.
Teva Pharmaceuticals
ThromboGenics
Vision Care Corporate
Vision Web
Visionpro POS
VISTAKON Pharmaceuticals, LLC
Visual-Eyes
Walman Optical
Watson Pharmaceuticals
Wenzhou Jinzhou Group Foreign Trade Industries Co., Ltd.
Yocale
Eli Lilly & Co.
ENTOD
eVisionCare
Eye care pro
Eye Max
EyeBase
Eyecom3
EyeGate Pharmaceuticals
EyeworksInc
Fera Pharmaceuticals
Filopto
Gene Signal
Getwell
Gilead Sciences
GlaxoSmithKline
Gulden Ophthalmics
Iberical Opti
Icare USA
Icon Bioscience
Iris Pharma
Ista Pharmaceuticals, Inc.
Johnson and Johnson
Keystone View Company
Konan Medical USA
Lambda Medica,LLC
Liquid EHR
Lpath
MacuCLEAR
McKesson
McKesson Corporation
Merck
Merck & Co.
Merck Pharmaceuticals
Mikart Inc
Neurotech
Nicox
Ningbo Hengwei Import & Export Co., Ltd.
Novartis
Ocuco
Ocular Store
Ocusoft
Cooper Companies, Inc.
Pfizer, Inc.
Atrion Corporation