Nanomaterials are developed to exhibit novel characteristics (such as increased strength, chemical reactivity or conductivity) compared to the same material without nanoscale features. Hundreds of products containing nanomaterials are already in use. Examples are batteries, coatings, anti-bacterial clothing etc. Analysts expect markets to grow to hundreds of billions of Euros by 2015. Nano innovation will be seen in many sectors including public health, employment and occupational safety and health, information society, industry, innovation, environment, energy, transport, security and space.

Nanomaterials have the potential to improve the quality of life and to contribute to industrial competitiveness in world.Even though nanomaterials are not per se dangerous, there still is scientific uncertainty about the safety of nanomaterials in many aspects and therefore the safety assessment of the substances must be done on a case-by-case basis.

Published article: Green Synthesis of Gold Nanoparticles Characterization by using Plant Essential Oil Menthapiperita and their Antifungal Activity against Human Pathogenic Fungi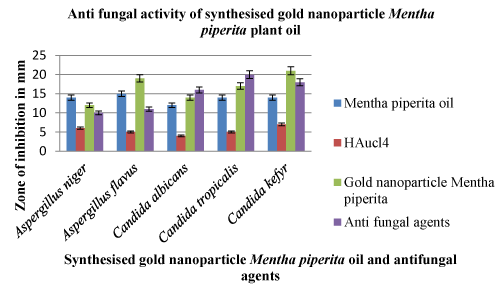 Figure 1: Inhibition of growth of selected fungi by synthesized gold nanoparticle from plant essential oil Menthapiperita.