2020 Market Analysis of 39th World Cancer Conference November 25-26, 2020 | Rome, Italy
National Projects Director, Egypt ICT Trust Fund, Acting Head of the Central Division for Community Development, Ministry of Communications and Information Technology, Giza, Egypt, E-mail:

[email protected]
The 39th World Cancer Conference is an event that aims to amalgamate innovations in cancer treatment and explore the ways to innovate in the diverse fields of Medical, Pharmaceutical, Clinical, Engineering, Science, Technology and Business. World Cancer 2020 will be the best platform for all the oncologists, hematologists, research scholars, students who are working in this field to exchange their knowledge related to Oncology Research. This international event is an effort to understand the underlying biological procedures which are amended to increase effectiveness, precision, survivability and quality of life. The conference will provide with an exceptional opportunity for the delegates from Universities and Institutes to interact with the world class Scientists and Industry Professionals working in the field of cancer (or) oncology.
World Cancer 2019 will also explore the new ideas and concepts on global scale and the topics Cancer Biology & Genetics, Organ-Defined Cancers, Oncology: Sub-Specialities, Radiation Oncology, Surgical Oncology, Cancer & Stem Cell Therapy, Precision Cancer Medicine & Oncology, Cancer Biomarkers, Cancer Epidemiology, Cancer Prevention & Research, Cancer Therapy & Treatments, Cancer Pharmacology, Cancer Vaccines, Cancer Immunology & Immunotherapy, Oncology Nursing and Care, Complementary & Alternative Methods and Cancer, Cancer Awareness and Survival, Cancer: Lifestyle and Nutrition, Cancer: Psychological & Social Aspects
Market Analysis
The recent advancements in the cancer treatments & cancer care are accelerating. A cluster of innovative treatments, often combined with other new or existing medicines, and frequently associated with biomarkers, are emerging from the research and development pipeline.
Over the past five years, 70 new oncology treatments have been launched and are being used to treat over 20 different tumour types.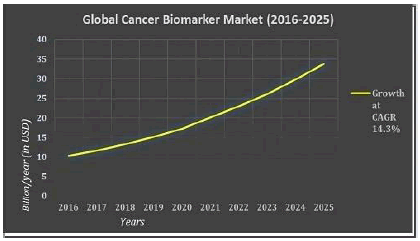 The global cancer biomarker market size was valued at USD 10.3 billion in the year 2016 and is estimated to reach a value of USD 33.7 billion by 2025, growing with CAGR of 14.3 %. Growing prevalence of malignancies coupled with increasing focus on development of targeted therapies is a major factor affirming growth of this market.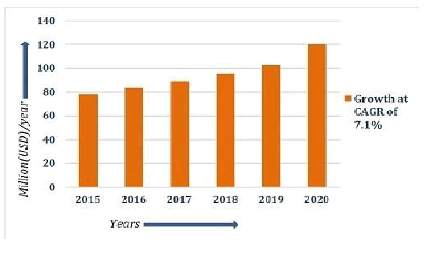 Global cancer drugs market accounted for $78,238.9 million in 2015. The cancer drugs market is driven by the growing prevalence of various types of cancer, increasing demand of biological and targeted drug therapies, continuous patent expiry of key cancer drugs and the rising impact of bio similars. Global Oncology/Cancer Drugs Market is expected to garner $111.9 billion by 2020, registering a CAGR of 7.1% during the forecast period 2014 to 2020. Recent progress in biological therapies has widened the scale of therapeutic targets for treatment of cancer with the identification of tumour cell specific genes.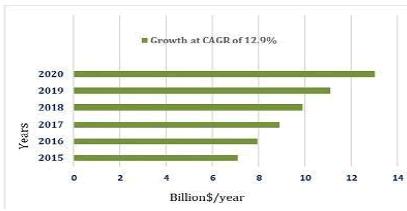 The global cancer diagnostics market is segmented based on technology, application, and region.
This report studies the global cancer diagnostics market for the forecast period of 2015 to 2020. This market is expected to reach $13.1 Billion by 2020 from $7.1 Billion in 2015, and is poised to grow at a CAGR of 12.9% during the forecast period.
According to market study, annual global growth in the oncology drug market is expected to be 7.5–10.5 percent through 2020, reaching $150 billion. Wider utilization of new products - especially immunotherapies - will drive much of the growth, offset by reduced use of some existing treatments with inferior clinical outcomes. Payers also are expected to tighten their negotiation stance with manufacturers and adopt new payment models in an effort to drive greater value from their expenditures on these drugs.
World Cancer 2020 is an extraordinary event designed for International medical health professionals and oncologists to facilitate the dissemination and application of new research findings related to Cancer. The conference invites participants from all leading universities, clinical Research institutions and diagnostic companies to share their research experiences on all aspects of this rapidly expanding field and thereby, providing a showcase of the latest techniques.
Target Audience:
• Academicians
• Doctors
• Pathologists
• Hematologists
• Breast Cancer Surgeons
• Immunologists
• Radiologists
• Cancer & Oncology Societies Professionals
• Bio-Medical Company professionals
• Corporate Cancer Research Professional
• Research Scholars
• Pharmacists
• molecular diagnosticians
• Business Entrepreneurs
• Software Developing Companies
• Medical Devices Companies
• Biotechnology Companies
Related Companies/Industries:
• Acadia Healthcare Company, Inc.
• Adcare Health Systems
• Adeptus Health Inc.
• Akebia Therapeutics, Inc.
• Aldeyra Therapeutics, Inc.
• AAC Holdings, Inc.
• Abbott Laboratories
• American Well
• Doctor on Demand
• PlushCare
• SnapMD
• Spruce
• Talkspace
• Teladoc
• AbbVie Inc.
• Abeona Therapeutics Inc.
• ABIOMED, Inc.
• Walgreens Boots Alliance, Inc.
• Health Net Inc.
• Healthcare Services Group, Inc.
• HealthSouth Corporation
Related Associations and Societies:
• Dutch Society for Surgical Oncology.
• German Society of Radiation Oncology.
• Childhood Cancer Research Group.
• Association of Population-based Cancer Registries in Germany.
• French Society of Radiation Oncology.
• Children's Cancer Association.
• Colon Cancer Alliance.
• American Childhood Cancer Association.
• American Society for Radiation Oncology.
• Children's Neuroblastoma Cancer Foundation.
• Musculoskeletal Tumor Society.
• Association of Radiation Oncologists of India,
• Japanese Breast Cancer Society.
• Asian Cancer Foundation.
• Japan Lung Cancer Society.
• Cancer Relief Society Nepal.
Select your language of interest to view the total content in your interested language
Post Your Comment
Citation
Article Usage
Total views:

725

[From(publication date): 0-0 - Dec 01, 2021]
Breakdown by view type
HTML page views:

470

PDF downloads:

255