Postpartum Ovarian Vein Thrombosis (POVT): A Short Focus Update
1Department of Radiology, Fann University Hospital, Cheikh Anta Diop Street, BP 5035 Dakar-Fann, Senegal
2Department of Gynecology and Obstetrics, Pikine University Hospital, Near Military Camp of Thiaroye, Dakar, Senegal
*
Corresponding Author:
Aidara CM, Department of Radiology, Fann University Hospital, Cheikh Anta Diop Street, BP 5035 Dakar-Fann, Senegal, Tel: 00221763110301, Email:
[email protected]
Received Date: Feb 28, 2018 / Accepted Date: Mar 24, 2018 / Published Date: Mar 30, 2018
Postpartum ovarian vein thrombosis is a rare condition but claims special attention because of its potentially serious complications. It occurs 0.05% to 1.8% of vaginal deliveries and 1 to 2% of cesareans. The right side is reached in 80 to 90% of cases [1-3].
The ovarian vein is organized into the ovarian venous plexus that collects in a single vein. It increases in diameter significantly during pregnancy from 9 to 27 mm. It travels in the retroperitoneal space and joins the renal vein on the right side and the inferior vena cava on the left side. The proximity of the ureter explains possibility of compression in case of thrombosis [4]. In addition to thrombophilia factor during peripartum period, septic conditions must be added as an endometritis that justifies routine antibiotic therapy in this condition. However, ovarian vein thrombosis can be observed in neoplasia or infections [3]. Teh et al. reported an observation of ovarian vein thrombosis due to Campylobacter fetus bacteremia [5].
Intense low pelvic pain and fever are most often the complaints of patients suffering from POVT. But it may be asymptomatic or even rapidly fatal. Others diagnosis are possible such as appendicitis or intestinal inflammation. Leukocytosis, elevation of CRP rate is classical. Increase rate of D-dimers is nonspecific in this period. Search for thrombophilia factor seems useless [6].
This classical manifestation of intense and feverish pelvic pain requires exploration in imaging to rule out other causes of acute inflammatory abdomen and avoid an unnecessary surgery [1,7,8]. Imaging (ultrasound, CT and MRI) typically shows a tortuous and latero-uterine formation, containing a thinly hypoechoic material in the ultrasound examination (Figure 1) or dense intravascular material in the CT (Figures 2 and 3). It continuous in the retro peritoneum space (Figures 1 and 2). Sometimes there is a pseudo latero-uterine mass due to thrombosis in the pampiniform plexus (Figure 1). Possible ureteral compression and hydronephrosis should be appreciated (Figure 2).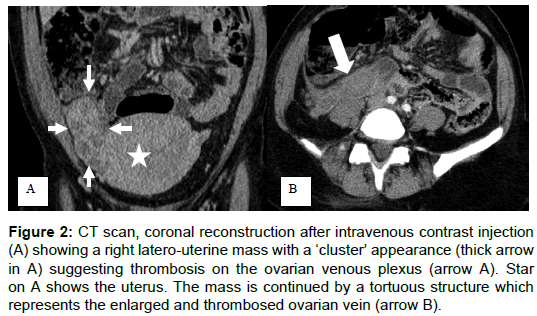 Figure 2: CT scan, coronal reconstruction after intravenous contrast injection (A) showing a right latero-uterine mass with a 'cluster' appearance (thick arrow in A) suggesting thrombosis on the ovarian venous plexus (arrow A). Star on A shows the uterus. The mass is continued by a tortuous structure which represents the enlarged and thrombosed ovarian vein (arrow B).
CT is the most routinely examination because of its availability and accessibility. It is an essential tool in abdominal emergency imaging. CT and ultrasound have a sensitivity and specificity up to 95% and 50% respectively. But MRI seems more specific and should be reserved in case of doubt [7-9].
POVT is a diagnostic and therapeutic emergency. Its potential complications are essentially [9,10]:
i. Pulmonary embolic migration which occurs in 13% with a mortality of about 4 to 5%,
ii. The extension of thrombosis to the inferior vena cava and renal veins. Involvement of the renal vein may be revealed by a flank pain, hematuria, proteinuria, transient renal failure,
iii. Septic dissemination,
iv. Ureteral compression.
Treatment is mainly based on curative anticoagulation and antibiotic therapy [3 Xavier]. There is no consensus on the duration. The prognosis of this condition seems good throughout the literature and related mainly to embolic pulmonary migration. In case of no response to treatment, filter placement in the lower vena cava or thrombectomy with hysterectomy is discussed on a case by case basis [7].
Conflict of Interest
References
Citation: Aidara CM, Diop AD, Ahmed K, Diouf AA, Diallo M, et al. (2018) Postpartum Ovarian Vein Thrombosis (POVT): A Short Focus Update. OMICS J Radiol 7: 295. DOI: 10.4172/2167-7964.1000295
Copyright: © 2018 Aidara CM, et al. This is an open-access article distributed under the terms of the Creative Commons Attribution License, which permits unrestricted use, distribution, and reproduction in any medium, provided the original author and source are credited.
Select your language of interest to view the total content in your interested language
Post Your Comment
Citation
Article Usage
Total views:

3031

[From(publication date): 0-2018 - Jan 17, 2022]
Breakdown by view type
HTML page views:

2685

PDF downloads:

346