Journal of Surgery [Jurnalul de Chirurgie] publishes peer-reviewed content on different field of surgery research highlighting latest trends of scientific inquiry and systematic studies to address emerging challenges in these fields. The journal offers wide scope for publication of scholarly information which includes, general surgery, endocrine surgery, gynecologic surgery, laparoscopic surgery, laser surgery, liver resection surgery, neonatal surgery, oncologic surgery, robotic surgery, transplant surgery, trauma surgery, vitreoretinal surgery .
The archived content of the journal represents the track of progress made in this field over the past decade. The information gathered by the journal functions as resource of refined knowledge for academicians, scientists, physicians, clinical and medical professionals. The volume of information contained on the journal web-site is contributed by authors from different regions of the world. Due to these reasons readers hailing from diverse professional backgrounds and regions are interested in the journal content.
Google Analytics Metrics: At Glimpse
A statistical representation of global users for Journal of Surgery (Source: Google Analytics)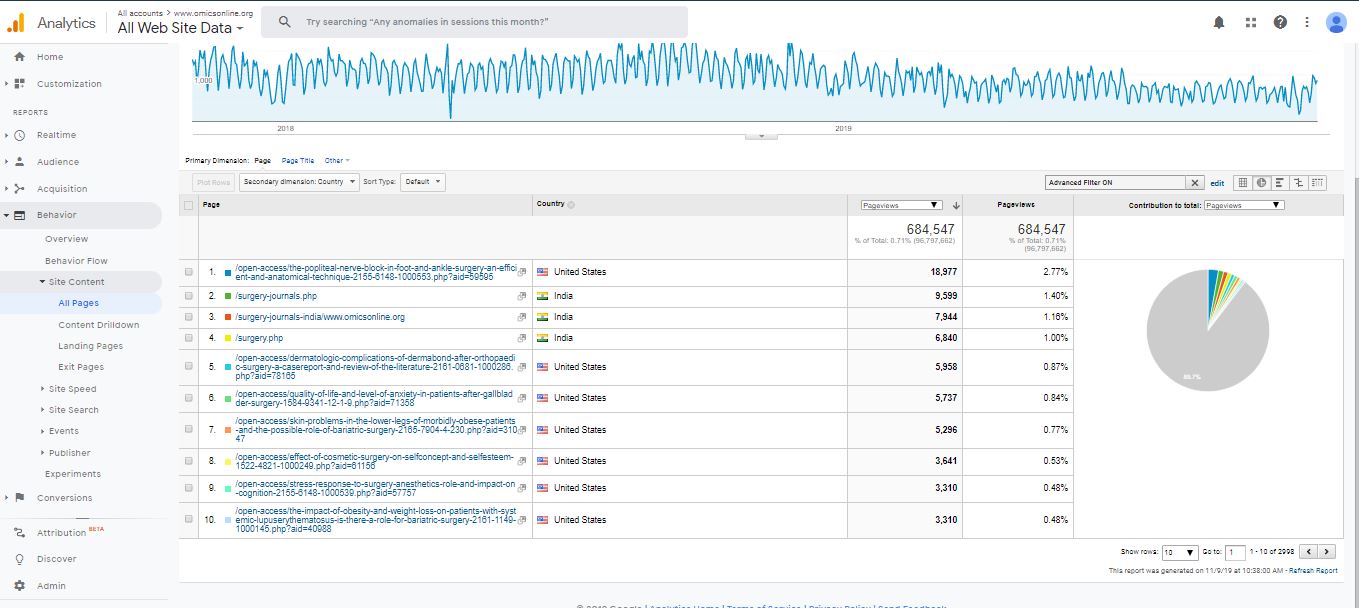 More than 104,911 Visitors visiting the journal site to read the published articles or submit their research outcomes
Highest number of Visitors reporting both from the developed and developing nations
Majority of the visitors have come from Asia 28.93%, Africa 0.95%, Americas 8.74%, Europe 13.57%and Others 47.81%.
The Journal received tremendous attention from the researchers in terms of visits from Cape Town, Leon, Chapel Hill, London, Quezon City, and Bridgend etc.
Reasons for enlisting Journal of Surgery Informatics on top of search engines: (Source: Google)