Journals Readership Metrics (Source: Google Analytics)
The Journal of Alzheimer Disease & Parkinsonism (JADP) is the best open access, Peer reviewed journal that includes a wide range of fields in this discipline including Neuroimaging Techniques, Oxidative Stress-Induced Neuron Toxicity, Reperfusion Injury, Neurobiology, CNS Tumor Stem Cells, Down Syndrome, Neuropathology, Neurodegenerative Disorders, Oxidative Stress, Alzheimer′s Patients etc to create a platform for the authors to make their contributions towards the scholarly journals and the editorial office promises a peer review process for the submitted manuscripts for the quality of publishing.
Google Analytics Metrics: At Glimpse
A statistical representation of global users for Journal of Alzheimers Disease & Parkinsonism (Source: Google Analytics)

Reasons for enlisting Journal of Alzheimers Disease & Parkinsonism Informatics on top of search engines: (Source: Google)
Global Internet users for
omicsonline.org

Statistical representation (Source: Google Analytics)

A statistical Analysis on global internet users of omicsonline.org (By Google Analytics)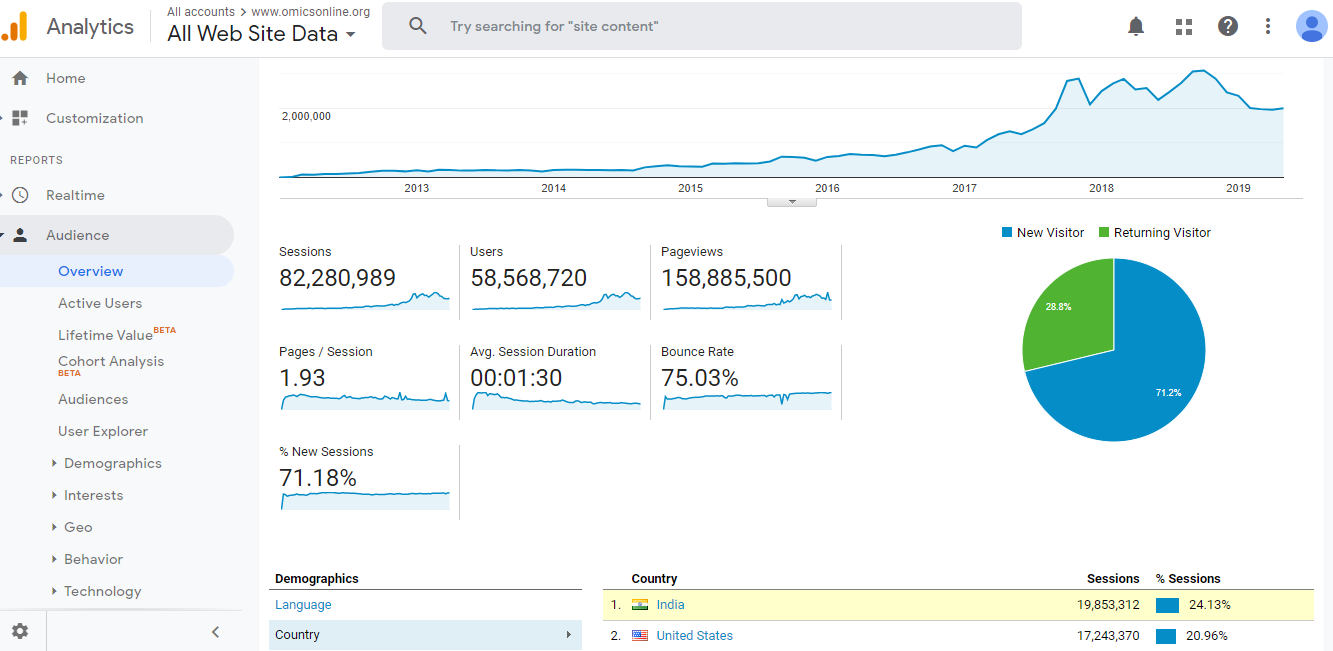 Journals published OMICS International is frequently receiving responses from the authors and readers globally. Multiple journals published in various subjects including Medical, Pharma, Engineering, Sciences, Technology and Business attracting more than 14,026,825 users with more than 44,743, 084 page views. The observed analytics values are sufficient to quantifyour journals popularity among the scientific community. Moreover, our authors and Editors profiles are also receiving tremendous visibility from their fellow colleagues through our online portals and getting recognition worldwide.
OMICS International Web Metrics
58,568,720 + users
158,885,500 + page views
Our journals have received 82,280,989 + sessions so far with a rate of 71.18% of new sessions which confirms the outstanding pool of new users and visitors for OMICS International journals. Open Access publishing is model has become the best choice for the authors worldwide. Due to fast and constructive peer review process, avoiding unnecessary time delay in production, and incredible ever growing visibility of the published article along with branding and promotional activity revolutionized the publishing system. OMICS journals are serving as one of the pioneer publishing medium in this context.