Journals Readership Metrics (Source: Google Analytics)
Journal of Clinical Chemistry and Laboratory Medicine publishes peer-reviewed content on Clinical chemistry, Laboratory medicine, Pathology, Bio assays, Biochemistry, Clinical Genomics, Molecular Biology, Clinical Immunology, Autoimmunity, Clinical microbiology, Drug Monitoring, Diagnostic Biomarkers highlighting latest trends of scientific inquiry and systematic studies to address emerging challenges in these fields. The journal offers wide scope for publication of scholarly information which includes, but not limited to Clinical Biochemistry, Clinical Genomics and Molecular Biology, Clinical Immunology and Autoimmunity, Clinical Metrology, Clinical microbiology, Drug Monitoring and Analysis, Evaluation of Diagnostic Biomarkers, Instrumentation and Technologies, Quality and Safety in Laboratory Medicine, Reagent, Reference Materials and Methods, Reference Values and Decision Limits, Translational Laboratory Medicine.
The archived content of the journal represents the track of progress made in this field over the past decade. The information gathered by the journal functions as resource of refined knowledge for academicians, scientists, physicians, clinical and medical professionals. The volume of information contained on the journal web-site is contributed by authors from different regions of the world. Due to these reasons readers hailing from diverse professional backgrounds and regions are interested in the journal content.
Google Analytics Metrics: At Glimpse
A statistical representation of global users for Journal of Clinical Chemistry and Laboratory Medicine (Source: Google Analytics)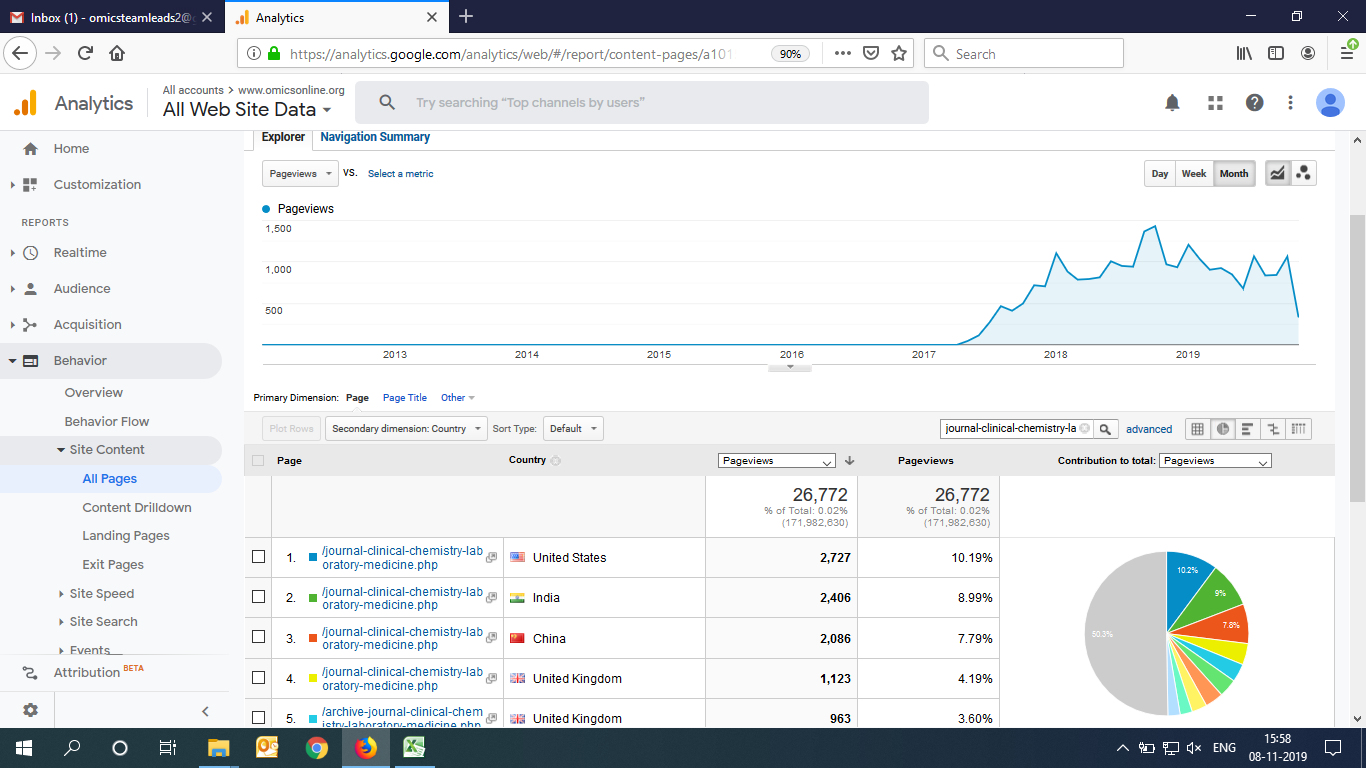 A statistical representation of global users for Journal of Clinical Chemistry and Laboratory Medicine (Source: Google Analytics)
It is quite evident from Google Analytics data that browser, viewers, and users are constantly visiting the web page of the journal from various quarters of the world 24×7.
It was observed that approximately 26,772 visitors have accessed the journal pages for reading and deriving information for their use
Our reader base originates from both developing and developed Nations. Readers from all the continents were found to visit our website the proportion of their distribution was as follows: United States of America (10.19%), India (8.99%), China (7.79%), United Kingdom (4.19%), and United Kingdom (3.60).
The average time spent by a visitor per session of 2 min indicated that their visit is not mere drop in but for availing the facility with some purpose which include viewing, reading, downloading and navigating.
Sections of scientific literature including current issues and archives has recorded highest visibility and readership indicted that there exists profound interest in our published content.
The journal has also taken keen interest in profiling the affiliations and academic achievements of authors and editors and the number of clicks on their web page show tremendous interest among the visitors. Concomitantly, this also resulted in wider recognition of the authors and editors and their contributions among medical research community.
Reasons for enlisting Journal of Clinical Chemistry and Laboratory Medicine Informatics on top of search engines: (Source: Google)
• The journal publishes peer-reviewed content under open access creative commons attribution license making it easily accessible and utilizable. Hence the primary motto in visiting our journal site is to read, access, share, and circulate the scholarly information.
• A great majority of authors are visiting our scholarly journal to submit their research contributions and retrieving archived content for research purposes as well as for continuing education. • The journal renders authors an outstanding opportunity to publish their contributions to increase their visibility to the global scientific community and thus obtaining international recognition from their fellow researchers.
• The articles published in this journal are receiving attention from a large number of academicians, professionals, research communities as well as receiving regular citations.
• The journal considers the value of each article contribution and therefore, generates excellent profile sites for each author and institution which helps the author and the respective institution to grab attention from all over the world.
Global Internet users for
omicsonline.org

Statistical representation (Source: Google Analytics)

A statistical Analysis on global internet users of omicsonline.org (By Google Analytics)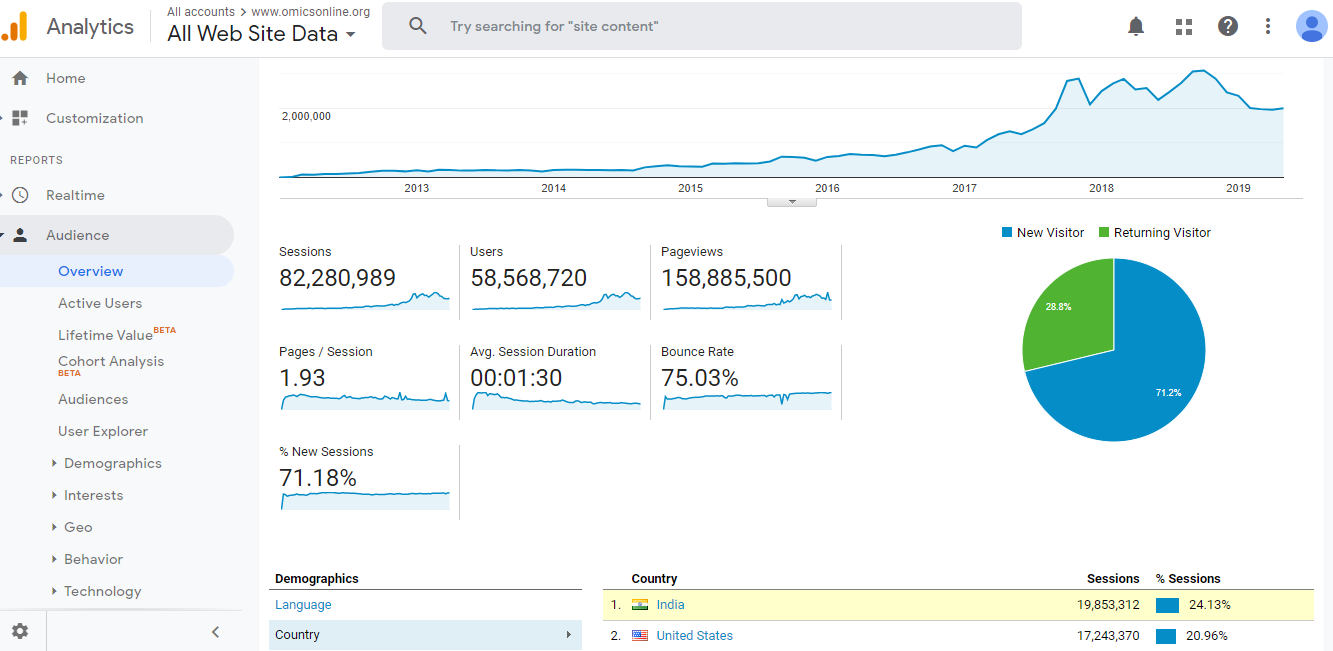 Journals published OMICS International is frequently receiving responses from the authors and readers globally. Multiple journals published in various subjects including Medical, Pharma, Engineering, Sciences, Technology and Business attracting more than 14,026,825 users with more than 44,743, 084 page views. The observed analytics values are sufficient to quantifyour journals popularity among the scientific community. Moreover, our authors and Editors profiles are also receiving tremendous visibility from their fellow colleagues through our online portals and getting recognition worldwide.
OMICS International Web Metrics
58,568,720 + users
158,885,500 + page views
Our journals have received 82,280,989 + sessions so far with a rate of 71.18% of new sessions which confirms the outstanding pool of new users and visitors for OMICS International journals. Open Access publishing is model has become the best choice for the authors worldwide. Due to fast and constructive peer review process, avoiding unnecessary time delay in production, and incredible ever growing visibility of the published article along with branding and promotional activity revolutionized the publishing system. OMICS journals are serving as one of the pioneer publishing medium in this context.