Journals Readership Metrics (Source: Google Analytics)
Journal of Clinical Neurology and Neurosurgery broadcasts latest experimental, empirical, theoretical, clinical observations and interpretations in neuroscience originating from all across the world. The journal promotes communication and sharing of innovations and insights among academicians, researchers, clinicians, physicians and other health care and medical professionals who deal with prevention, diagnosis and treatment of neurological diseases and disorders. The journal focuses on systematic and scholarly studies aimed at addressing the emerging challenges in neurology. The journal has a wide coverage of neurology subjects including structural and functional neurology; behavioural neurology; brain injury & brain diseases; neural development & regeneration as well as transplantation based treatment approaches.
The journal has archived resource of several issues from 2010 which tract the significant steps during the evolution of neurological studies. The journal's author base is composed of eminent academicians, scientists and medical professional from diverse geographical regions of the world. Similarly, the reader base also has heterogeneous composition as revealed by Google analytics. On an overall basis, the journal has been successful in collation of quality research outcomes in neurology and their wider propagation.
Google Analytics Metrics: At Glimpse
A statistical representation of global users for (Source: Google Analytics)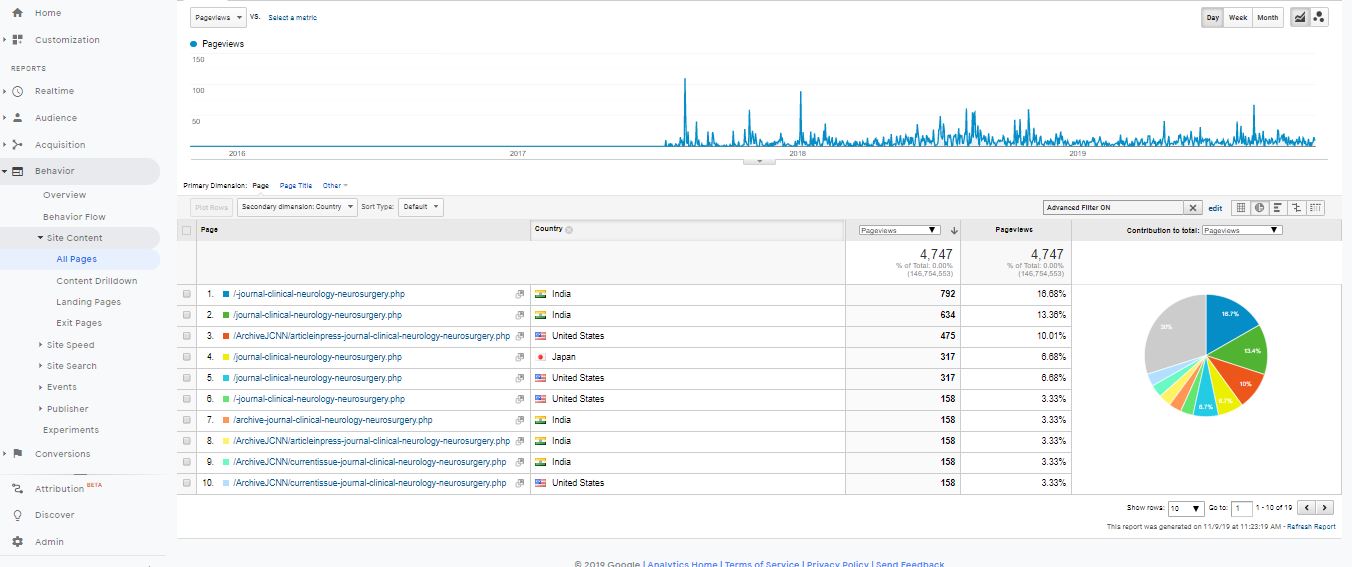 Google analytics has revealed that readers are constantly accessing the website round the clock. Approximately 4,749 visitors accessed the journal home page for various academic and research purpose which include: Knowing about the journal and its publication model; reading the aims and scope; manuscript preparation and submission protocol; accessing and citing the published content for scientific documentation.
The geographical distribution of our readership is as follows: Asia (32.7%), Africa (0.74%), Europe (14.47%), America (38.13%), and Others (13.96%).
It was observed that there was relatively greater demand for scientific content since the sections on in press, current issues and archived articles recorded highest visibility and readership.
Reasons for enlisting Informatics on top of search engines: (Source: Google)
The focus and mandate of the journal as detailed in the aims and scope attracted the researchers and professionals of medical science to the journal home page and encouraged them to submit their contributions as they found the journal to be most relevant and suitable for reaching out to the audience and gain wider recognition in their field of research.
The citation metric of the journal revealed an upward trend over the past several years which indicated that the journal content was not only read but was also utilized in respective research endeavors and explorations.
Global Internet users for
omicsonline.org

Statistical representation (Source: Google Analytics)

A statistical Analysis on global internet users of omicsonline.org (By Google Analytics)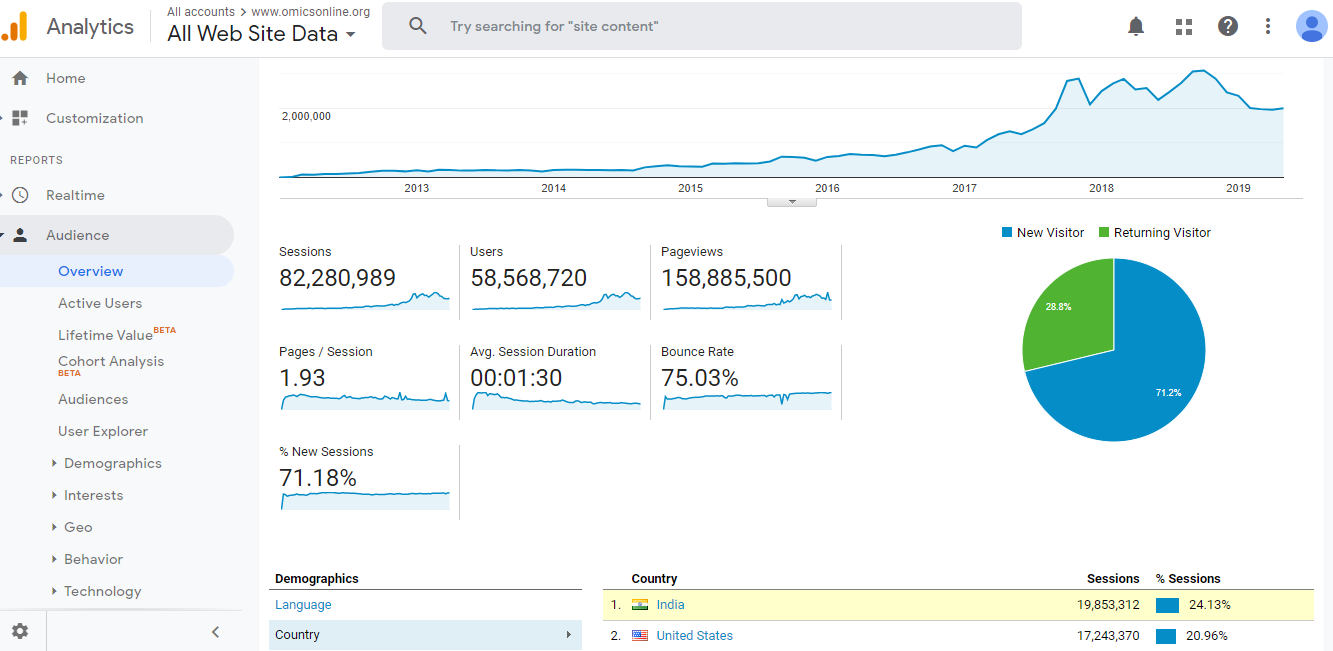 Journals published OMICS International is frequently receiving responses from the authors and readers globally. Multiple journals published in various subjects including Medical, Pharma, Engineering, Sciences, Technology and Business attracting more than 14,026,825 users with more than 44,743, 084 page views. The observed analytics values are sufficient to quantifyour journals popularity among the scientific community. Moreover, our authors and Editors profiles are also receiving tremendous visibility from their fellow colleagues through our online portals and getting recognition worldwide.
OMICS International Web Metrics
58,568,720 + users
158,885,500 + page views
Our journals have received 82,280,989 + sessions so far with a rate of 71.18% of new sessions which confirms the outstanding pool of new users and visitors for OMICS International journals. Open Access publishing is model has become the best choice for the authors worldwide. Due to fast and constructive peer review process, avoiding unnecessary time delay in production, and incredible ever growing visibility of the published article along with branding and promotional activity revolutionized the publishing system. OMICS journals are serving as one of the pioneer publishing medium in this context.