Oral Carcinoma, HPV Infection, Arsenic Exposure-their Correlation in West Bengal, India
Pritha Pal* and Ajanta Halder
Department of Genetics, Vivekananda Institute of Medical Sciences, Ramakrishna Mission Seva Pratishthan, 99 Sarat Bose Road, Kolkata, West Bengal, India
Corresponding Author:

Pritha Pal
Research Scholar
Department of Genetics
Vivekananda Institute of Medical Sciences
Ramakrishna Mission Seva Pratishthan, 99 Sarat Bose Road
Kolkata- 700026, West Bengal, India
Tel: +91 9903718344
E-mail: [email protected]
Received date: September 22, 2016; Accepted date: October 05, 2016; Published date: October 12, 2016
Citation: Pal P, Halder A (2016) Oral Carcinoma, HPV Infection, Arsenic Exposure-their Correlation in West Bengal, India. Otolaryngol (Sunnyvale) 6:266. doi:10.4172/2161-119X.1000266
Copyright: © 2016 Pal P, et al. This is an open-access article distributed under the terms of the Creative Commons Attribution License, which permits unrestricted use, distribution, and reproduction in any medium, provided the original author and source are credited.
Visit for more related articles at Otolaryngology: Open Access
Abstract
Objective: The aim is to find out any possible correlation between HPV infection and oral carcinoma along with this metal toxicity. Methods: Ethical clearance for this study was obtained from the Ethics Committee of Vivekananda Institute of Medical Sciences, Ramakrishna Mission Seva Pratishthan. Patients attending our hospital were screened for the presence of oral premalignant and malignant lesions. The subjects were administered a standard questionnaire. The buccal swab and hair samples (107 cases and 50 controls) were collected after obtaining informed consent from all the corresponding subjects, and were analysed for detection of HPV 16 DNA and arsenic level analysis, respectively. Results: 22.5% of malignant samples showed the presence of HPV 16 DNA. 80% of cases showed their arsenic count above the safe limit (0.8 μg/g). Conclusion: A considerable percentage of malignant samples showed the presence of HPV16 DNA, indicating that there may be a correlation between HPV infection and oral malignancy in this population. A higher percentage of cases showing an elevated arsenic count states a possible link between arsenic toxicity and the development of this disease. However, a higher population size and statistical analysis are required for a proper conclusion.
Keywords
Human papilloma virus; Koilocytes; Arsenic toxicity; Buccal swab; Hair; Oral cancer; West Bengal
Abbreviations
HPV: Human Papilloma Virus; OSCC: Oral Squamous Cell Carcinoma; OM: Oral Malignant; OPM: Oral Premalignant; PBS: Phosphate Buffer Saline; SD: Standard Deviation; As: Arsenic
Introduction
Oral squamous cell carcinoma (OSCC) accounts for the second most common cancer in adult males and third most common cancer in adult females worldwide. Incidence rates for oral cancer vary in men from 1 to 10 cases per 100,000 populations in many countries. In India, the age standardized incidence rate of oral cancer is reported as 12.6 per 100,000 populations. It is estimated that around 43% of cancer deaths are due to tobacco use, unhealthy diets, alcohol consumption and various infections. The prevalence of oral cancer is reportedly particularly high among men than in women but also contradicted to be opposite in some western countries [1]. The widespread use of various forms of tobacco, betel quid chewing, smoking habits and alcohol intake are considered as the main risk factors behind oral cancer. But, in recent years, many research studies suggest that there have been many cases developing this cancer without any history of habits related to these risk factors, which brings out the rise of another potent factor, namely the viral infection [2]. This has been attributed to the human papilloma virus in various Western countries [1]. The reports of HPV prevalence in oral cancer from southern India seem to be highly variable [3]. High association rate of HPV-16 in OSCC cases, between 62% and 95%, have been well documented by various studies. Another factor namely, heavy metal toxicity has very shortly come into play for the development of cancer. These metals include lead, nickel, arsenic etc. whose presence in soils may exert their effects on human health through the food grown on them, which may put people under a higher risk of cancer development, if the metal is proved to be a carcinogen [4]. Arsenic (As) exposure leading to skin, lung and bladder cancer has already been established [5]. Moreover, many countries like Taiwan (mainly Central and Eastern parts) have alarming levels of oral cancer incidence [6], many cases accounting to the arsenic exposure. Since West Bengal has been known to be an arsenic prone state [7], we have chosen this zone in our study to find out a possible correlation between the arsenic toxicity and the development of oral malignancy.
Materials and Methods
Study population
In this case-control prospective study, a stratified sampling method was used to select 157 participants (54 oral malignant (OM), 53 oral premalignant (OPM), 50 control) to be interviewed after being informed about the research. Ethical clearance for this study was obtained from the Ethics committee of Ramakrishna Mission Seva Pratishthan and VIMS, Kolkata. 30785 patients were screened in the Department of ENT, Head and Neck Surgery and Oral and Maxillo Facial Surgery of our hospital. Among these, 54 patients with histopathologically confirmed cases of oral carcinoma, 53 with premalignant oral lesions and conditions were recruited for this study between November 2012 and July 2015. All cases were newly diagnosed and previously untreated. Clinical characteristics including basic medical data were obtained from medical records. All were resident of different districts of West Bengal. 50 controls (cancer free) were recruited simultaneously from the relative of the patients residing in similar geographic area. Controls were selected among the relatives of the cases who accompanied them and staying in the same localities. Age distribution for the controls was comparable to that of the cases. Cases and controls were matched primarily by frequency of geographic and social origin and secondly by age distribution. They mostly belong to medium to low economic classes having similar lifestyle and level of education.
Questionnaire administration
After signing the informed consent, subjects were interviewed to collect their demographic data (age, gender and residential history), their daily life style and occupation. Data relating to arsenic contamination in 129 blocks of 8 districts of the state of West Bengal and 100 wards of the city of Kolkata were obtained from literature [8].
Collection and analysis of samples
Buccal smear and swab samples, hair samples were collected after obtaining informed consent from all the subjects. 54 malignant, 53 premalignant and 50 control hair samples were analyzed by the method of flow injection-hydride generation-atomic absorption spectrometry for arsenic count and their buccal smears were taken on slides, Pap stained and examined under microscope for detecting the presence of koilocytes. The corresponding buccal swab samples were dissolved in Phosphate Buffer Saline (PBS) solution and DNA was extracted from all the sample solutions following the standard Qiagen protocol, using the Qiagen DNA Mini Kit. Further PCR was performed with all the DNA samples, positive control (HPV 16 plasmid DNA) using the HPV 16 L1 consensus primers [MY11/MY09].
Primers Sequence Amplimer size
(approx. bp)
MY11 5'GCCCAAGGACATAACAATGG
MY09 5'CGTCCAAGGGGAAACTGATC 450
Analysis
Descriptive analysis was conducted comparing cases with malignant and premalignant oral lesions to the control group in terms of demographic factors, arsenic level in hair samples and the presence of micronuclei and apoptosis in buccal smear. To compare the case and control groups a student t-test was used for continuous variables (arsenic level in hair). The Arsenic (As) level mean, standard deviation (SD), quartiles and medians for all these groups were calculated. Statistical analysis was done using Graph-pad prism software. All tests were two-sided with a significant level of p value <0.001.
Results
Figure 1 shows the overall association of various risk factors with the patients and controls. The age-sex distribution, source of drinking water and the various risk factor associations is depicted in Table 1. In the literature, the state of West Bengal has been divided into three groups of arsenic affected areas, based on the maximum permissible limit of arsenic concentration in groundwater being 50μg/L (recommended by World Health Organization). These are: highly affected (Out of 149 blocks in 8 districts and 100 wards of Kolkata, 107 blocks and 30 wards are affected), mildly affected (Out of 29 blocks in 5 districts, 4 blocks are affected) and unaffected (Out of 63 blocks in 5 districts, none is affected). In our study, patients and control individuals came from different districts of West Bengal. 123 (75%) patients came from the highly arsenic affected areas and 41 came from the unaffected areas, none came from the mildly affected areas.
Type
Sex
N
Age group (in years)
Drinking water
Addiction*
M
F
15-35
36-55
56-75
Mineral water
Municipality Corporation
Tube well
Pond water
Betel quid
Oral tobacco
Smoking tobacco
Alcohol
Non- user
Direct
Treated
Deep
Shallow
Direct
Treated
Direct
Treated
Direct
Treated
Control
37
13
50
12
32
6
1
20
12
10
0
6
0
0
1
4
1
0
0
46
Premalignant
39
14
53
13
33
7
1
21
13
11
0
6
0
0
1
12
17
22
9
4
Malignant
38
16
54
11
35
8
1
20
15
10
0
7
0
0
1
20
14
20
9
3
Table 1: The age and sex distribution, sources of drinking water and various addictions of malignant, premalignant and control individuals are presented here, *please note: Some of the malignant and premalignant cases and control individuals have more than one addiction.
The data relating to the highly arsenic affected and unaffected districts of West Bengal is compared to the data of the geographic distribution of the patients coming from those districts in the maps of West Bengal in Figure 2 and the tabular comparison is shown through Table 2.
Arsenic Exposure in West Bengal
Districts
% of blocks affected
% of patients came
Highly affected
Nadia
100
~2
North 24 Parganas
95.4
~17
Murshidabad
92.3
~2
South 24 Parganas
64.7
~14
Howrah
58.3
~12
Kolkata
30
~45
Unaffected
Purulia
0
~2
Midnapur (East)
0
~4
Midnapur (West)
0
~2
Table 2: Tabular representation of the percentage of affected blocks in different highly arsenic affected and unaffected districts of West Bengal with the percentage of patients coming from those areas.
The statistics of distribution of As level in hair samples of our study population is shown in Table 3. The medians and ranges are presented in addition to the mean, SD and the quartiles. Out of 164 cases, 80% showed their arsenic count above the safe limit (0.8 μg/g; recommended by WHO), whereas, 96% of the controls' arsenic count were within the safe limit. This is shown in Figure 3.
Cases
Statistical Data
n
Mean
25-75th percentile
Range
Median
95% of CI of mean
Malignant
54
2.071 (1.102)
1.17- 2.615
0.72- 4.78
1.88
1.616, 2.526
Premalignant
53
1.746 (1.067)
0.935- 2.52
0.39- 4.23
1.45
1.306, 2.187
Control
50
0.544 (0.11)
0.44- 0.63
0.40- 0.76
0.52
0.513, 0.576
p value
< 0.001*
* denotes that the difference of mean values between control group and case (premalignant and malignant) group w.r.t. arsenic count is highly significant
Table 3: Statistical representation of arsenic levels of malignant, premalignant and control groups.
Out of 54 malignant cases, 27.78% (15/54) showed the presence of koilocytes, where out of these 15 cases, 80% (12/15) showed the presence of HPV 16 after PCR analysis. On the contrary, none of the premalignant and control cases showed the presence of HPV 16 DNA (Figure 4), both of which are related to each other. 9.25% (5/54) of the malignant cases showed the presence of both high arsenic count and HPV 16 DNA as well.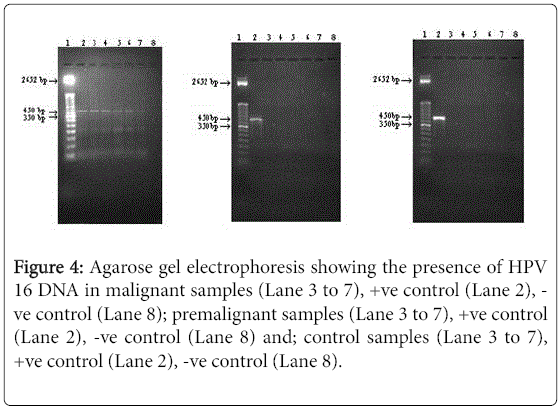 Figure 4: Agarose gel electrophoresis showing the presence of HPV 16 DNA in malignant samples (Lane 3 to 7), +ve control (Lane 2), - ve control (Lane 8); premalignant samples (Lane 3 to 7), +ve control c(Lane 2), -ve control (Lane 8) and; control samples (Lane 3 to 7), +ve control (Lane 2), -ve control (Lane 8).
Discussion
Increased incidence of oral cancer in younger adults with nonsmoking habits and decline in the number of tobacco and alcohol related OSCC has been recorded over the past 30 years. Recently, women are reportedly at risk of this infection apart from much susceptible male in places like Vietnam [9]. Some estimates suggest that 70-90% of new oropharyngeal cancers have evidence of HPV [10]. Viral regulation of miRNA expression in oral cancer diagnosis including that of Epstein-Barr virus apart from HPV has also been stated in India [11].
Genetic polymorphisms and HPV infection has also been correlated [12]. HPV 16 antibodies are said to contribute to the increased risk of HPV associated oral cancer [13]. However, malignant potential of HPV is hypothesised but not definitely confirmed [14]. Various studies on the HPV prevalence accounting to the development of oral squamous cell carcinoma have also been done in countries like- Chile [15], China, California etc. In developing countries like India, not much study on this correlation has been yet focussed except some of the southern places of this country. So, we have chosen the population of West Bengal in our study to find out any possible link between this viral factor and the causation of this malignancy. In our study, a small yet considerable percentage of malignant cases showing the presence of this viral may contribute to the hypothesis of this viral infection playing as a factor in the development of oral carcinoma. However, since other risk factors are also taken into consideration in this study, we cannot bring out the independent role of HPV in this field. Further studies with higher sample size and appropriate statistical analysis are required to ascertain this phase of causation. On the other hand, the level of heavy metal exposure to the human body is reflected through the elevated concentrations of heavy metals in the soil [16]. Such findings of heavy metal toxicity have proven out to be a carcinogen in many places of Taiwan [6], Greece, etc. Higher incidences of cytogenetic damage like micronuclei (MN), chromosomal aberrations (CA), sister chromatid exchanges (SCE) and aneuploidy have also been reported from the human populations exposed to arsenic through drinking water in various countries like Mexico, Finland, Argentina, etc. [17]. So, arsenic has become an alarming risk factor for the development of oral malignancy. Potential involvement of the mutated genes of Glutathione S-transferases (GSTs) enzymes leads to carcinoma caused by arsenic toxicity, which can be easily analyzed by CA and MN assays [17]. The two worst affected areas in the world are Bangladesh and West Bengal, India. In nine districts in West Bengal approx. 42.7 million people are exposed to ground water arsenic concentrations that are above the WHO maximum permissible limit of 50 μg/L. In both these areas the source of arsenic is mainly geological in origin contaminating aquifers which provide water for over one million tube-wells. The mechanism of arsenic accumulation in the Bengal Delta Plain is thought to have occurred during the late Quaternary age (Holocene age) with arsenic–containing alluvial sediments deposited by the Ganges, Brahmaputra, Meghna and other smaller rivers that flow across the Bengal Delta Plain in to the Bay of Bengal. The total As content in the farm soil of contaminated areas has profoundly negative impacts on nearby residents. Several studies have addressed the association between heavy metals in the environment and heavy metals inside the human body. The high concentrations of specific metals in the environment may be responsible for the high concentrations of these metals in the blood, urine and hair. Since arsenic toxicity is a proven factor of skin cancer, lung cancer and bladder cancer [18] and this metal is highly prevalent in the groundwater of West Bengal [19] at a concentration above 50 μg/L (recommended by World Health Organization; Erstwhile), we are trying to focus on its effect over the occurrence of oral malignancy, the latter being on an increasing level in this zone.
Conclusion
In this study, a considerable percentage of malignant cases showing the presence of HPV 16 DNA may suggest that this viral infection is acting as a potent factor of the development of this disease in this population of West Bengal, taking the other common risk factors into consideration. Some of the previous studies [3] also suggest this association playing an important role in the development of oral and oropharyngeal malignancy. Moreover a high percentage of cases bearing elevated arsenic count may also focus on its effect in contributing to this malignancy. Contrary to our findings a recent case-control study in central Taiwan revealed the absence of significant association between As blood levels and oral malignant and premalignant lesions [20]. However previous studies, it was found positive associations between this metal and risk of various type of cancers [21-24].
Moreover, a small yet considerable percentage of cases showing both the parameters simultaneously may state that these two factors (HPV infection and arsenic toxicity) when acting at a time, may contribute to this carcinoma to a larger extent. For such conclusion, much higher population size and proper statistical analysis is definitely required. This work also opens up into a new phase of research where further studies can be carried out to find out any possible correlation between these two factors, may be suggesting their additive role or whether this viral infection gets promoted in such in vivo environment of metal toxicity, contributing to the development of carcinoma on a larger scale.
Acknowledgement
We are grateful to Swami Satyadevananda, Secretary of Ramakrishna Mission Seva Pratishthan to kindly allow us to conduct the study in this institution. We are also indebted to DST Inspire Fellowship, New Delhi for giving the financial assistance used in buying all the necessary chemicals, reagents and instruments required for DNA extraction, PCR apparatus and arsenic estimation procedure. There is no conflict of interest related to this study.
References