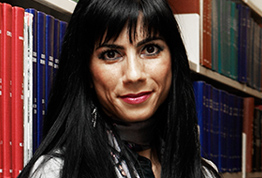 Catherine Kreatsoulas, Ph.D.
Department of Society
Human Development and Health Harvard School of Public Health
Harvard University, 1137 Massachusetts Ave (37)
Cambridge, MA, 02138, USA
Tel: 617-355-7181
E-mail: ckreats@hsph.harvard.edu
Catherine Kreatsoulas, PhD Dr. Catherine Kreatsoulas completed a Bachelor of Science in Forensic Anthropology at the University of Toronto in Canada, and went on to achieve a Master's and Doctorate degree at McMaster University in Hamilton, Canada, in Clinical Epidemiology and Biostatistics. Dr. Kreatsoulas also holds a degree in Piano Performance and has maintained a private music studio for over 20 years, teaching all levels at the Royal Conservatory of Music. Her doctoral work focused on gender issues in the symptomatic presentation of cardiovascular disease and healthcare delivery. Catherine developed innovative qualitative and quantitative methodology approaches to explore her research questions, and her work has been published in high impact medical journals, including the Journal of the American Medical Association and the Canadian Journal of Cardiology, where her controversial study findings received international media attention. In addition to pursuing her research, she has served as a course instructor at McMaster University and at Harvard University, where she created two nanocourses that are available on the internet, reaching a global audience. Catherine has been awarded several prestigious scholarships, including a Fulbright Scholarship and a Heart and Stroke Research Fellowship to pursue post-doctoral research at the Harvard School of Public Health. In addition to studying gender differences in cardiovascular disease, her current research interests have expanded to understand the impact of the social determinants of health and adverse childhood events over the life course, and the pathways that lead to disease manifestation in adulthood. In addition, she is tackling issues in aging, including the emerging trend of individuals with multiple complex illnesses, such as individuals with both cancer and cardiovascular disease. She has been invited to present her findings to illustrious individuals such as the Governor General of Canada and Her Royal Highness Princess Margriet of the Netherlands. She has made several appearances on live television and radio to discuss and disseminate the importance of her scientific research findings for the benefit of the general public.