Sophie Hill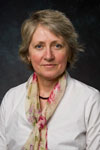 Head of the Centre for Health Communication and Participation
Biography
Sophie Hill is the Head of the Centre for Health Communication and Participation, at La Trobe University, a centre she has established from the foundation of the Cochrane Consumers and Communication Review Group. The Centre has an applied focus, with three roles: coordinating the production and publication of evidence on interventions to communicate with people about health; innovative research on communication issues that have been neglected, such as multimorbidity; and a knowledge translation function, for getting evidence into practice and policy.
As Co-ordinating Editor of the Review Group, she is responsible for academic leadership internationally in the areas of evidence-based health communication and participation. In 2011, her book The Knowledgeable Patient was released by Wiley Blackwell, summarising much of the developmental research she has completed at the helm of the Cochrane Consumers and Communication Review Group. She is active in consumer participation policy circles, being a member of Victoria's Consumer Participation Reference Committee for the implementation of the policy 'Doing it with us not for us' for the Victorian Department of Health & Human Service from 2006 to date. She chaired its Subcommittee on Health Information and Health Literacy from 2011-2014.
Dr Hill is Senior Research Fellow at La Trobe University and was Head of Dpartment of Public Health from 2013-2014. She is the Subject Coordinator for Evidence-based Public Health in the Master of Public Health. Here she teaches the fundamentals of evidence-based concepts and practice to health service professionals working in community and hospital settings. She is also the Subject Coordinator of Service Users' Perspectives, a subject taught in the Master of Health Sciences (Rehabiltation Counselling).
Before joining La Trobe University, Dr Hill undertook consultancies for consumer groups and government on researching on patient experiences. From 1987 to 1992 she worked at the Health Issues Centre, a community-based consumer group, leading it from 1990-92
Research Interest
Health literacy, innovative research on communication issues, translation function, evidence-based health communication, participation
Publications
Peer Reviewed Journals
Make the best use of Scientific Research and information from our 700 + peer reviewed, Open Access Journals
International Conferences 2021-22
Meet Inspiring Speakers and Experts at our 3000+ Global Annual Meetings
Top