Journals Readership Metrics (Source: Google Analytics)
Clinical Research on Foot & Ankle is a clinical research journal that will consider articles in the broad spectrum of diagnosis and treatment system associated with sports medicine, foot & ankle surgery and allied clinical research encompassing hallux valgus (bunion), hallux rigidus, hammer toe, claw toe, millet toe, corns, various bumps and lumps, Achilles heels problem, and other medical issues related to ankle care, and offers a promising platform for the authors to make their valuable contributions towards the journal. Google Analytics has revealed an amazing statistics regarding the popularity of this journal. All through Feb 2014- Nov 2019 there were 4,323 page views. The total number of returning visitors were 3,832. Moreover, globally 45,870+ new users have accessed the journal website for information on the journal and the published articles.
Google Analytics Metrics: At Glimpse
A statistical representation of global users for Clinical Research on Foot & Ankle (Source: Google Analytics)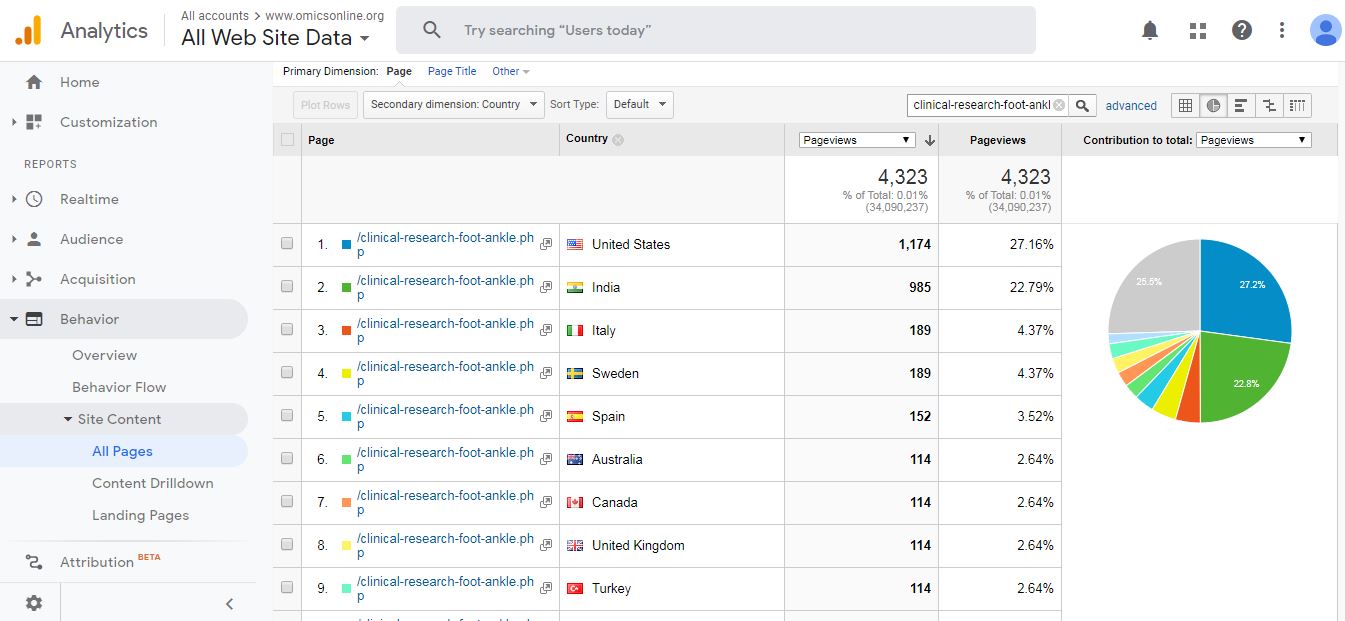 A statistical representation of global users for Clinical Research Foot & Ankle Journal(Source: Google Analytics) More than 72,000+ Visitors visiting the journal site to read the published articles or submit their research outcomes Highest number of Visitors reporting both from the developed and developing nations Majority of the visitors have come from USA (27.16%), India (22.79%), Italy (4.37%), Sweden (4.37%), Spain (3.52%), and Australia (2.64%) Canada (2.64%), UK (2.64%), Turkey (2.64%) The Journal received tremendous attention from the researchers in terms of visits from USA, UK, India, Japan, Korea, China, etc. The observed percentage of new sessions recorded is 46.43%. The average Time spent by the visitor for each session is 2.06 Minute.
Reasons for enlisting Clinical Research on Foot & Ankle Informatics on top of search engines: (Source: Google)
• It was seen academic researchers are inclined towards the articles published in the journal along with their respective profiles and abstracts which are getting highest visibility and readership.
• The most efficient way of growth for researchers is through their constant excellent scientific contributions which published in the respective suitable journal. Under the subject coverage orthopaedics were found to receive extensive attention from across the globe.
• The journal renders authors an outstanding opportunity to publish their contributions in the field of Orthopaedics to increase their visibility to the global scientific community and thus obtaining international recognition from their fellow researchers.
• The articles published in this journal since 7 years are receiving attention from the Orhtopedicians, Foot & Ankle Surgeons, Podiatrician, etc and related professionals as well as receiving regular citations.
• The journal considers the value of each article contribution and therefore, generates excellent profile sites for the each author and Institution which helps the author and the respective Institution to grab attention from all over the world.
• Highest number of Visitors reporting both from the developed and developing nations.
Global Internet users for
omicsonline.org

Statistical representation (Source: Google Analytics)

A statistical Analysis on global internet users of omicsonline.org (By Google Analytics)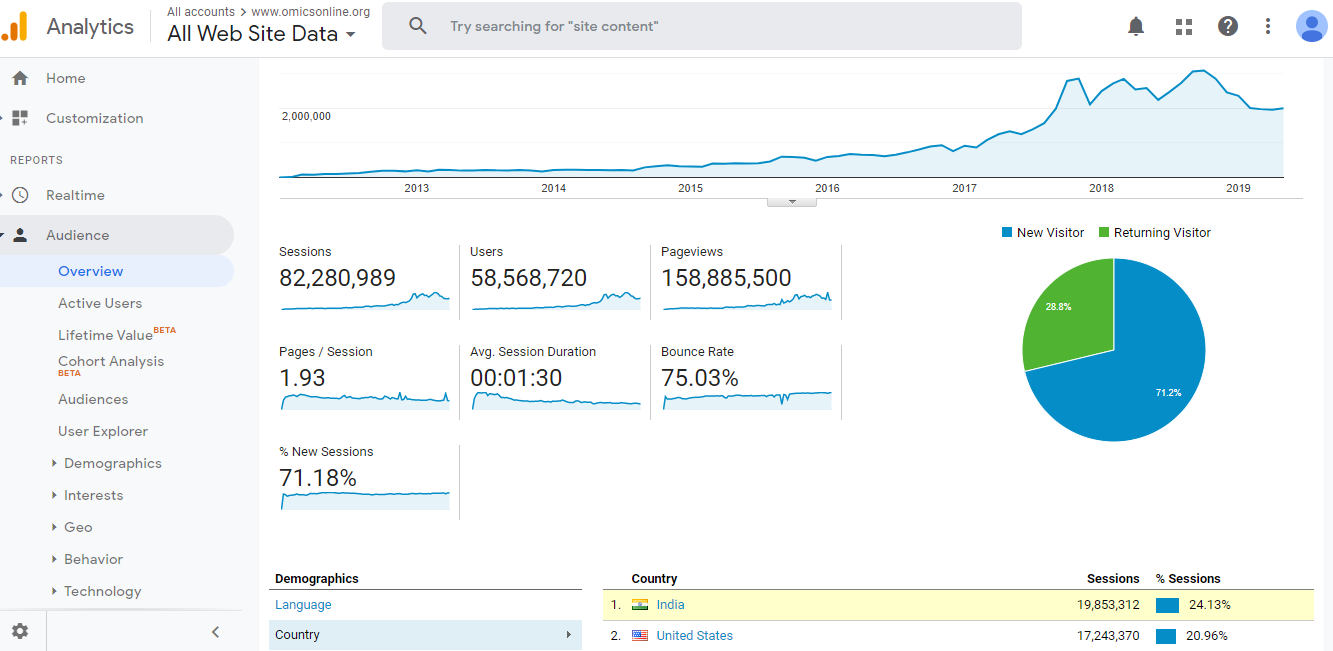 Journals published OMICS International is frequently receiving responses from the authors and readers globally. Multiple journals published in various subjects including Medical, Pharma, Engineering, Sciences, Technology and Business attracting more than 14,026,825 users with more than 44,743, 084 page views. The observed analytics values are sufficient to quantifyour journals popularity among the scientific community. Moreover, our authors and Editors profiles are also receiving tremendous visibility from their fellow colleagues through our online portals and getting recognition worldwide.
OMICS International Web Metrics
58,568,720 + users
158,885,500 + page views
Our journals have received 82,280,989 + sessions so far with a rate of 71.18% of new sessions which confirms the outstanding pool of new users and visitors for OMICS International journals. Open Access publishing is model has become the best choice for the authors worldwide. Due to fast and constructive peer review process, avoiding unnecessary time delay in production, and incredible ever growing visibility of the published article along with branding and promotional activity revolutionized the publishing system. OMICS journals are serving as one of the pioneer publishing medium in this context.