Senthil P Kumar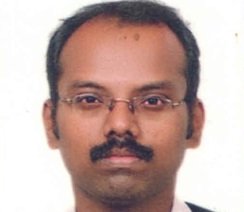 Dept of Physiotherapy, Kasturba Medical College (Manipal University), Mangalore, India
Biography
Dr. Senthil works at Dept of Physiotherapy, Kasturba Medical College (Manipal University), Mangalore, India.
Have research interest in Practice guidelines; Diabetic foot syndrome; Evidenceinformed practice; Critical appraisal.
Have taken Foot & Ankle as the subject of study.
Research Interest
Dr. Senthil Kumaran D interested in and working on: Stroke rehabilitation, ICF Framework, Posture and gait evaluation and management, Electro-diagnosis, Motor learning, Posture and gait rehabilitation, Stroke rehabilitation, balance rehabilitation, Motor learning Program, Stroke rehabilitation, Posture and gait, Electro-diagnosis.
Publications
Global Speakers in the subject
Global Experts in the subject
Peer Reviewed Journals
Make the best use of Scientific Research and information from our 700 + peer reviewed, Open Access Journals
International Conferences 2023-24
Meet Inspiring Speakers and Experts at our 3000+ Global Annual Meetings
Top