Joel Barratt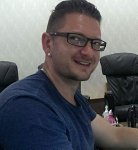 University of Technology, Sydney, Broadway, Australia.
Biography
Dr Joel Barratt completed undergraduate studies (B. Biotech, first class Honours) at UTS in 2007. His honours project involved a study on the molecular prevalence the parasite Neospora caninum, in feral rodents. Upon completion he employed by UTS as a research assistant on a project entitled 'Diagnosis of Gastrointestinal Parasites'.He completed PhD in 2009, which involved a study on the genetics of the human parasite, Dientamoeba fragilis. This research generated several peer reviewed publications and a patent and was ranked among the top 6 submitted at UTS in 2013, which is qualified for inclusion on the 2013 Chancellor's List.He completed graduation studies in Research Commercialisation. He had contributed to 19 peer reviewed journal articles, with several others in press or under peer review and contributed to 15 national/international conference abstracts. He was recently volunteered to entertain at the 2014 Ultimo Science Festival and at a Sydney Nerd Nite. He had appllied for a prestigious Chancellor's Postdoctoral Fellowship at UTS to complete a project entitled "Laboratory validation of vaccine candidates for leishmaniasis predicted using a novel in silico pipeline based on machine learning algorithms" and it was successful and he currently hold this appointment. He is a member of iThree Institute, Australian Society for Parasitology, Sydney Parasitology Research Hub.
Research Interest
Antiprotozoal activity, parasitic infections, protozoal infections treatment with dry plant extracts, diagnosis of gastro intestinal parasites, genetics of human parasite dientamoeba fragilis.
Publications
Global Speakers in the subject
Global Experts in the subject
Peer Reviewed Journals
Make the best use of Scientific Research and information from our 700 + peer reviewed, Open Access Journals
International Conferences 2021-22
Meet Inspiring Speakers and Experts at our 3000+ Global Annual Meetings
Top