Dersleri yüzünden oldukça stresli bir ruh haline
sikiş hikayeleri
bürünüp özel matematik dersinden önce rahatlayabilmek için
amatör pornolar
kendisini yatak odasına kapatan genç adam telefonundan
porno resimleri
açtığı porno filmini keyifle seyir ederek yatağını
mobil porno
okşar ruh dinlendirici olduğunu iddia ettikleri özel
sex resim
bir masaj salonunda çalışan genç masör hem sağlık hem de huzur
sikiş
için gelip masaj yaptıracak olan kadını gördüğünde
porn
nutku tutulur tüm gün boyu seksi lezbiyenleri
sikiş
dikizleyerek onları en savunmasız anlarında fotoğraflayan azılı erkek lavaboya geçerek fotoğraflara bakıp koca yarağını keyifle okşamaya başlar
Reach Us
+44 330 818 7254
Make the best use of Scientific Research and information from our 700+ peer reviewed, Open Access Journals that operates with the help of 50,000+ Editorial Board Members and esteemed reviewers and 1000+ Scientific associations in Medical, Clinical, Pharmaceutical, Engineering, Technology and Management Fields.
Meet Inspiring Speakers and Experts at our 3000+ Global Conferenceseries Events with over 600+ Conferences, 1200+ Symposiums and 1200+ Workshops on Medical, Pharma, Engineering, Science, Technology and Business
Climate Predicts Obesity Rates
LisaAnn S Gittner1*, Barbara Kilbourne2, Katy Kilbourne3 and Youngwon Chun4
1Department of Political Science, Texas Tech University, USA
2Department of Sociology, Tennessee State University, USA
3Department of Family Medicine, Meharry Medical College, USA
4School of Economic, Political and Policy Sciences, University of Texas at Dallas, USA
Corresponding Author :
LisaAnn S Gittner
Department of Political Science
Texas Tech University, Lubbock
TX 79409, USA
Tel: (440) 915-8831
Fax: (806)742-0850
E-mail: lisa.gittner@ttu.edu
Received June 28, 2015; Accepted June 29, 2015; Published June 30, 2015
Citation: Gittner LS , Kilbourne B, Kilbourne K and Chun Y(2015) Climate Predicts Obesity Rates . J Obes Weight Loss Ther 5:i001. doi:10.4172/2165-7904.1000i001
Copyright: ©2015 Gittner LS, et al. This is an open-access article distributed under the terms of the Creative Commons Attribution License, which permits unrestricted use, distribution, and reproduction in any medium, provided the original author and source are credited.
Visit for more related articles at Journal of Obesity & Weight Loss Therapy
Medical Image
Maximum Entropy modeling predicted the distribution of obesity from only climate factors (heat index, minimum & maximum daily temperature, precipitation, land surface temperature and insolation) in 2009. The orange and yellow represent the presence of high obesity rates in individual counties. Climate factors in these counties were used to predict the obesity distribution. As the color on the map changes from blue to green and yellow, higher rates of obesity are predicted; the highest rates of obesity predicted are the intense yellows. The predicted obesity rates match the actual rates determined by the Centers for Disease Control.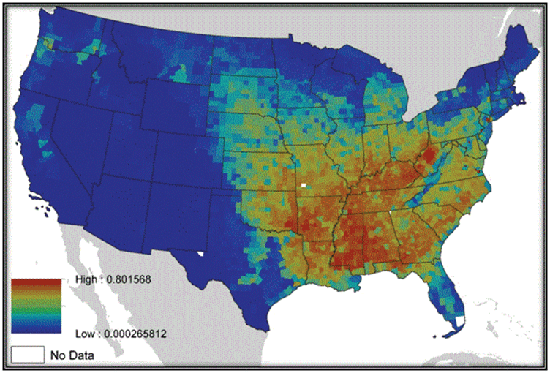 --
Post your comment
Article Usage
Total views: 13018
[From(publication date):
June-2015 - Jun 03, 2023]
Breakdown by view type
HTML page views : 8706
PDF downloads : 4312
Peer Reviewed Journals
Make the best use of Scientific Research and information from our 700 + peer reviewed, Open Access Journals
International Conferences 2023-24
Meet Inspiring Speakers and Experts at our 3000+ Global Annual Meetings
Top