Wu-Sheng Lu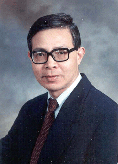 Department of Electrical and Computer Engineering, University of Victoria, Canada
Biography
Wu-Sheng Lu received his undergraduate education in mathematics from Fudan University, Shanghai, China, from 1959 to 1964, the M.S. degree in electrical engineering, and the Ph.D. degree in control science from the University of Minnesota, Minneapolis, USA, in 1983 and 1984, respectively.
He was a post-doctoral fellow at the University of Victoria, Victoria, B.C., Canada, in 1985, and a visiting assistant professor at the University of Minnesota from January 1986 to April 1987. He joined the Electrical and Computer Engineering Department, University of Victoria, in May 1987 as an associate professor, and has been professor there since 1991. His current research interests include analysis and design of digital filters, digital signal and image processing with a focus on sparse signal processing, and methods and applications of convex optimization.
Research Interest
Analysis and design of digital filters and filter banks. Signal and image processing with a current focus on compressive sensing and sparse signal processing. Methods and applications of optimization.
Publications
Peer Reviewed Journals
Make the best use of Scientific Research and information from our 700 + peer reviewed, Open Access Journals
International Conferences 2021-22
Meet Inspiring Speakers and Experts at our 3000+ Global Annual Meetings
Top